Attending an Iron Maiden concert is an experience that leaves a lasting impression. As you approach the venue you can't help but notice the sea of fans donning Maiden t-shirts, instantly reminding you that you are part of the tight-knit Maiden family. The anticipation intensifies as you draw nearer, and there's an undeniable sense of excitement in the air. Iron Maiden shows always exude a warm, familial atmosphere, and we couldn't be more thrilled to immerse ourselves in that ambience once again.
Upon reaching North Greenwich via the tube and stepping out of the station, we're greeted by a street performer passionately belting out classic Maiden tracks. This only adds to our already mounting excitement. The O2 arena is teeming with enthusiastic fans filling up every bar and restaurant eagerly awaiting the opening of doors.
As the venue gradually fills with a combination of seated and standing ticket-holders, we find ourselves marvelling at the vastness of The O2 Arena. It prompts us to contemplate the staggering number of spectators who have witnessed Iron Maiden's performances during their two-night stint in this remarkable location.
The Raven Age take to the stage
As a crimson radiance dances upon the multitude of faces adorning the stage's forefront, an enthralling and grandiose introductory melody resonates through the air. The Raven Age immediately showcases their guitar mastery, captivating listeners with their flawless execution as they commence with 'Parasite'.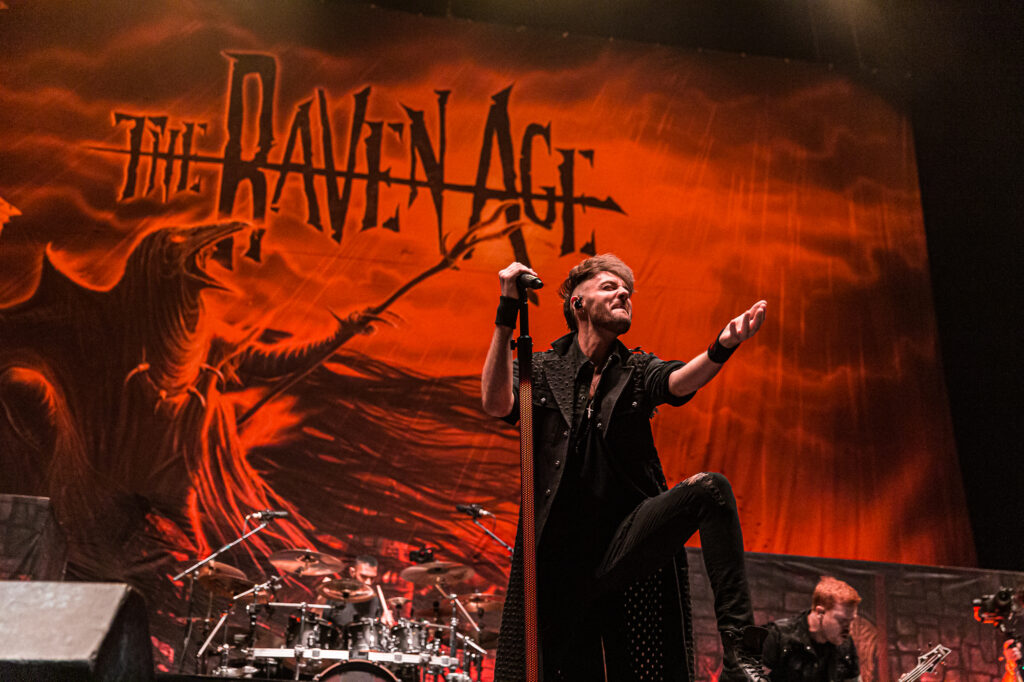 "We are The Raven Age and I can't tell you how good it feels to be back on UK soil," says Matt James, lead vocalist of the band. "Are you ready for Iron Maiden!?" he continues as he states how good it feels to be playing in London tonight especially since they released a new album yesterday. The Raven Age released their new album Blood Omen via Sony Music.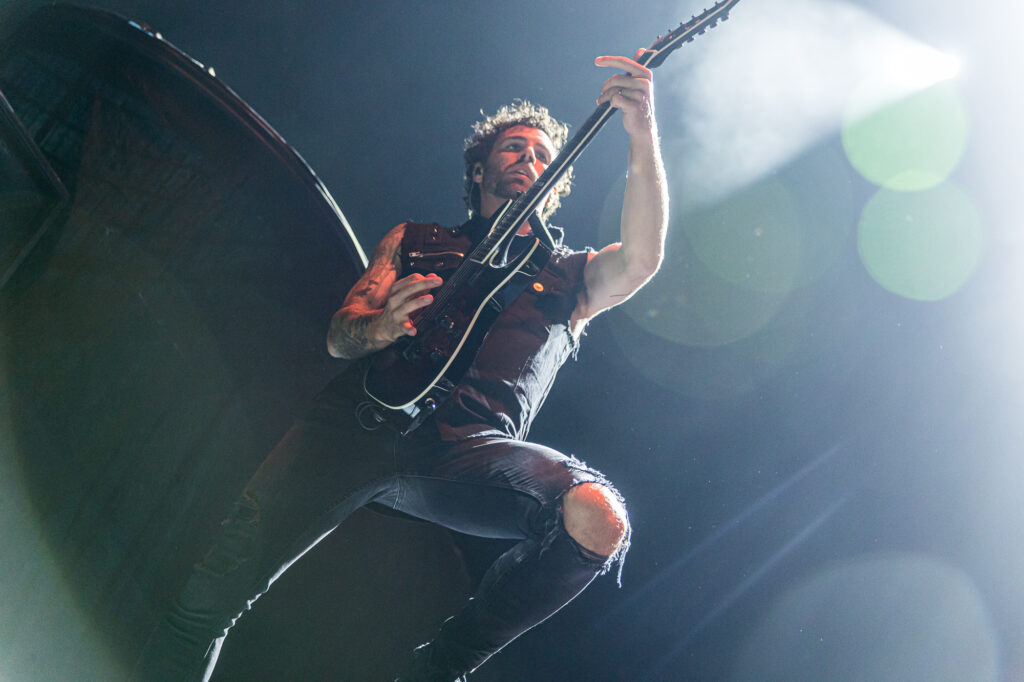 Performing a selection of fresh tunes from their latest album, The Raven Age kicks off with 'Nostradamus' and 'Forgive & Forget,' showcasing Matt's truly remarkable vocals. Before delving into the melancholic depths of 'Tears of Stone,' the air is filled with thunderous sound effects. Bringing back some nostalgia, they treat the audience to an older track like 'Seventh Heaven' among others. Without a doubt, 'Grave of the Fireflies' is an exceptional work that has made its mark. However, experiencing it in person creates a profound and enduring effect because of its deeply emotional and somewhat sorrowful essence. Matt's vocals reverberate throughout the entire arena, intensifying the track's emotive power.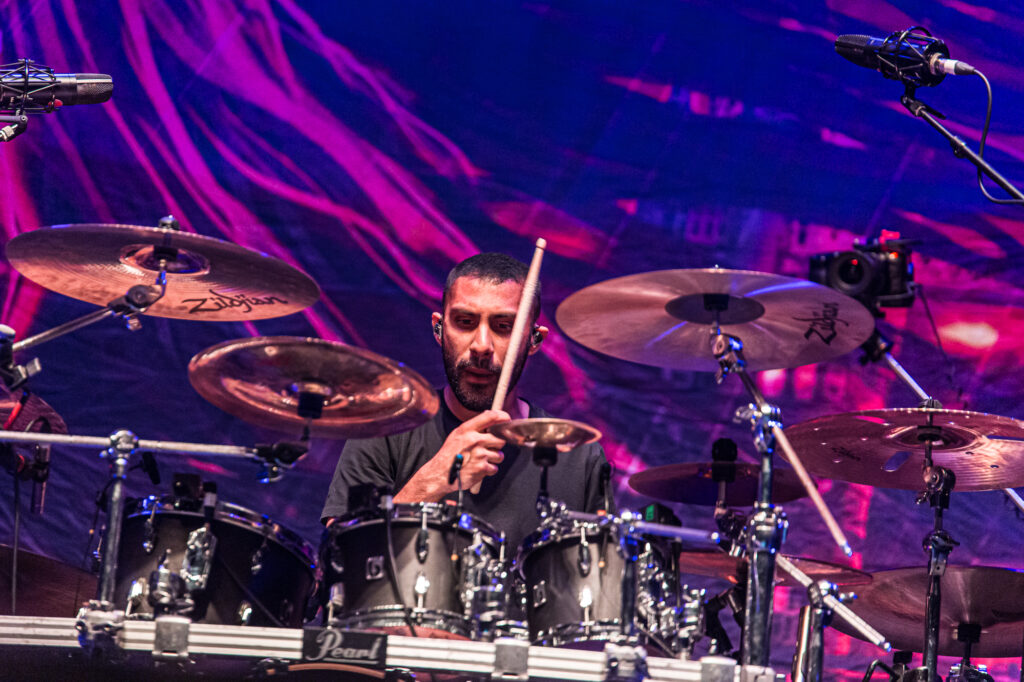 Transitioning back to tracks from their new album, they introduce 'Serpents Tongue' with a chilling introduction reminiscent of horror movies featuring monsters and howling wolves. It's worth noting that discernible traces of Miden-inspired riffs can be detected at certain moments. Wrapping up their performance on a high note, they conclude with their most popular song, 'Fleur de lis.' The Raven Age excels in captivating the crowd by encouraging singalongs and illuminating the entire arena with countless phone lights while delivering impressive guitar solos aplenty.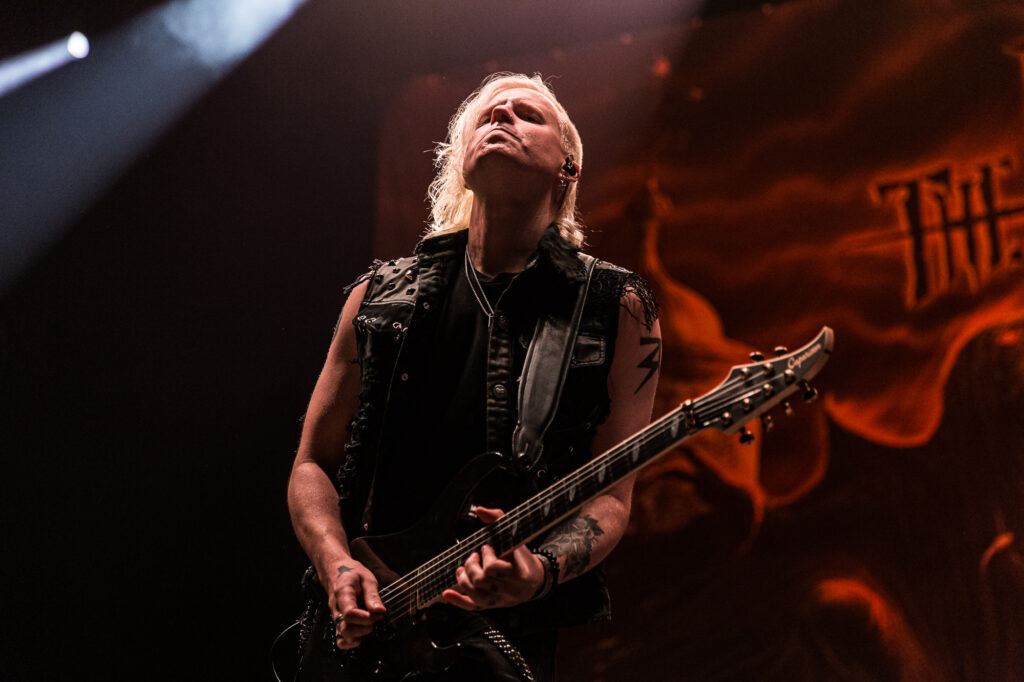 You know it's Iron Maiden time when you hear those first notes of 'Doctor Doctor' by UFO
The entire crowd bursts into applause and joins in singing the iconic guitar riffs, chiming "nar, nar, nah,naaa" before belting "Doctor Doctor Please!". Soon after, they transition seamlessly into the awe-inspiring Blade Runner End Titles intro. This composition truly evokes a sense of anticipation and enigma, as if something thrilling and mysterious is on the horizon. The performance smoothly transitions to 'Caught Somewhere in Time,' a track that debuted back in 1986. As Eddie graphics materialize alongside the emerging guitarists, a resounding bang fills the air just before lead vocalist Bruce Dickenson rushes onto the stage to deliver his captivating vocals right on cue. The elaborate and vibrant stage setup leaves an indelible impression – Iron Maiden consistently excels when it comes to creating an atmosphere brimming with grandeur and theatricality.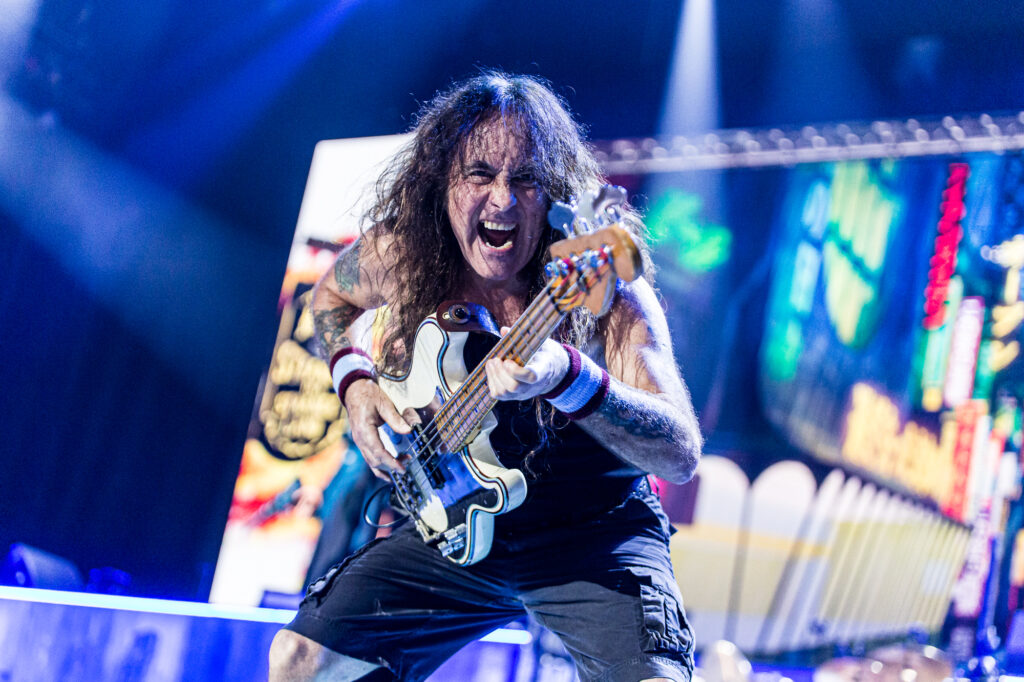 Bruce has always been a frontman who exudes an immense amount of energy during his performances. He never stays still, constantly in motion, thrusting his microphone stand towards the heavens and twirling it around with passion while delivering the electrifying anthem 'Stranger in a Strange Land'. It is during this track that we witness the grand entrance of Eddie, towering at an impressive height of 3 meters, clad in a Cowboy ensemble. Without delay, he fires shots at the band before disappearing off stage once again. Naturally, Bruce's initial words to the audience are nothing short of commanding: "Scream for me Londonnnn".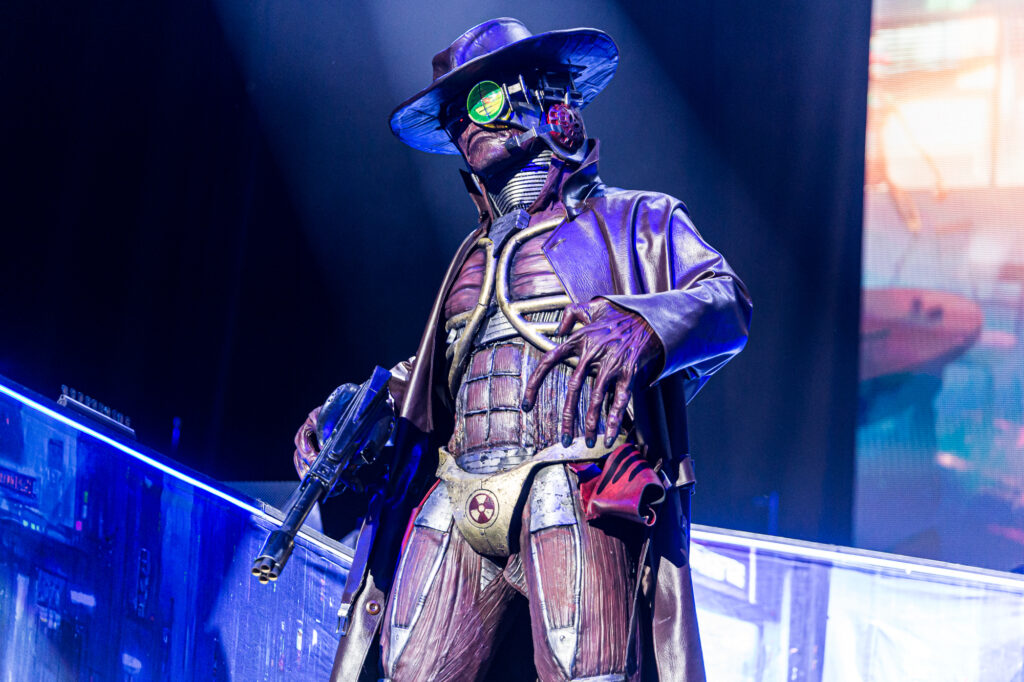 Bruce takes a moment to welcome the audience for joining Iron Maiden on their Future Past Tour. His captivating and mischievous charm instantly endears him to the crowd, as he effortlessly connects with them on a personal level. Despite weaving intriguing tales that interlace each song of the show, Bruce remains grounded and relatable. He humorously mentions embarking on a journey into a dystopian future while cracking dad jokes about happy endings, alluding to both his wit and down-to-earth nature. Additionally, he acknowledges the arduous traffic encountered by many attendees en route to the venue today. Following this banter, they proceed to perform 'The Writing on the Wall' from their latest 2021 album Senjutsu. The acoustic guitar sets the tone as guitarist Adrian Smith takes the lead, soon to be joined by the rest of the band for a powerful rendition of the entire song.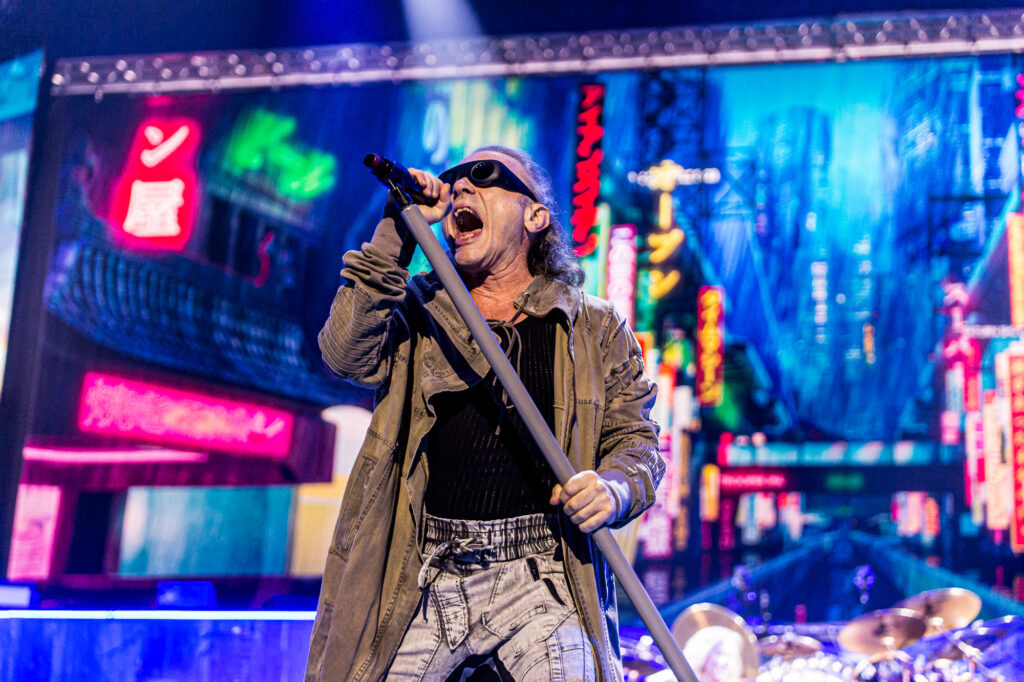 The backing graphics are once again flipped to reveal the vibrant streets of Senjutsu, showcasing the stunning Japanese style. More dad jokes about time ensue (my grandmother never cared about time because it's all relative), leading up to the track 'The Time Machine' being played.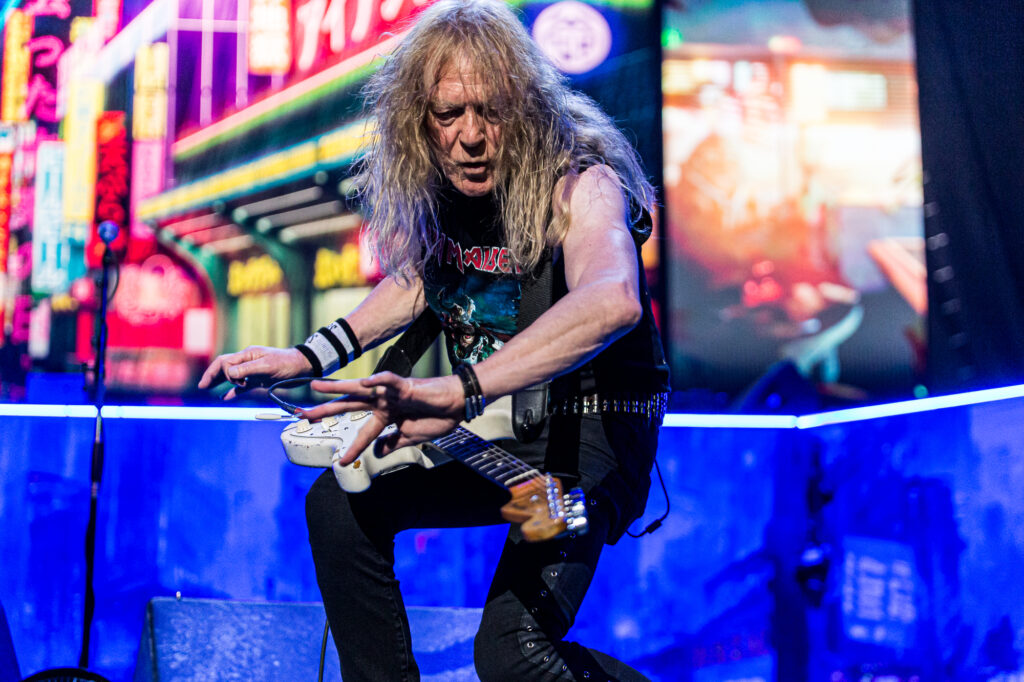 Moving on, we come to 'The Prisoner,' a song that narrates the tale of Number Six, an enigmatic government agent. After abruptly resigning from his position, he finds himself trapped in a captivating yet bewildering community. The performance commences with footage of Number Six and then transitions to a backdrop featuring a chess set.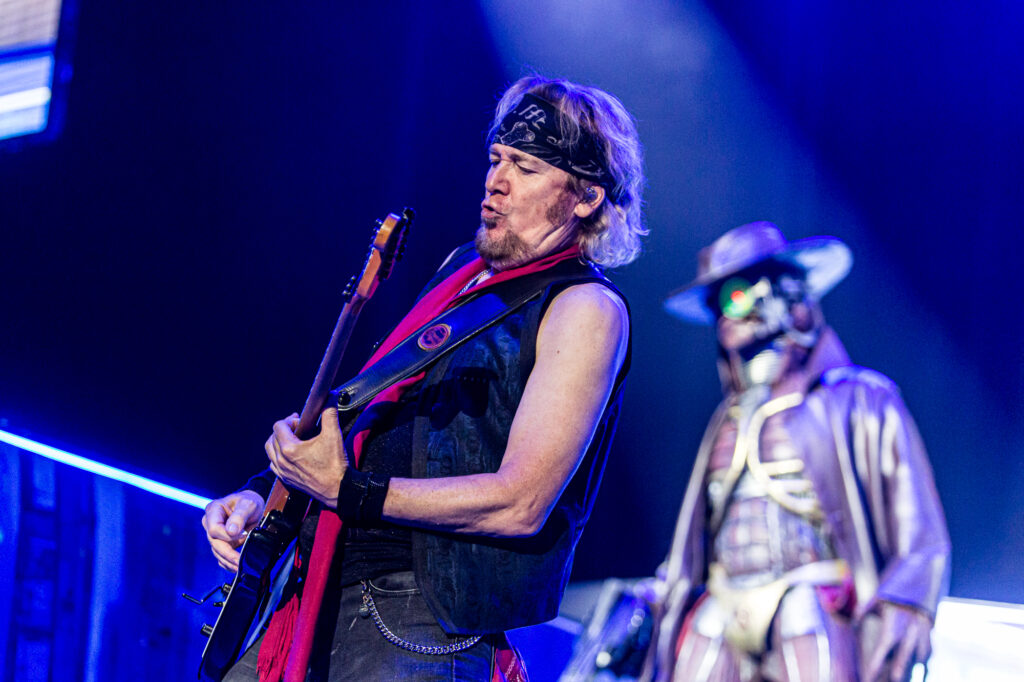 Following that, we have 'Death of the Celts' accompanied by a graveyard scene. Bruce then engages with the audience, asking for a show of hands from those who were born before the release of "our next song". It's none other than the timeless classic 'Can I Play With Madness,' which graced us in 1988—the very year this reviewer entered the world..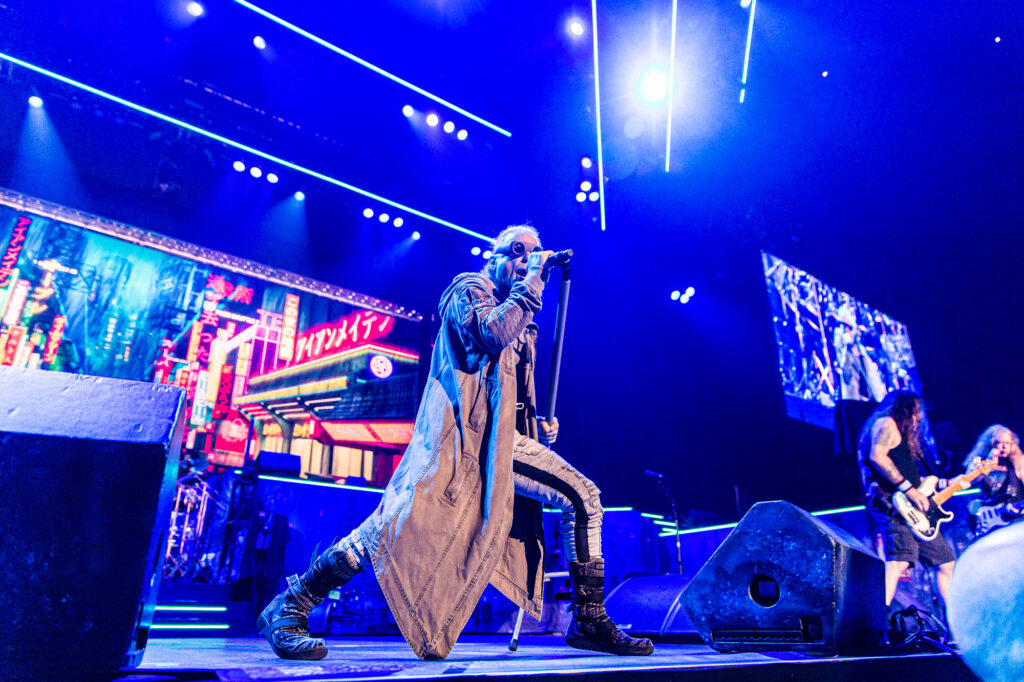 Returning to the Somewhere In Time album, we find ourselves immersed in a rainy Japanese setting as Eddie takes the stage with an enormous firearm, aiming to shoot Bruce. In response, Bruce rushes towards another colossal gun on the stage and fires back, causing sparks to dance across the entire set.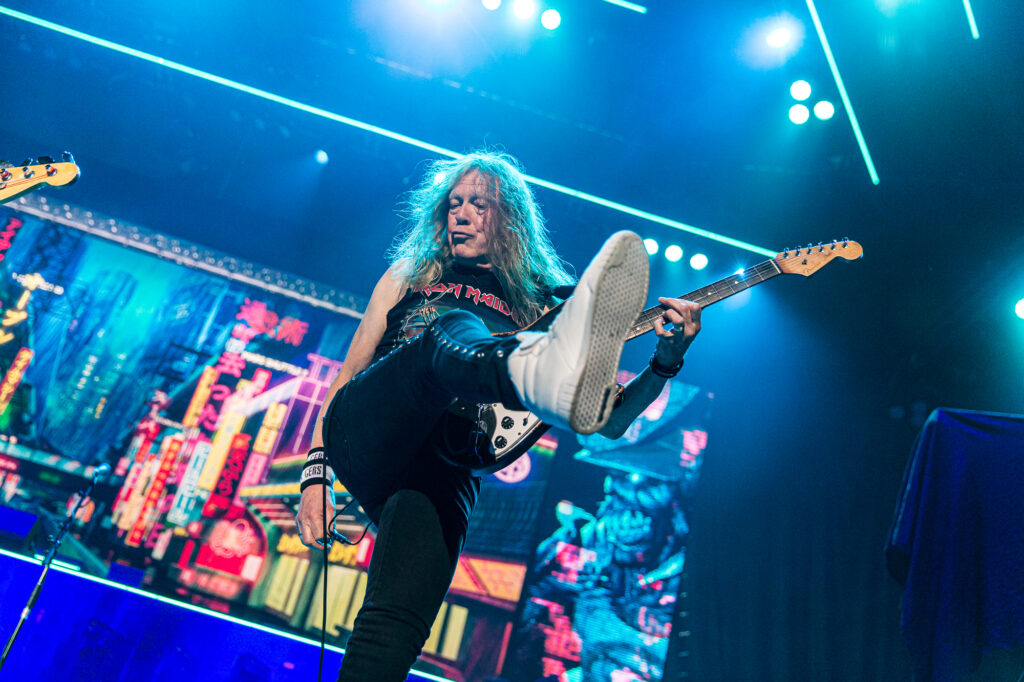 Witnessing the live performance of 'Alexander the Great' proved to be an extraordinary experience for many spectators due to its infrequent inclusion in their repertoire. Notably, Adrian Smith delivers an exceptional guitar solo during this track.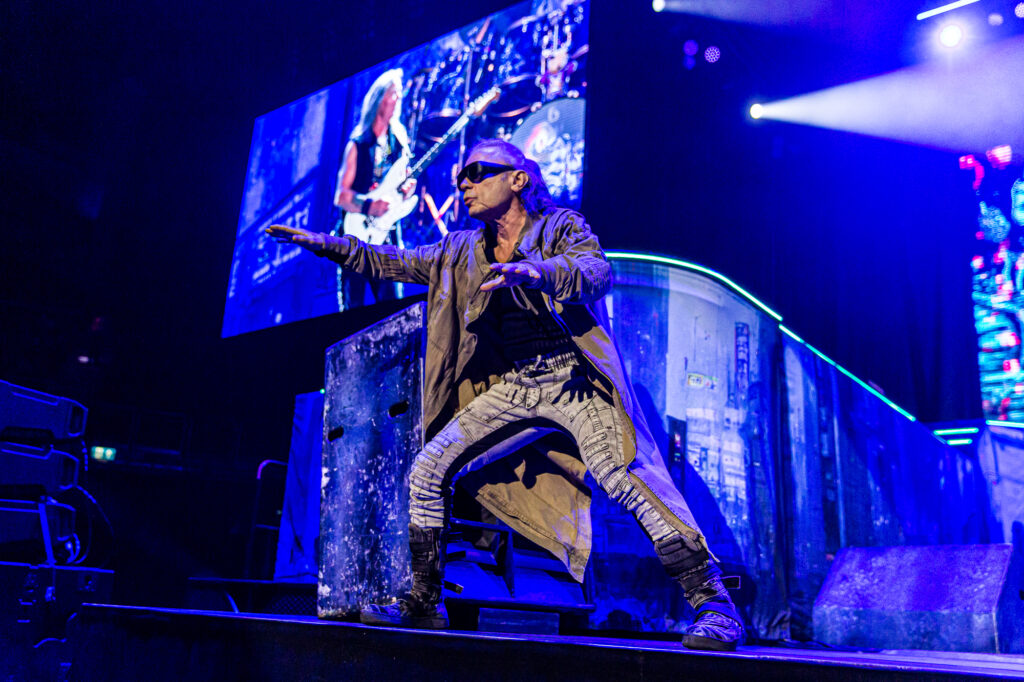 A remarkable moment unfolds when Bruce emerges on stage appearing hobbled and hooded while they commence playing the opening notes of 'Fear Of The Dark.' The chorus resounds throughout the O2 Arena as not only are all attendees singing along with the lyrics but also harmonizing with the melody itself. Truly awe-inspiring.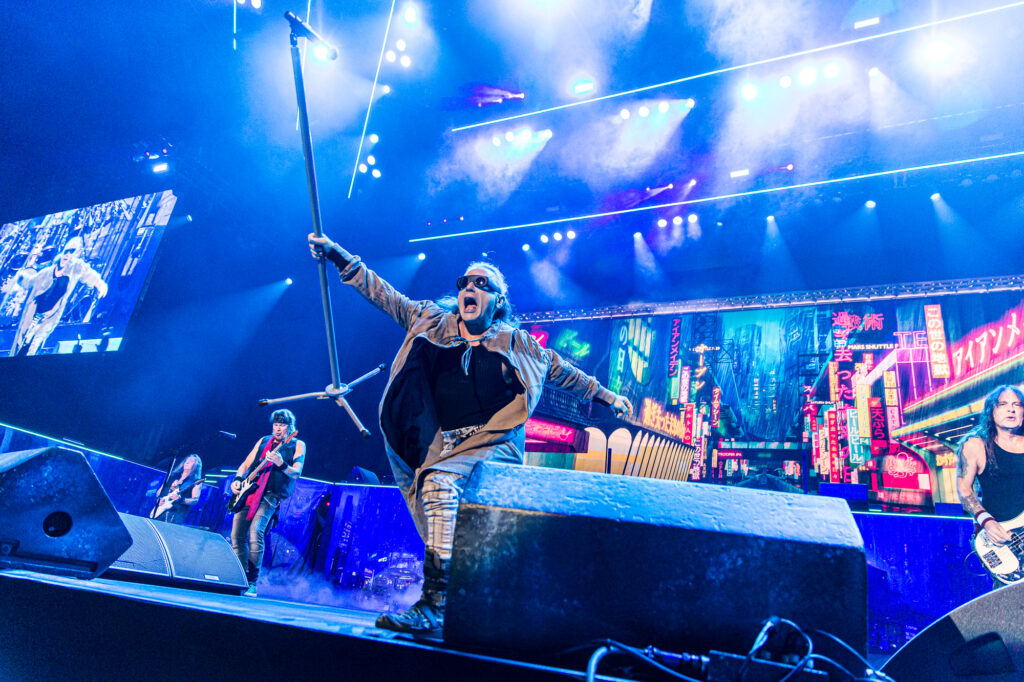 Once again, Bruce shouts out "Scream for me Londooooon" while they rock out to the iconic song 'Iron Maiden'. Janick Gers can be seen twirling around in a circle as he plays his guitar, still sporting the timeless combination of white trainers, black skinny jeans, and a belt that screams Iron Maiden-style. Steve Harris remains true to his signature look with shorts and a vest. During the guitar solo, Samurai Eddie makes an unexpected appearance on stage wielding a massive sword and attempting to engage in combat with the band members. In a comical twist, Janick ends up ducking under his legs. The crowd erupts into applause at the end of this electrifying performance.
At the beginning of their set, Iron Maiden regretfully mentioned that they had started slightly late. Unfortunately, this meant that myself and many others had to hastily make our way towards Waterloo Station to catch the last train. However, Iron Maiden returned for an encore featuring 'Hell on Earth', followed by their absolute classic 'The Trooper', concluding with 'Wasted Years'. From their timeless hits to entertaining stage antics, witnessing metal legends Iron Maiden conquer The O2 Arena was an unforgettable experience, an exhilarating and explosive performance.