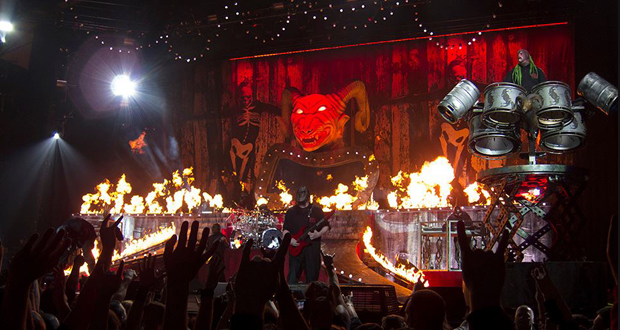 "In many ways Newcastle is like Des Moines," announces Slipknot frontman Cory Taylor to the crowd "because Newcastle is home of some of the craziest human beings we've ever met."…. We'll take that as a compliment Corey!
We know from various interviews that Corey Taylor is fully behind the live music scene in the UK, even Tweeting about a possible Knot-Fest on British shores. It was obvious from day one that Slipknot's 'Prepare For Hell' world tour was coming to town it would be an event not to be missed. Announcing the support bill as 'Our brothers' also showed a respect for their contemporaries KoRn as well as relative newcomers King 810.
Like a darkened cathedral, many gather wearing black hoods and red pentagrams to pay tribute to the rock Gods that are Slipknot. The Nu-metal legends' fellow Michigan natives King 810 open the show in a disappointingly drab and lacklustre  set. With band who aren't as established on such an epic bill, I'd give them the benefit of the doubt. Yet from Where I was standing – I could swear only the vocalist and drummer were awake.
Following them are the icons who started the nu-metal party way back in 1994 -KoRn- make a welcome return to the stage. This is the first time KoRn have played Newcastle since 1997. Welcome to Geordie-land lads! You fit in with your tracksuits and jewellery. Not so much the kilt and dreads though. Either way, Slipknot's maggots were just as pleased to see the band most expected to be the 'co-headliners' tonight.
Going old school on our butts with 'Twist 'and creating a mini-earthquake with the behemoth riff that is 'Here To Stay', KoRn could easily headline a venue of this capacity. Throwing in a few of their later tracks and even treating us to a snippet of Metallica's 'One' after 'Shoots and Ladders' Jonathan Davis' surreal vocal is echoed back by the adoring attendees. KoRn wrap up their near perfect set-list with classics 'Got The Life', 'Freak On A Leash' and the gut-wrenching 'Blind'. The California five-piece would be welcome back up North as this is an instantly classic gig – and the  headline act haven't even started!
After time to digest the sweet KoRn side order (ba-dum-tish!) –  the masked men we came to see take position behind an Eraserhead – esque curtain, and in front of a giant ram's head. The 10,000 plus audience suddenly become as hyperactive as the nine on stage within the first few bars of 'The Heretic Anthem'. This is followed by the zombie-slasher 2001 hit 'My Plague'.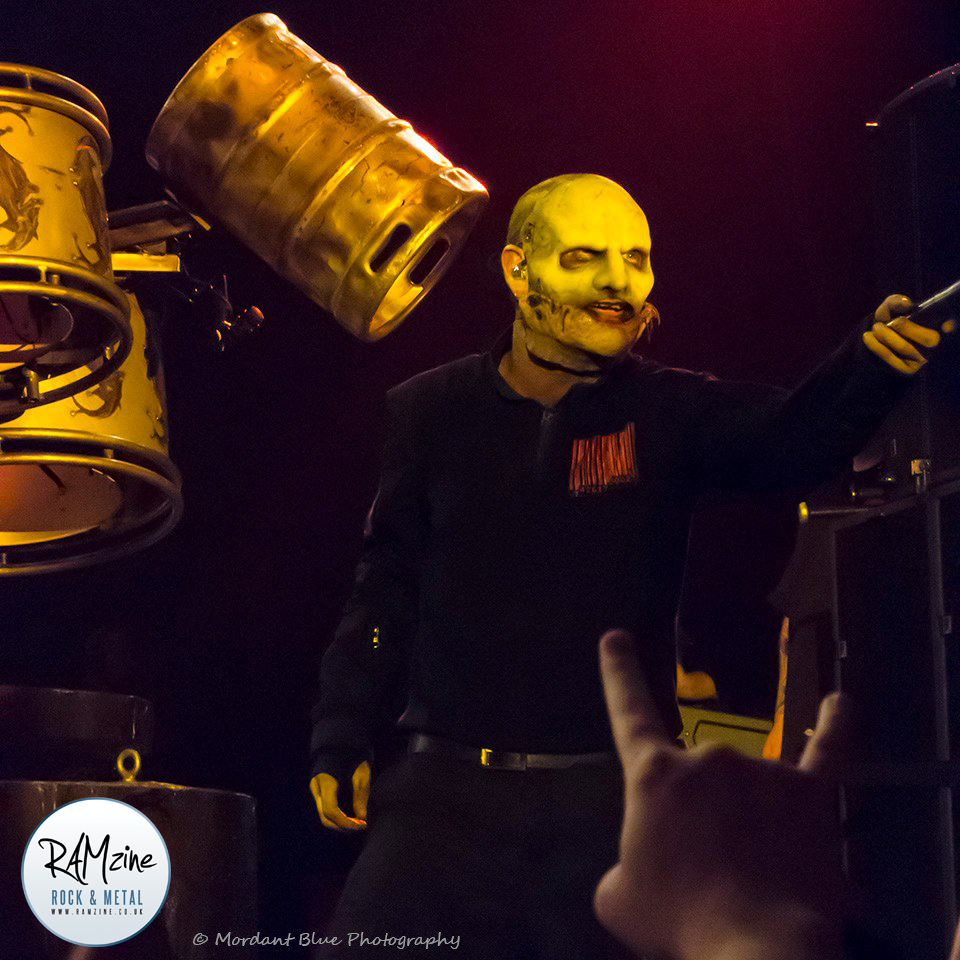 The carnage continues with tracks from their latest album '5: The Gray Chapter' including lead single 'The Negative One' and the Grammy-nominated 'Devil In I' sandwiching their 2008 crowd-pleaser 'Psychosocial'. Only six tracks in it already feels like a 'greatest hits' show. The Iowa boys then pause for some hero worship – Corey Taylor and the scary-faced eight pay tribute to every fan in the building.
Love them or hate them the 'Knot genuinely make their 'maggots' feel loved. Taylor proclaims "We are so glad to see all you crazy motherf***ers in Newcastle. We aren't the kind of band who plays London and calls it a day!" A refreshing statement to hear from such an important muscian in the current climate of live music.
Taking us back to the beginning, 'Eyeless' shakes the foundations of the Arena. It's no where near finished and this gig is so hot – it probably melted a layer of ice on top of the River Tyne.  That's without mentioning their Rammstein-rivalling pyrotechnics.  The Des Moines lads then drop it down a gear with the sombre 'Vermilion'. Trademark tunes like 'Spit It Out' make this show worth double the ticket price alone.
Classic tracks like 'Wait and Bleed' get the same reaction from pre-teens as it does with ageing bikers which in essence – is pure respect.  Trademark tunes like '(sic)' and 'Surfacing' draw a close to what seems like a memorable show for everyone involved. With strong performances such as tonight's it's easy to see how the rock industry sold more tickets than pop in 2014. It also comes as no surprise that Slipknot have won awards such as 'Most Dedicated Fans' and 'Best Live Band' time and time again. Although this audience shows a varied fanbase I feel we will look back on Slipknot gigs in the same way previous generations will look back at seeing bands like Led Zeppelin or Nirvana live. Corey Taylor promises a return to the region soon. Fingers crossed it's sooner rather than later!
Photos by Mordant Blue.