As the cold winter months drag on and adjustments to life are made, those trying to get back into routine, those trying to better themselves etc, us music fans are usually working on which gig to get started with. On January 12th, we find ourselves with a lovely, gentle option down in Camden's Underworld.
Mark Morton is set to release his EP Ether this coming Friday, January 17th. In support of that, he found himself a period to hit the UK for a run of dates to bring out his acoustic side. Travelling with him comes vocalist Mark Morales (Sons of Texas), who needs little introduction, appearing twice on the forthcoming EP. Morales also made an appearance on Marks first album Anesthetic. Secondly comes British guitarist Joe Harvatt (Hark), a superb talent to round out the acoustic parts and compliment Mark Mortons writing and lead parts. The tour was supported with special guest Dave McPherson (InMe), a treat to see perform, as anyone would know that has seen his full band or solo material over the past twenty or so years, a worthy addition.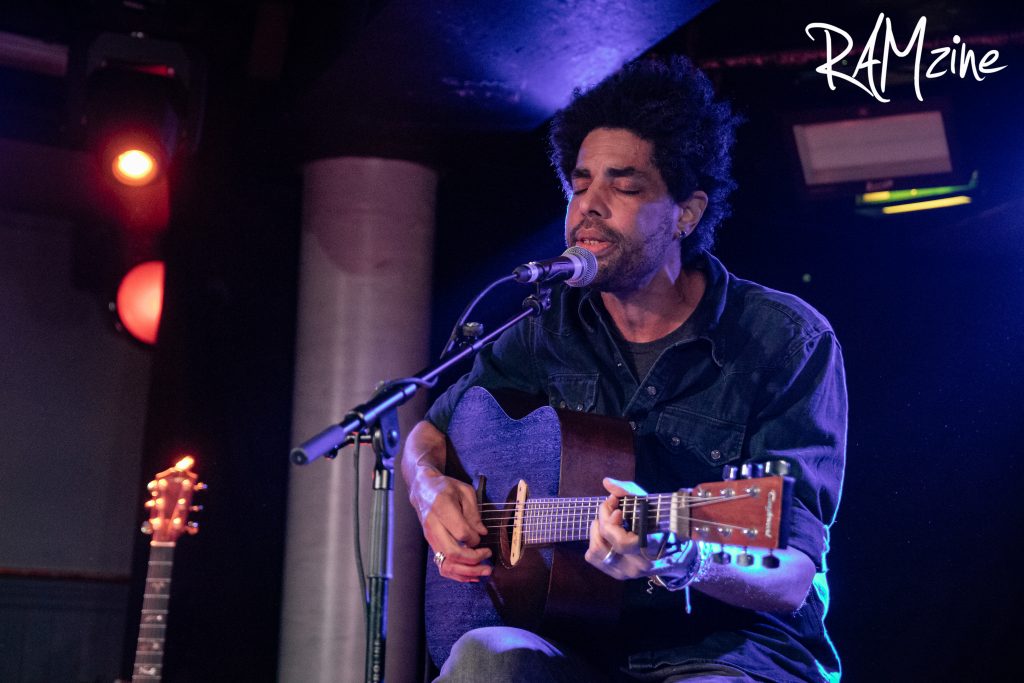 Starting off the show came an artist I was completely unaware of, often the case for gigs and as such, it means they don't usually have the crowd they deserve. Tonight provided a gentleman by the name of Ben Jordan (@BenJordanMusic if you wish to look him up on Facebook, as he also noted in the gig, the event had the incorrect Ben Jordan listed). The smiley Ben brings a gentle evening to a good start, moments of humour, soulful songs and an enticing ability to write. A slight twang in his voice while talking makes it hard to place him, as it turns out, he and Mark Morton are from the same area. Their connections don't end there, with some musical work between them done in the past and more to come in the future with Mark producing Ben's EP's.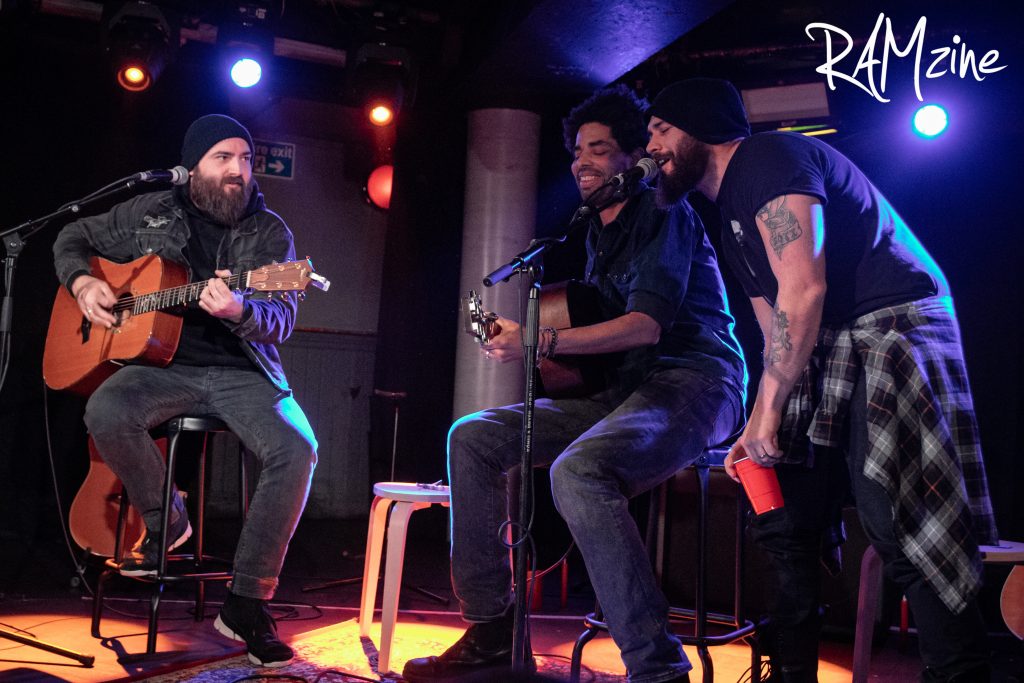 Living in the UK, Ben is an act worth finding and going along to see if you've ever the chance, he has the ability to take a room and make everyone feel like they are the only one in it, the ability to find humour and recover when forgetting how a song goes, just adds to the moment. With his hearty, country/folk touches to his songs, humour and connections built with the crowd, there isn't much more than an artist like this to make any night whole. That was all just on his own, having friends Mark Morales and Joe Harvatt join him on stage for a few songs is next level!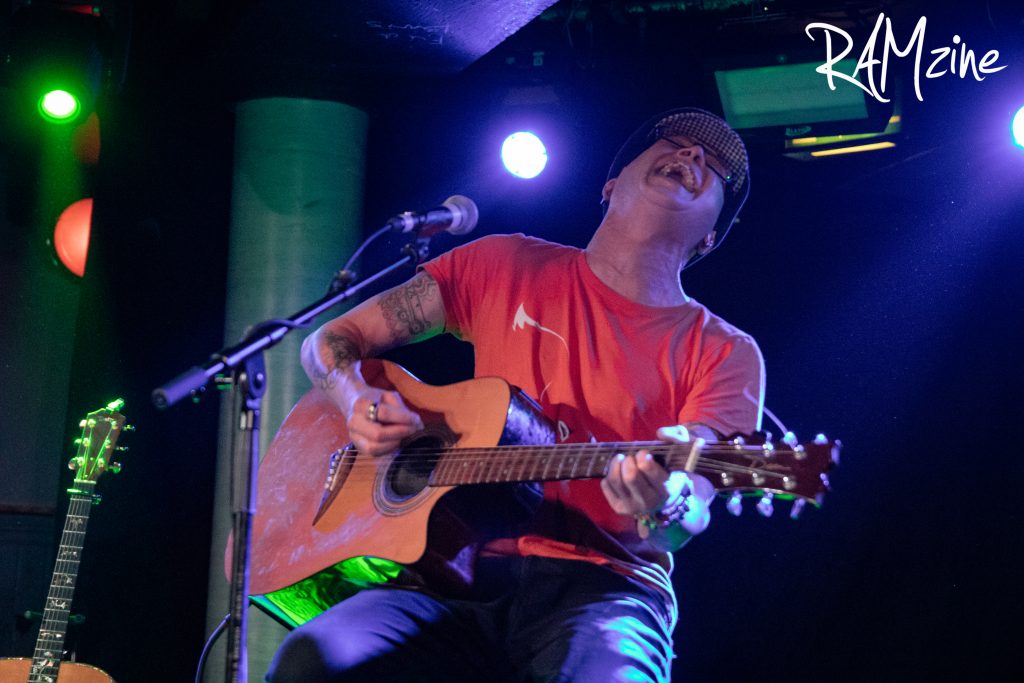 With a fitting start like that, there are fewer people worthy of following on other than Dave McPherson. This is a man that openly leaves his heart and humour on the stage, and from the off he is at it. A few issues with no sound coming through the PA from the guitar soon has him a little concerned, but when the first pop and strings ring out, his heart attack is avoided. He has an absolute powerhouse of a voice and it doesn't get too far into the set for it to be unleashed. His work around the guitar is masterful and the articulation in his playing and singing diverse. The odd story or comment which are mostly hilarious in his way, are shared between tracks with the odd sip of his very dark beer (my money is on it being a Jet Black Heart) to loosen those vocal cords. Humour is often found in those who have gone through or going through the darkest of places.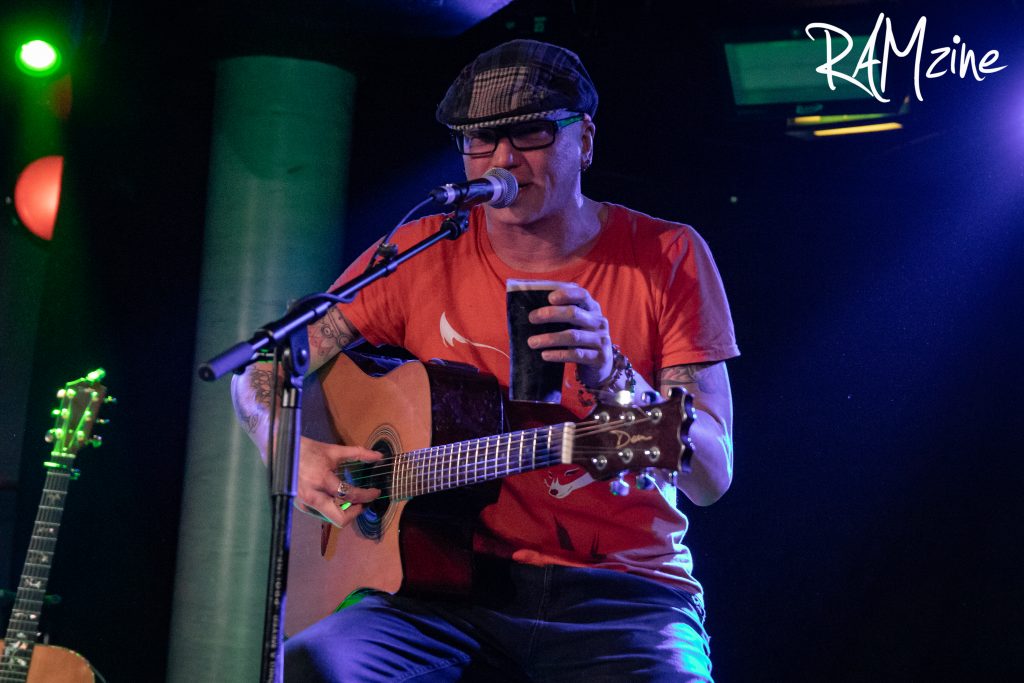 An advocate for mental well being, he openly shares his story with the crowd, and gives thanks for still being around to share it. He is keen to implore anyone to reach out to people and talk, and he's right to do so. We cannot agree more than no one should suffer alone, reach out and talk, there are services and people there to help!
The song has the place utterly silenced as he begins, its clear to see the meaning as tears strike from his eyes. By the end, the crowd give the most worthy uproar in support, thanks and love. A few more sips and it's back to the humour again as the musical genius effortlessly works his way through the set, he even wiggles in a new track from the forthcoming InMe album, there really is no stopping his writing! He played a mix of unheard material but also went the other way, not shying away from covers either. Opting for 'Unchained Melody', many versions of which exist, Dave pick's the "Extreme Fishings and Games of Throneseses" pair from the Soldier Soldier days, to which Dave also has a poke saying "It doesn't make sense, why didn't they just call it Soldiers? That's the plural." His voice is as good as I remember, and briefly seeing him before the show started, I mentioned that I last saw him perform some 16 or so years ago, he quickly whipped back…"Wow, we're old". Sensational, energetic, and although just acoustic, damn loud! So, so glad that he's winning his war and is still able to provide us with music to this day.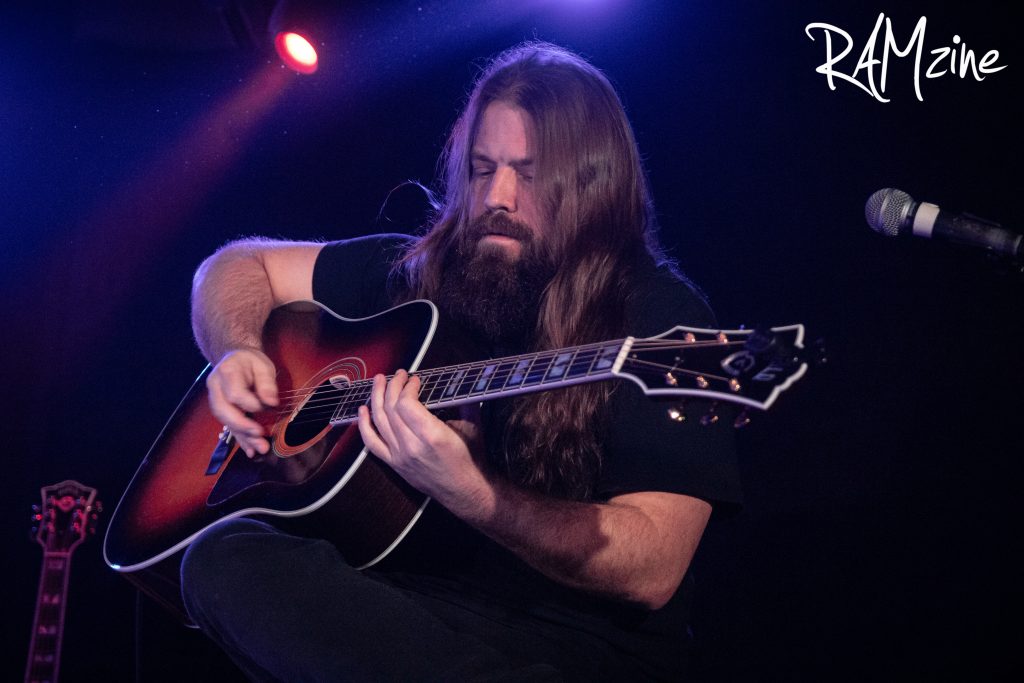 It's fair to say the room has filled out well, and rightly so with the previous acts on. The main act is obviously due, and it isn't long at all until the three figures come out of the back, Mark Morales sitting centre stage flanked by both Mark and Josh with guitars. The set is a collection of songs from that debut album Anesthetic, each song from Ether worked in and also the odd treat of the extra cover here and there. The acoustic treatment given to the heavier songs works wonderfully, and the vocal treatment Mark Morales provides holds up and does great justice to each track, which originally provides plenty of variety in sounds and style. 'Reveal' is the opener, a great way to ease into the set, already light in its original format, it ties the sounds of something known into everything we are set to experience.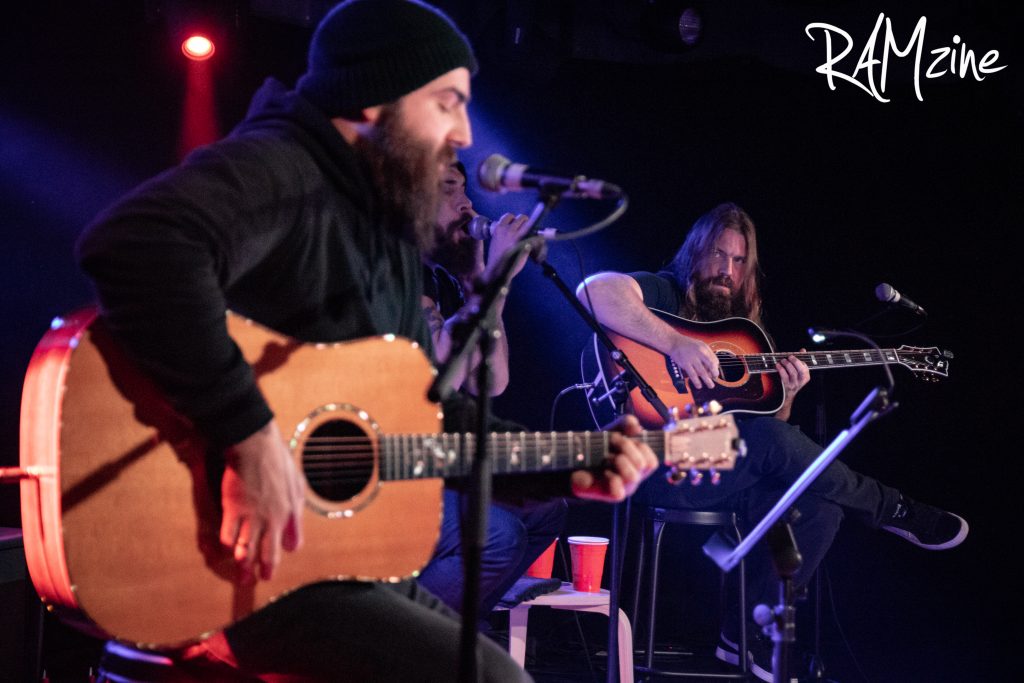 Morton isn't one to shy away from a brief chat between tracks, and the nervous smile at times backs up his words when he mentions he can be absolutely fine in front of 50,000 fans, but doing this even after a week brings on the jitters. Half of Anesthetic gets airplay with a fantastic array of what Morales is vocally capable of, showcasing his abilities to reach the bottom end of dark baritone of Mark Lenegan on 'Axis', to the soaring tenor parts from single 'Save Defiance' originally featuring Myles Kennedy.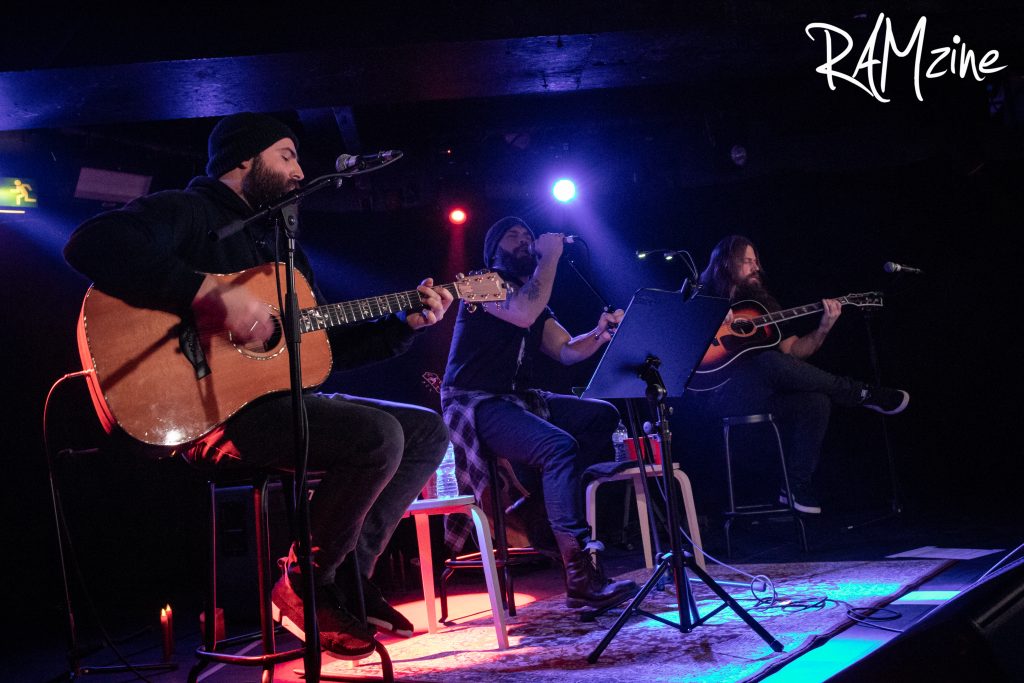 It's just about halfway through the set when we touch upon Ether, starting out with the cover 'She Talks to Angels' from here on the treats keep coming, firstly with recently released single 'All I Had to Lose', a song Morton openly talks about addiction and sobriety, and how there is help out there and if we need it to seek it out. That follows up with 'The Fight', an absolute belter of a song, it stands testament to the shift in writing riffs to songwriting from Mark Morton in the last decade or two he has been publicly playing; from a greatly written song in 2020, to a greatly written song from 1991 which was inspired from a troubling story. Their performance of Pearl Jam's 'Jeremy' does the original fantastic justice, and their live version captures the same feelings as the studio version on the forthcoming EP. One of the two rare treats of the show came with another cover, 'Down in A Hole' by Alice in Chains, a fitting place with a song from the same era previous. A great time for younger fans of Morton to maybe hear something they possibly haven't and find some inspiration or insight into the music of the early '90s.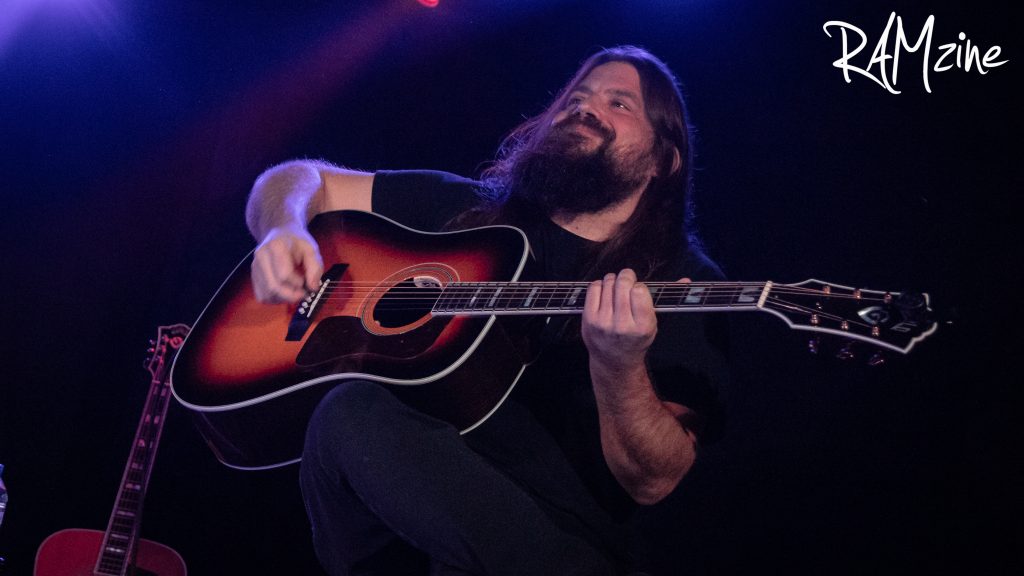 With the set drawing to an end, they close out with another new one that features Howard Jones on the EP, 'Love My Enemy', before ending the original stuff with something we all could have expected. Talking of his love for Chester Bennington, there is a small talk of the man leading into the song 'Cross Off'. Despite the pace and aggressive writing of the original, the acoustic arrangement is well created, but with time for just one more, Morton starts off with a little dig, telling us that this was supposed to be played at just Birmingham. He even told the Birmingham crowd this is just for them being the home of it all, right before then having a chuckle to himself down the mic and calling them suckers. When playing acoustic, and doing something as an ode to one of the founders of our music, 'Planet Caravan' is the only way to go! It's during this that we really see Joe take-off on guitar, an insanely talented guy, you can tell why Morton mentioned in the set he feels like he's been getting lessons from Joe all week on this tour!

As evenings go, this was as good a start to the year as you'd hope to end a year on, one to go down in history from all the acts and powers that be involved! Mark Mortons acoustic-based EP Ether is due for release this coming Friday the 17th. We cannot recommend it enough.