Tonight as the venue transforms into something majestic and futuristic we venture deep into the electronic universe, and we discover unique artists in the synth electronica genre. I originally discovered this style of music by venturing into gaming soundtracks and then stumbled into this wonderful spectrum of music, I really do feel its ahead of its time!
When I first heard Pertubator were touring and they would be playing Manchester Academy 2, I had my doubts that this Wednesday night would fill up. But I'm so happy that I was wrong, the venue was at least 3/4 full – fantastic stuff!
Dan Terminus opens up as just one man and one big keyboard. The lights go down, smoke comes out and he starts with a bang straight in to it! The crowd are so supportive of this chap as they dance, head banging and cheering to the epic bass beats and the electronic riffs! I bumped into Dan after the set and he spoke about how he loved his set, he loved the fact Manchester were so engaging ans said "sometimes people don't know what to do and just watch, but as usual the Manch fans know what to do". He sounded exhausted as he showed me the long tour list, that's almost over. Despite being exhausted, as soon as he plays his music it's full energy, he's wide awake and gets into the trance synth zone! For a solo artist this guy has grown rapidly over the past few years and after tonight's set we can see why.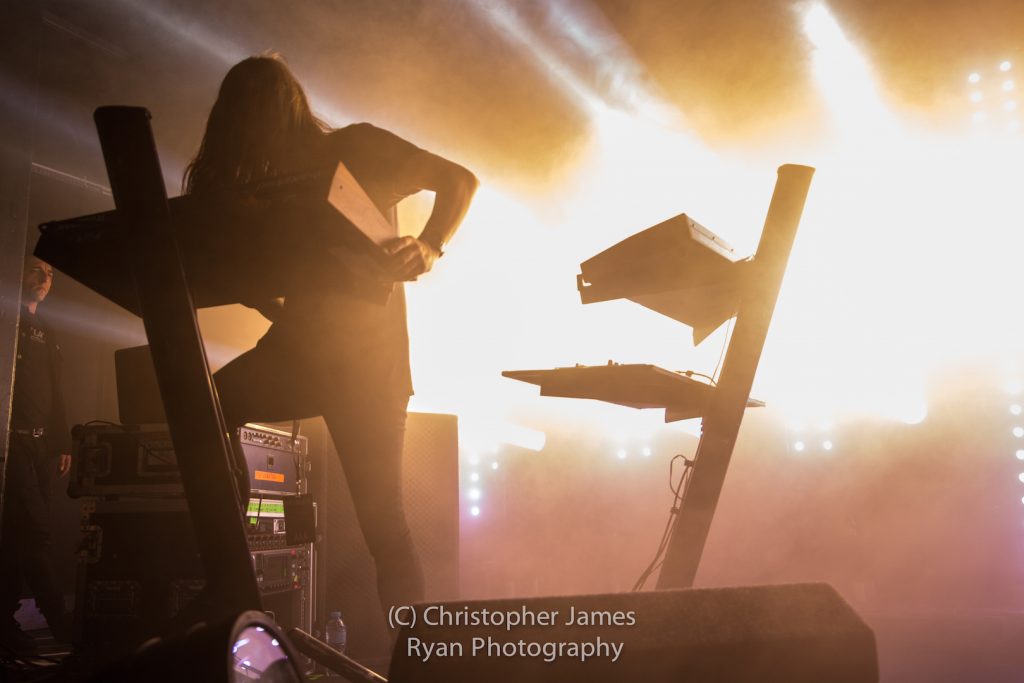 Pertubator on the other hand, are a two man loud cyber-punk team (one keyboardist, one drummer). We were spotlit with fast paced, in-your-face sounds, heavy drumming and a spectacular light show! I honestly didn't know what to expect but it was incredible. Not a single word was said from the band, they just let their music do the talking whilst the fans were hooked on some trance. I was going to say this kind of music needs to be in video games, but it actually is, some of the older stuff was made for Hotline Miami back in 2012 when they launched two albums. Since then there have been multiple albums launched Dangerous Days, The Uncanny Valley, along with multiple EPs!
James Kent was a black metal guitarist before switching over to dark synthwave. His parents were a big influence to him as they were journalists in the rock and metal, so of course he heard all the great bands like Pantera, Tool, and Slayer whilst growing up. Not only that, his parents were also part of a tech trance band. You can tell this by his music. It's dark, heavy and full of energy on all sorts of scales. Its got the full monty in therms of retro 80's, but also with the metal vibes along with the intense beats which keep the crowd hyped! The light show is simply mesmerizing, it gets you into a trance. Pertubator, I feel, are a massive icon in the music industry as a whole. They're a hybrid of multiple styles, metal, electric, industrial, they have got kicks that feel like they should be in 80's sci-fi films, and again game soundtracks! They fit perfectly in multiple outlets; You could stick them at metal festivals, trance festivals, dance festivals. It's such a perfect balance of different.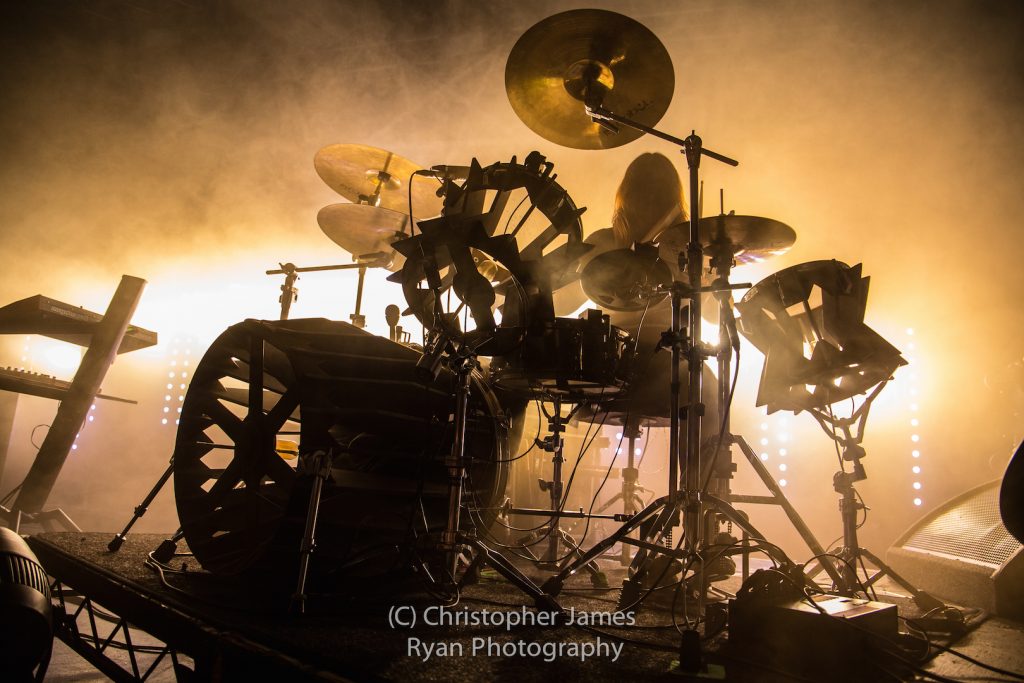 They spoil us with a big set along with an encore, which the crowd stomped their feet for 'til they arrived back onto stage. All sorts of crowd favorites were played such as 'Neon Tokyo', 'Future Club', 'She Is Beautiful She Is Next', 'Humans Are Such Easy Prey', 'Excess', 'Pertubators', 'Theme' and 'The Cult of 2112'.
After tonight's show it will be weird having to venture back into the normal world as it felt we where galaxies away!