Lamb of God formed a blazing trail 15 years ago and have never looked back. Whilst on their trail they inadvertently sparked the so-called New Wave of American Metal from the start of the 21st century. Together this Virginian quintet both refined and redefined the conception of intensive brutal metal in the modern age.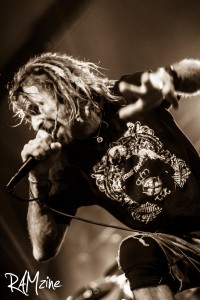 In 15 years the band have made 7 Studio albums, released 1 Live album, 1 Compilation album, 3 video albums, 12 music videos, 1 EP, 9 singles, and now they have a new 5 track EP on the way called The Duke.
Bands have all sorts of ideas and things that spark ideas when it comes to writing tracks, but maybe none as strange as writing some of the lyrics for previous album VII 'Sturm und Drang'. These were thought up while in prison accused of causing bodily harm to a fan at a LOG show in Prague in 2010, for which Blythe (vocals) was later acquitted of all charges.
The Duke EP is titled after the new track 'The Duke', written in honor

of

the band's late friend and fan, Wayne Ford, who was named after "The Duke" John Wayne.
"A little while ago I became friends with a fan named Wayne Ford – he was terminal – leukemia. I talked with him often, even video chatted him into the studio. He was very calm about his impending death, and we discussed it very openly. I learned a lot from him. This song is for him,"
dedicates vocalist Randy Blythe.
The track is a fresh approach from LOG sounding clearer and crisper, but still complex and distinct. 'Culling' is a wild and untamed composition with plenty of balls – something that isn't uncommon from LOG at all.

Next track 'Still Echoes' is invasive and holds an extreme amount of toxicity, so much so it should carry a warning.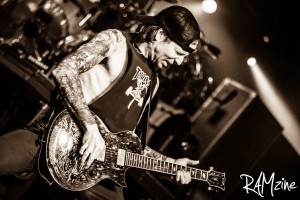 '512' was written while in the confines of a prison cell and obviously holds memories of a-none too pleasant time in Blythe's past, but dare I say it? It's captivating! The rhythms are hearty and have an unquenchable thirst for sheer ferocity.
'Engage the Fear Machine' ends the EP on a high note, as its infectious encounter hits hard. The intense proposal of sound wallows in compelling character and essences that surge as it tightens its grip further on the aurals.
It is certainly another solid addition to their discography list, and will no doubt be a success for the band along with their album Sturm und Drang (Storm and Stress). There is no doubt about it Lamb of God have got their feet firmly under the table and are looking stronger than ever, despite what life throws at them. With each year that flies by, they remain one of the most influential bands on the metal scene today and it's hardly surprising!
Lamb of God's 5 Track E.P, The Duke, is set for release 18th November 2016 via Nuclear Blast. The EP will also be released as a vinyl version the following week, on November 25.