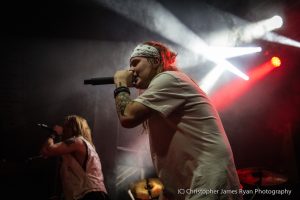 First up to play is Finish band Blind Channel. Like pretty much most of us here we have never heard of this band, and after doing some quick back checking this is what stood out… their genre is violent pop. I have never heard of this genre and as it turns out Blind Channel say they are the 'pioneers of this new wave'. To be honest I do think they are on to something here. It's a mash of hard rock, pop and add a dash of metal to create this. Opening up the show tonight with a small crowd it's actually disappointing because these guys are pretty decent! Very energetic, and I mean energetic and they ain't letting a small crowd detour them! On top of this
We were spoilt by a surprisingly long set list, with ten tracks. I will also note, these chaps have only appeared out of the surface for a few years and they are aiming for the sky, honestly! With two albums out and launching a new single 'Over My Dead Body' and 'Wolfpack' from their debut album Young and Hungry they will get you hooked!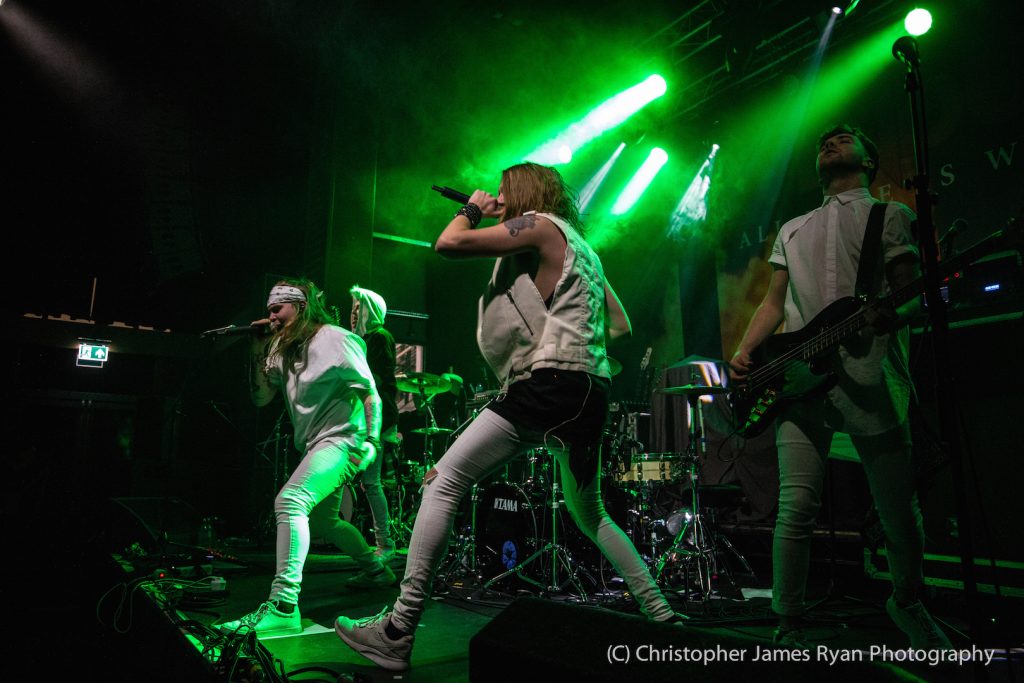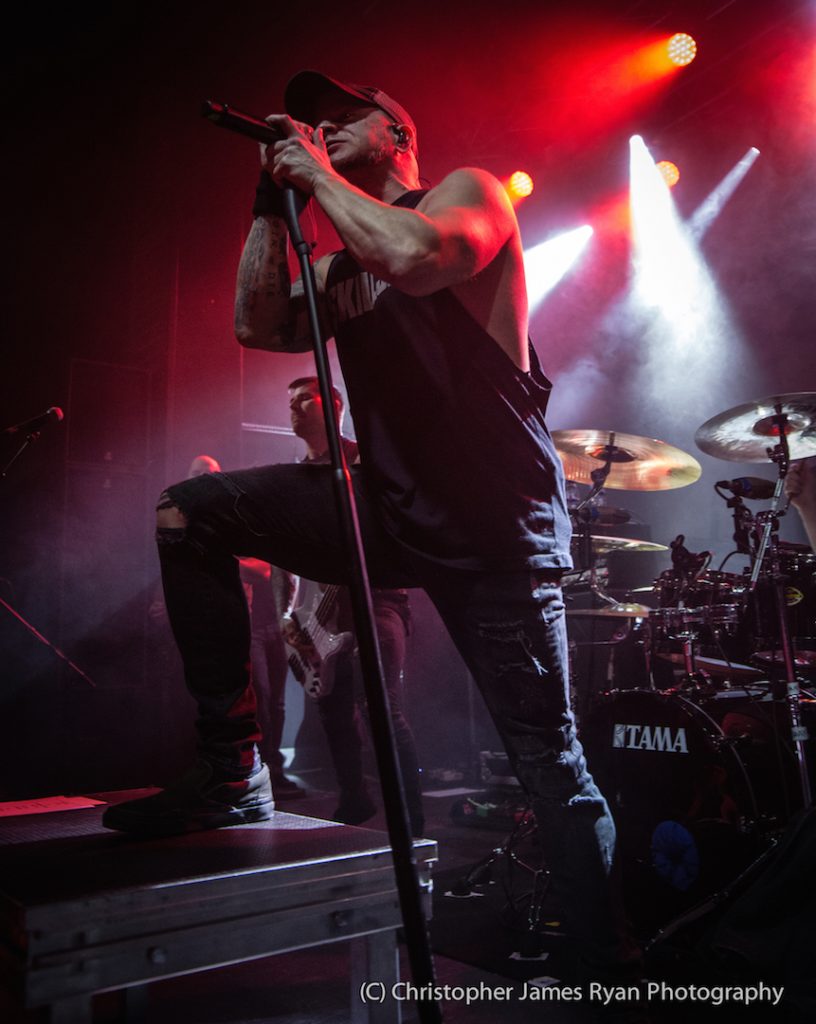 Next up is All That Remains. For many of us this will be a unique show, for those who don't know Oli Herbert (lead guitarist) sadly died back in October. Oli had been in the band since it started twenty years ago, so for All That Remains to continue on will be hard. Phil Labonte (lead singer) did an interview with WRIF last month saying…
"We're gonna continue on. The band is not gonna end. It's gonna be different and it's gonna be weird. We've got someone that's filling in for this European trip that we've got coming up at the end of the month.

"And he is the guy that Oli would have wanted to fill in, to replace him. And then we'll start looking for a full-time replacement, I assume, shortly. 'Cause we've got stuff that we wanna do next year.

"We don't wanna let the [new] record be pushed aside. Oli would have wanted us to play the songs. He was excited about the way the record sounded and he was excited about a lot of the stuff on it, so he wouldn't want us to stop."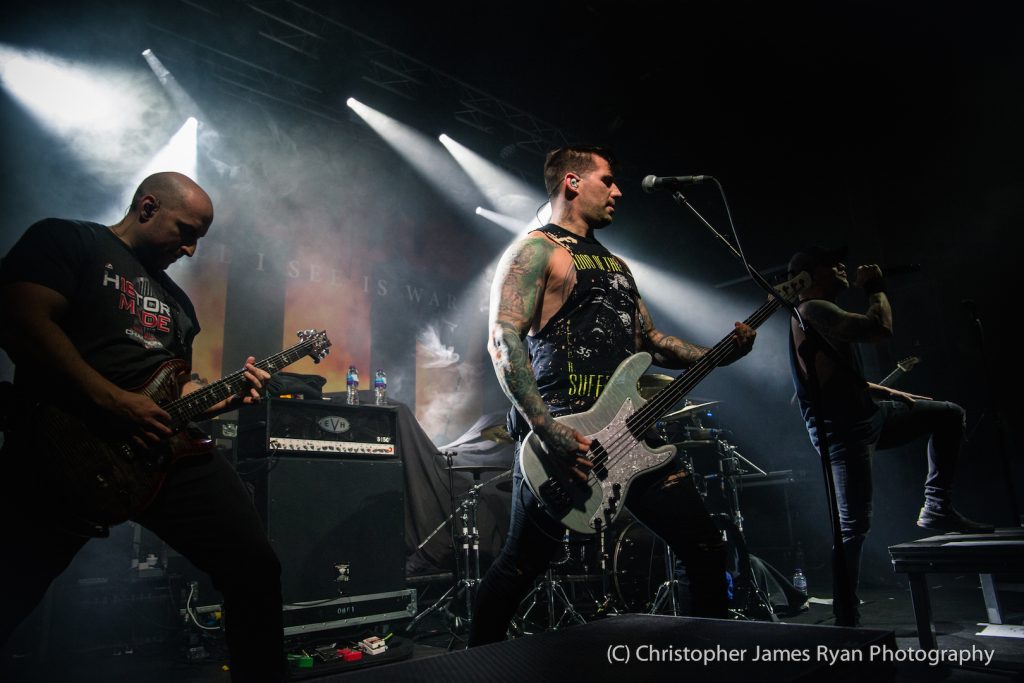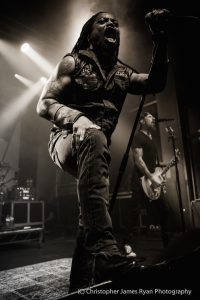 Like many of us we were not to sure if All That Remains would be touring as planned or even continuing on from Oli's death. It does look like this will be a tribute to Oli and their new album Victim of The New Disease will be dedicated to him! To help with the tour Jason Richardson is filling in on the guitarist. Kicking off the set with 'Two Weeks' is enough to get people hyped and happy for the rest of the set. In tribute All That Remains play a chunk of the set from The Fall of Ideals from start to finish. There wasn't much talking from Phil, but you can imagine that he just wanted to perform and enjoy the night. The crowd were having a great time with their own ways to remember Oli by getting drunk and creating mammoth pits! That's one way for sure to remember a brother! We were also spoilt by another big set-list playing favorites such as 'What If I Was Nothing', 'The Calling', 'Fuck Love', 'Six', 'Wasteland', 'This Probably Won't End Well' and 'The Last Time'. Sadly 'Madness' wasn't payed but the other gems do make up for it! All that remains prove to us that their energy, raw riffs and powerful vocals dominate the metal industry strongly til this day!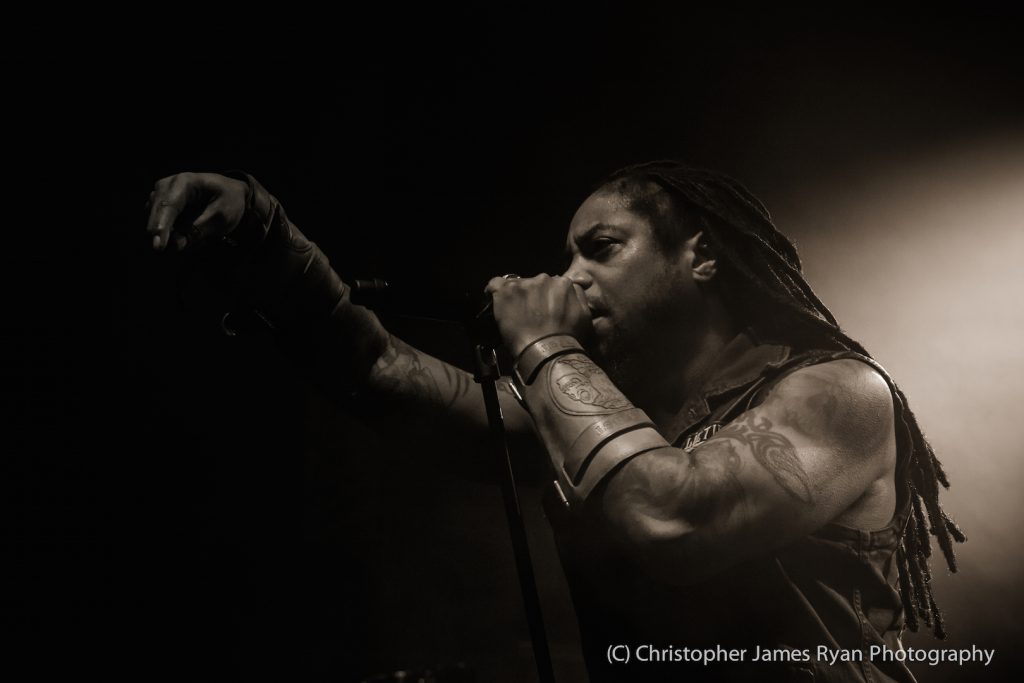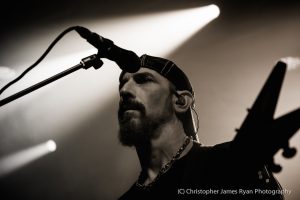 It has taken seven years for Sevendust to return and boy was it worth the wait! Despite the hibernation Sevendust are in full swing to give us the sweet taste of metal! Not only that, they were back the new album All I See Is War  which was released in May via Rise Records. Tonight they opened with 'Dirty' off the new album and they have everyone psyched up! The whole band is domineering, owning the stage as if they were never gone that long. Sevendust are still proving that Nu-metal, whether you love it or hate it, it's here to stay. If it's played well it'll stick around for another generation, as it's still banana's that Nu metal began in the 90's despite the steep decline in the early 10's there are still bands today that thrive on the rebellious feel – The fans prove just how right this is! Despite a shorter set but with an encore I doubt people will be complying any time soon. They kept the crowd hyped playing tracks like 'Denial', 'Praise', 'Waffle', 'Bitch' and 'Face To Face'. I hope that it doesn't take another seven years for a return, make it a year tops Sevendust!
Three bands, three genres, one great crowd!