2000Trees is, without doubt, a community. To use the cliché, like-minded music fans assemble in the Cotswolds countryside every year to see their favourite underground artists and discover some new bands to add to their Spotify playlists and vinyl collections.
In the usual festival circles, there was some debate regarding this year's headline choices – but however you felt about the lead players, it's undeniable that the overall roster was packed with fantastic acts. Rather than a traditional review, we've thrown the spotlight on six of our favourite performances over the weekend. Because these guys absolutely smashed it.
Wallflower
An early mention for one of the smaller bands on the lineup, if you're into powerful emo-rock that lands somewhere in-between Balance and Composure and Moose Blood, Wallflower are 100% worth your time. As the band rattled effortlessly through their small but perfectly formed catalogue of music, the initially small crowd in the Axiom grew considerably from passers-by catching a hint of their sound. Aka, the sign of a great performance with a band that has a whole load of promise.
Frank Carter and the Rattlesnakes
After impressing at a packed out acoustic set on the Forest Stage earlier in the day, the inimitable Frank Carter and his Rattlesnakes hit the stage to the huge sounds of 'Juggernaut' – and didn't let up for the rest of the set. Playing a snappy yet well-curated setlist, the entire band offered up a tight, slick performance. But there's one man you just can't take your eyes off.
Carter himself is simply alive when he performs – eyes wide, owning the stage and making his way into the crowd, all while delivering a formidable performance with a confident presence that seems to come naturally. But he's a nice guy, too – the set stopped multiple times to recover the crowd's lost property (perhaps to the slight disdain of some), and when an all-female crowd surf was initiated, bodies made their way over the barriers for the entire song's length.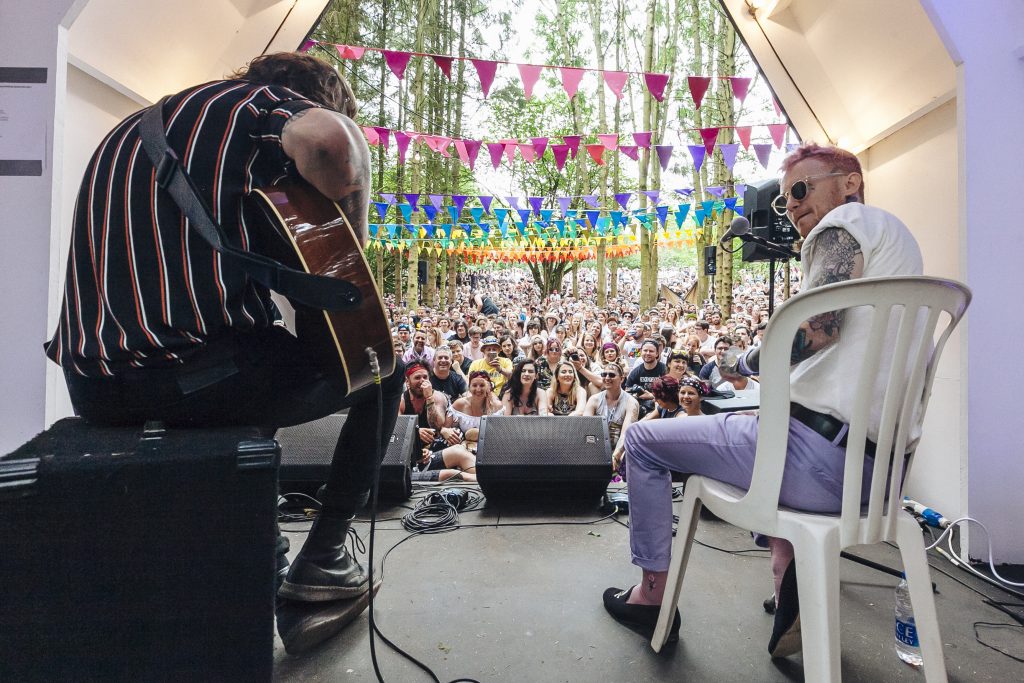 Deaf Havana
Having headlined the festival two years previously, it was strange to see Deaf Havana take to The Cave for their latest performance – but 2000Trees isn't a festival that panders to headliner status, and Deaf Havana don't seem to be a band that do so either. It turns out, the move from headliner to tent performance actually worked in the band's favour, demonstrating a rawness that wasn't felt during their previous performance.
In the run-up to the festival, fans voted via social media on the setlist. And, obviously, for a band who once had a very different sound, there was clamour for older tracks, which by and large didn't make their way to the final list. However, in an effort to appease, the boys set to the stage with an easily reworked version of best known early track 'Friends Like These'.
The Wonder Years
Quite frankly, The Wonder Years simply haven't had enough festival time over here in the UK. Taking on the role of one of 2000Trees' limited international bands, it seems that for a large portion of punters, the festival made an excellent choice.
Long-time fans went into a frenzy as lesser-played fan favourite 'Coffee Eyes' dropped, and seemingly every twenty-something (and beyond) in the tent sang back every word of 'Passing Through a Screen Door', an alternative anthem for a generation.
In many bands, the almost excessively sincere punch of every line wouldn't work – but in the hands of Dan 'Soupy' Campbell, it builds an emotional bridge between those on stage and those in the audience. When the first lines of closing track Came Out Swinging burst into life, it's not just one man singing them – it's the entire tent.
Milk Teeth
If you haven't heard of Milk Teeth yet, jump on board this train now. This is a band that are SERIOUSLY going places, and it seems like the music world just can't get enough. New track 'Owning Your Okayness' was made to be played live, and this four piece have a perfect blend of nonchalance and enthusiasm, leaving the crowd in awe that being this good is just that easy for them…
The One Hundred
A band that seems to be on the music world's lips a lot at the moment, at first listen, The One Hundred aren't exactly a band you'd expect at the country's alternative rock festivals. But this crossover act seem to fit in just fine.
A welcome break from straight-up rock acts, their fusion of electronic music, grime, metal and punk makes for a live show that hits you straight in the face. Imagine Enter Shikari took a holiday to the deepest depths of East London, and you're kinda getting there – but if you have even a passing interest in creative genre crossover, The One Hundred are a live act that have to be seen for yourself.