Hot on the heels of their amazing 2017 Grammy-nominated album Bloodlust, Ice-T's metal band Body Count have had what can only be described as an incredible resurgence in attention and interest. Not to dismiss the coverage and praise they got on their awesome 2014 comeback album Manslaughter, but Bloodlust was one of last year's finest metal albums – both musically, thematically, and lyrically. However one of the main things that always slowed down or marred Body Count's ascension was their very limited touring schedule due to Ice-T's incredibly busy lifestyle being, well… Ice-T. What more can be said?!
So fast forwarding to 2018, Body Count dropped the knowledge that they will be playing an exclusive UK club show at London's decadent venue Koko, their first in what could be well over ten years, this was going to be a no-brainer. After a few rare festival performances, Body Count were finally going to bring the noise to London town after all this time after performing at Download Festival. But they sure as hell didn't come as the stand alone act of the evening…
First support band is Spain's very own Crisix. Having been around for a decade at this point, the metal band sure have honed their craft, and are now ready to take on the world. Whilst there is already a decent following of people nodding along and warming to them, one could not help but notice they were a little 'too much'. Not in terms of heaviness or anything like that, they are great musicians! But bloody hell… listening to them was a deafening experience, but also to the point where it feels like an overly hyperactive child is screaming at you over and over and over again in an overly adamant manner, without a chance for pause, and you the listener not having a chance to respond or process what is going on. This was then mirrored by Body Count's merch guy, who was overwhelmed by the vocalist's larger than the universe persona, the mortified expression on his face pretty much said it all. Crisix are a decent band who got a lot going for them, but you know… tone the persona down a little!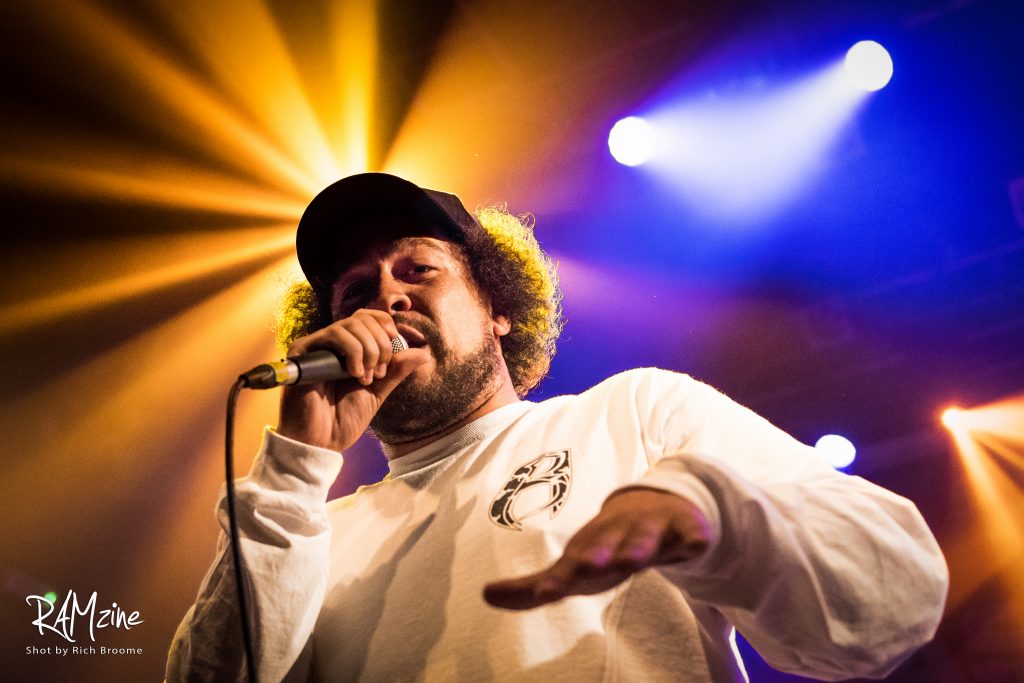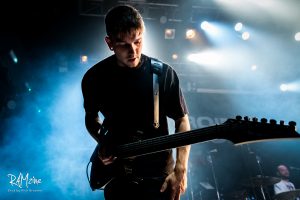 Main support for the evening is from the excellent Astroid Boys. However it is evident that they are two men down – missing member being MC Traxx, and producer Delux, who were not present. So with a couple members down, I got to give it to vocalist and MC Benji… he had this performance nipped in the bud. Inviting guest MC's on stage Sonny Double 1, and Roll Deep's very own Manga St. Hilaire for performances during 'Foreigners', and 'Razz', what the group could make of a limited arsenal actually proved to be a very promising and endearing quality. This just goes to show that when the odds are slightly stacked against you, you could turn a potentially altered performance in to something special. And by the end of it, Astroid Boys have clearly won a fair load of new fans over! So a bloody great show there, chaps!
At this point, the energy and enthusiasm in this predominantly elder room is picking up pace. Old school metal, hip-hop, and punk fans, mixed with the new breed of music fans. It's an interesting mixture of people in here this evening – including a man dressed in a full blown Darth Vader outfit at the front! But you know and feel that there is an air of excitement, anticipation, and positive tension brewing. Chants of "BODY COUNT! BODY COUNT!" start to erupt, and as the time goes by, that recorded intro booms over the PA system, and then the whole mood elevates in to outright pandemonium.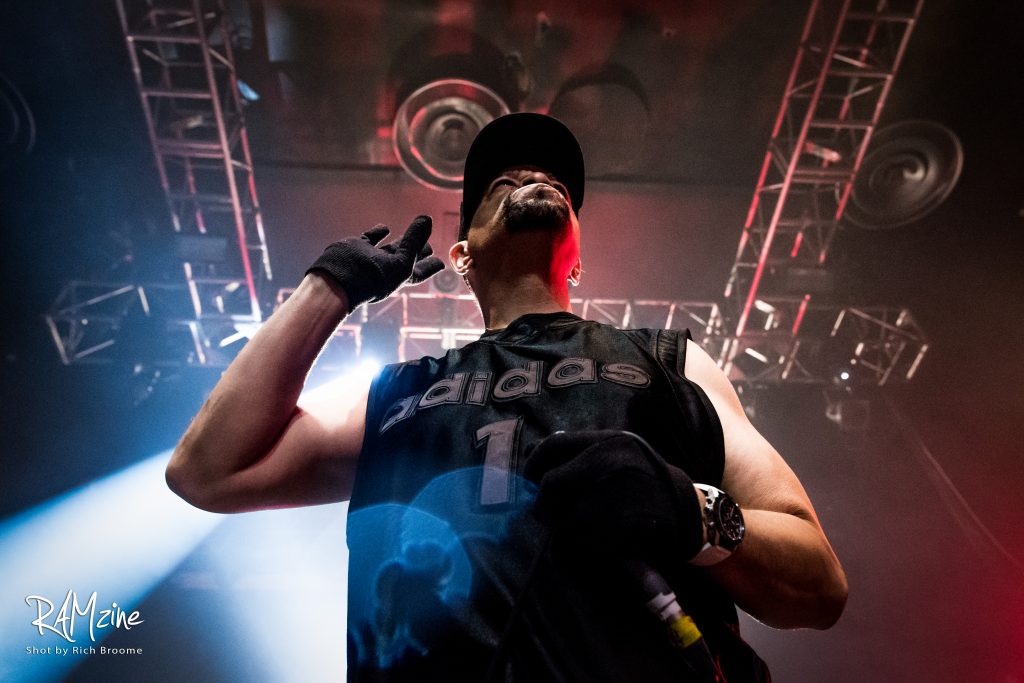 Straight from the intro, they kick straight into their cover of Slayer's 'Raining Blood / Postmortem', which sets the dance floor from napalm to nuclear in seconds. Straight from the cover song, they then launch in to a couple of old school jams being 'Bowels Of The Devil', and 'Manslaughter'. But it isn't until they launch in to 'No Lives Matter' that the ante gets manically upped once more, and the whole place becomes a unified war zone. What is more incredible is that the band and Ice-T sound so refined, consistently communicative, and musically tight live, and they sound as fresh, as vital, and as important as they ever have done. it is an incredible thing to witness to say the very least.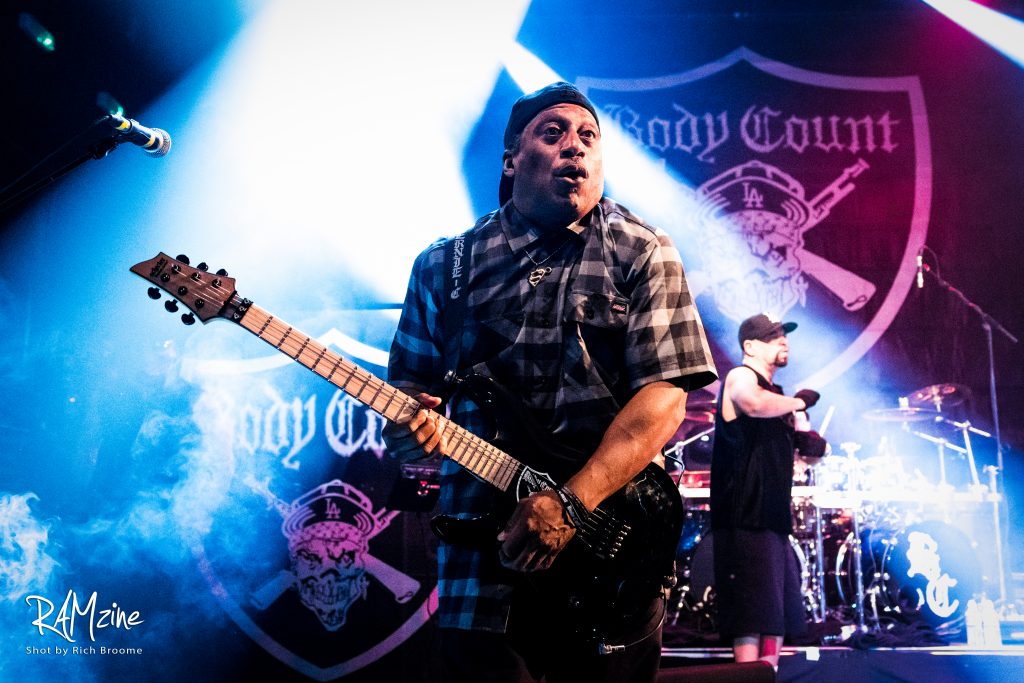 The set is equally peppered with classic hits, deep cuts such as 'Drive By', an absolutely scathing rendition of The Exploited's 'Disorder', which the floor then turns in to a blood bath, and also a host of newer material from the two most recent albums. They don't even stop for an encore because Ice-T wants us to humorously know "Once I'm back there, I ain't coming back out!". So for their 'encore' if you please, they play a quick snippet from Suicidal Tendencies 'Institutionalized', 'Momma's Gotta Die Tonight', and then ending with an incredibly fitting and somewhat moving version of one of Bloodlust's standout tracks 'This Is Why We Ride', which bring everything full circle.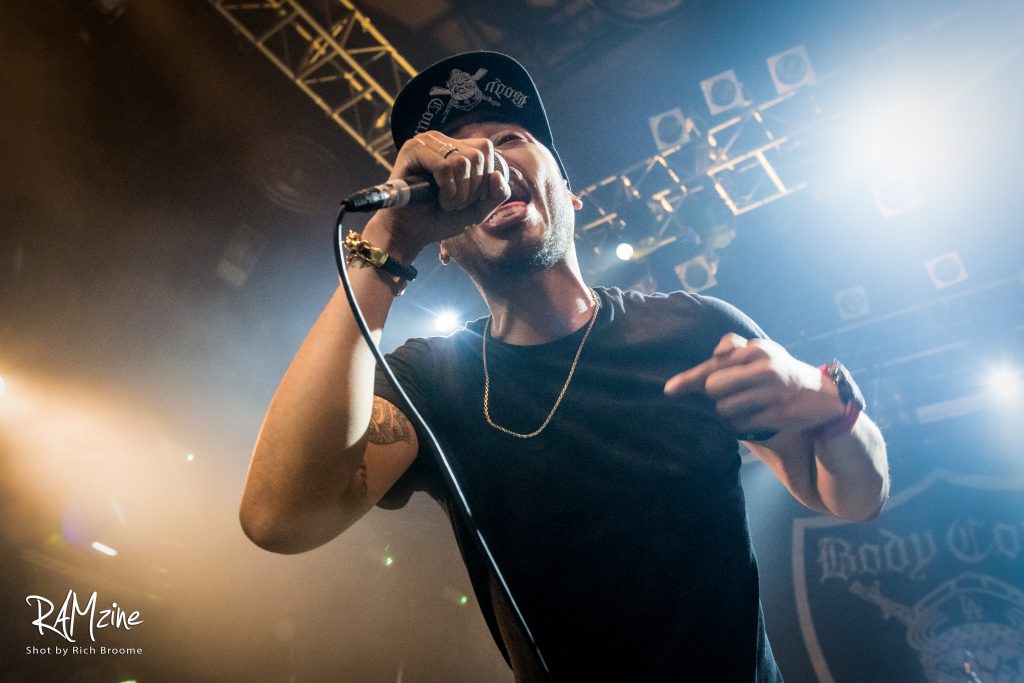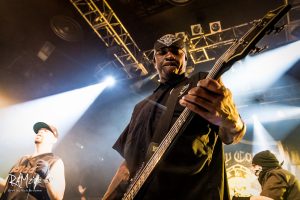 Body Count are a special band, if not incredibly underappreciated. We could talk about the struggles of artists from alternative genres trying to blend in to other genres for popularity, but that is and never was the case with Body Count. A credible, reputable, substantial outfit who have just come back roaring with a vengeance. Older and a little wiser, but a lot more venomous and pissed off, tonight's performance was something truly special. It isn't often you get to see Body Count on an extensive tour like this, but for what it is worth, the sold out crowd at the Koko tonight are a true testament to the very vital importance of a barrier breaking metal band like Body Count. If anything, the group are more relevant, validated, and essential today more than they ever have been. For one night only, London and South Central met.. and it turned in to Slam Central.
Ice-T, Ernie C, and to all the rest of the awesome dudes in Body Count… thank you for keeping it real, thank you for being gracious enough to drop a club show in the UK in between your hectic schedule, and thank you for being you. Rock the fuck on forever!