With a new album on the horizon, the incredibly talented ensemble known as Grand Slam are determined to leave a mark on the world of hard rock music. Originally conceived back in 1984 by legendary Thin Lizzy frontman Phil Lynott (1949-1986) and featuring the brilliant Mark Stanway (Magnum) on keyboards and Laurence Archer (UFO, Wild Horses) on guitars, the band toured the UK rather extensively and had momentum, a huge fan following, and killer songs, but for various reasons the band never secured a record deal. Fortunately, Archer and Stanway decided to resurrect the outfit in 2016 (they played Sweden Rock that year) and have spent the last couple of years writing songs, putting a brilliant line-up together, and recording new material. RAMzine caught up with Laurence to discuss the upcoming record, the new line-up, the old days with Phil, and the importance of musical growth.
RAMzine: Hi Laurence, how are you?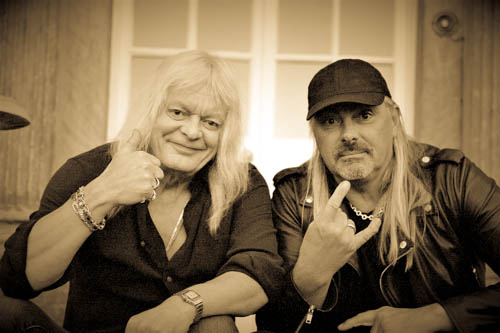 Laurence: Very good. Just in the middle of doing the album at the moment and Mark (Stanway) is in the studio in the control room as we speak, so yeah, all is good.
RAMzine: Very cool. As Mark probably told you, I am truly excited about this new album of yours.
Laurence: It is sounding immense. It is beyond my expectations. We arranged many of the songs and they sound like I want them to be and how I want them to be heard by the general public – They just sound great. I am really happy with it.
RAMzine: That is great to hear. I was curious as to whether you would be re-recording many of the old songs and then writing a bunch of new songs as well – kind of like a mixture between the old and new.
Laurence: That is exactly how we are going about it. We will probably do five of the songs we wrote with Phil (Lynott) and then we are putting some new material on there. This is going to be a band and not just a project or a short-lived thing. It is a fully formed band that we want to move forward.
RAMzine: Right, you guys are looking to the future.
Laurence: We have a lot of interest and some very interesting people involved. We have recorded a song that I wrote about ten years ago, which has not been showcased or played anywhere, and that will probably be the title track of the album.
RAMzine: Very interesting.
Laurence: It has a small homage to Phil within it.
RAMzine: That is perfect.  
Laurence: I have probably about thirty or forty songs that I have written since the days with Phil and up until now that I gave sort of kept aside, but now I want them to get out there and this is the best voice and medium to do it with. I am very pleased. Like I said, it sounds immense and the line-up we have works. It is very much a band and we are very excited about the future and what it will bring. We have decided to keep it reasonably low-key for now and put some feelers out and so on, but we want the right people involved and so far, everything seems to be falling into place. Now we are doing the album and things are coming along nicely.
RAMzine: Just listening to you being so enthusiastic about it makes me very happy. I am truly excited about it!
Laurence: To tell you the truth, I could have had the opportunity to do this previously, and it was always something that I wanted to do because I was not really happy with what was out there under the Grand Slam badge. Some of them were sort of just 3rd or 4th generation demos that we used to do in the back of Phil's house. We did some recordings that nobody ever really heard because we took them back to Phil's place and dropped them onto his 8-track machine for him to try out different vocal ideas even though we had already recorded them in a 48-track scenario in a proper studio.  However, those tapes went missing and I have no idea where those recordings were or went or who has them. A lot of things went missing, which was a shame. For me, to be able to record the songs as we wrote them and wanted them to be and bringing them into the now and this new generation is great. I am being respectful to the songs as we wrote them, but I am updating them to the point where they are relevant today because I do not want to simply rehash anything that was done before. If Phil were here, he would do the same because he was always trying to push forward. I have rearranged some of the songs and to my mind, they sound incredible, so I am very happy with how things are turning out.
RAMzine: That is good to hear, and I cannot wait to listen to the record. That thing you mentioned about you guys looking to the future…You know, whenever I tell friends and acquaintances about Grand Slam and the fact that you are back, I always stress that you guys are not merely a tribute act. It is a proper band.
Laurence: No, there is no sense of a tribute thing going on here. We are going to be using the right marketing people and we are going to be putting the band into the public eye as a new band. It is going to be a new band, but we will have those old songs as part of our roster. It will not be a total one-trick pony. I write a lot of songs and when I wrote with Phil we wrote those songs together and I have not changed since then, so I can still sort of write in that genre although I am bringing it up to date a bit.
RAMzine: That makes sense. It can sound modern and current and yet timeless, if that makes sense. There is a balance there, I think.
Laurence: Yes exactly.
RAMzine: Back in the day, how did you guys go about writing songs? How about nowadays? Do you compose stuff together and then whip it all into shape in rehearsals? Or do you write stuff separately and bring that into rehearsals for the others to learn?
Laurence: When we were with Phil, we wrote a lot of stuff within the rehearsal room. We would put a song together in rehearsals. For example, 'Military Man' would spring from one idea and then we took it from there and expanded on it. We would play it live but we did not record it until much later on. But we did record it in Dublin, I think. Phil would bring things to the table, I would bring things to the table, and Mark would be involved in the keyboard parts and arrangements and so on. We were like a band and would put stuff together independently and together. There was not one fixed way of working, but we certainly worked together as a band. That was the way I saw it.
RAMzine: When I listen to the old live recordings or demo versions, it sounds like a band playing together.
Laurence: Yeah and I think anybody that came to see the band Grand Slam as it was then would have realized that we were not a Thin Lizzy tribute act or anything along those lines. We were trying to forge forward as a new act and it was just very unfortunate that a deal did not happen with Phil due to certain elements of his personal life that kind of put a hold on all of that. We are very much a band just as we are now. Nothing has changed with respect to that.
RAMzine: One of the thing stat I love about the old recordings is that there were no constrictions or limits to how Grand Slam was supposed to sound like. You were mixing different genres and all kinds of different elements together to great effect. There were no limits and somehow it just worked. You were not merely Thin Lizzy Part II, you know?
Laurence: We would have found a direction, but I think the band would have been a slightly bit wider than Thin Lizzy. Obviously, you can never walk away from the way you sound or how your voice sounds and your natural melodic sense. That is always there with you, but we were certainly pushing the parameters. Had it gone on who knows what we would have ended up with? I mean, I think it would have been a wide and varied set of songs as opposed to just going down one route. Phil was an artist who had a varied taste in songs. Like with his solo albums; they sounded like Phil and they were varied, and that was his gateway to voice this other side of him without any constrictions and without having to sound like Lizzy as it were.
There was nothing preconceived, and the songs turned out the way they did for a reason simply because they came from the heart.
RAMzine: Right. I was listening to Glasgow Kiss last night and when he introduces the band and just the way in which he states that the name of the band is Grand Slam, there was just a certain conviction and confidence there. You guys really meant it!
Laurence: Oh yeah, he loved it. There was ever any negative thing from outside at all regarding the whole Grand Slam thing. It was a very positive and productive thing. We had a great way of working and a positive outlook on everything. We were just going to do whatever we could to get there.
RAMzine: Luckily, the songs can be recorded properly and given a new sense of life now.
Laurence: Yes. It is a new voice and a fresh take on things. I think people will love it because we are not moving away from the elements from the songs, but we are certainly updating them, using new processes and recording techniques and so on. We are making a proper record and it is probably harder and heavier than you would think, but it is very melodic, and it has earworms where you play people the song and they cannot stop singing it. That is what we are trying to do with every one of them.
RAMzine: That sounds fantastic. I cannot wait.
Laurence: I do not want any fillers on this album, so we are paying attention to every track both old and new to make it the best we can. We have a great producer working with us and we have some very exciting music. Very positive indeed.
RAMzine: That is great. What about touring plans? Are you going to tour the album?
Laurence: Yes, as soon as we have put everything else in place. We have not decided on any management at the moment. We are doing everything else first. We do have interest from management, so once we get everything in place and the timing is right we want to get out there. That is our livelihood and it is what we want to do. That is what this whole process is about; getting out there playing.
RAMzine: It will be so interesting for people to see and hear this new version of Grand Slam. Granted, you did do a couple of gigs back in 2016 with a different line-up.
Laurence: Yeah, but it was not this line-up. That was more of a pick-up band or a session. Mark and I put that band together to play some gigs and voice the songs and so on. Essentially, this new band is a different one and when I put the guys together, I told them straight off that this is a band and we all have equal say. I am not going to push any ideas on anybody. Obviously, a lot of people are coming to myself or going to Mark because we are the focal point of what was before, but when you see and hear it, you will realize that this is five guys playing in a band together and that everybody is equal. Everybody has a voice in it and it is a proper band. Many people put a band together and go out and only last a year before they pack it up. That is not what we want to do. What we want to do is something that will go on and continue. I do not want something that is changing all the time. We have found the people that I want and the right players, and they are all very committed to making this work.
RAMzine: That is the most important thing, that everybody is onboard. With Dave, Benjy, and Mike, it can only get heavier. That will be really interesting.
Laurence: It sounds big now. I cannot begin to explain it. We are midway through the album, but there are no effects on it and it sounds huge just the way it is now. As I keep saying, I am really happy with the way it is turning out.
RAMzine: There is a video clip on Instagram where you are laying down a solo on 'Crime Rate'.
Laurence: Yeah, the producer put that up.
RAMzine: It was just a two-minute clip, but I loved it. It was almost like a teaser.
Laurence: Ha-ha, yeah, I am going to tell the producer to upload some more of those. It is beautiful here in the studio and a great place to work. There are some great people working here. Everybody is here and having a great time. We are really enjoying it and seeing the fruit of our labors. We went into rehearsals for a couple of weeks before we came here. In the pre-production rehearsals, we sorted out some of the arrangements and it just sounds great. Nobody is going to sound like Phil (and nobody should be trying to sound like Phil), but Mike has a natural empathy for the best thing about Phil, namely the phrasing and his poetic element. Mike has sort of got that natural phrasing. The way in which he sings the old songs is very true to how Phil would have wanted to do it.
RAMzine: That is perfect. He is bringing something new to the table while still being able to handle the originals convincingly.
Laurence: Yes, and I think people will like it, because without copying or emulating anyone he is keeping it true to what it is, and he has that natural empathy to what Phil would have done. I cannot wait for people to hear the new stuff.
RAMzine: The 2016 line-up more or less transformed into Kingdom of Madness, but Mark once told me something about a DVD and a live album from the Sweden Rock performance being in the pipeline. Will those see the light of day?
Laurence: There was some footage taken from Sweden, so that is still a possibility, but to me that was more or less a project to go out and play the songs because we had a lot of interest from Sweden. That was Mark, myself, and some mates/old session players who went out there to have a bit of fun and do the job, but this new line-up is completely different. Kingdom of Madness is going to be a great bit of fun and it will be cool to go out and play those songs with those guys, but it is not a creative process whereas Grand Slam is. The latter is here to stay until we have done everything we can to make it right.
RAMzine: That makes sense and ties in with what we discussed about Grand Slam looking to the future as opposed to only relying on old song material.
Laurence: Yes, and now is the ideal time. Watch this space because I think you will be pleasantly surprised when you hear the new album.
RAMzine: Like I said, I cannot wait and the fact that you sound so enthusiastic and confident makes me even more excited. Actually, I kind of like the idea of you guys keeping it bit low-key for now and not really saying until everything is…you know….
Laurence: …before everything is in place. It is going to be great and we will have all the right things in the right place and get it out there at the right time. As I said, I think everybody will be pleasantly surprised by the end-result. This thing is not going to go away. It is going to be an ongoing thing. It is a new band and we will forge forward.