Unfortunately due to the show starting very early at O2 Ritz Manchester (doors were at 5PM and the band started at 6PM) myself and a load of fans were unable to see the legends that are CKY live – but we were in time for Backyard Babies to lift the spirit of rock and roll!
Sweedish rock band Backyard Babies are back in the UK and oh boy are they excited to be here! They make it sound like it's been many years since they came ashore but it's only been a year. For those unfamiliar with the band, they have made some great achievements since their birth in 1989. From winning two Grammys, supporting huge acts like AC/DC and having a major contribution not only with the sleaze rock genre but of course with punk rock which has made a big impact on the industry today. On top of this, they released their ninth studio album last march (Silver and Gold) so this just shows that we're in for a treat and with a co-headline show and it's a big one!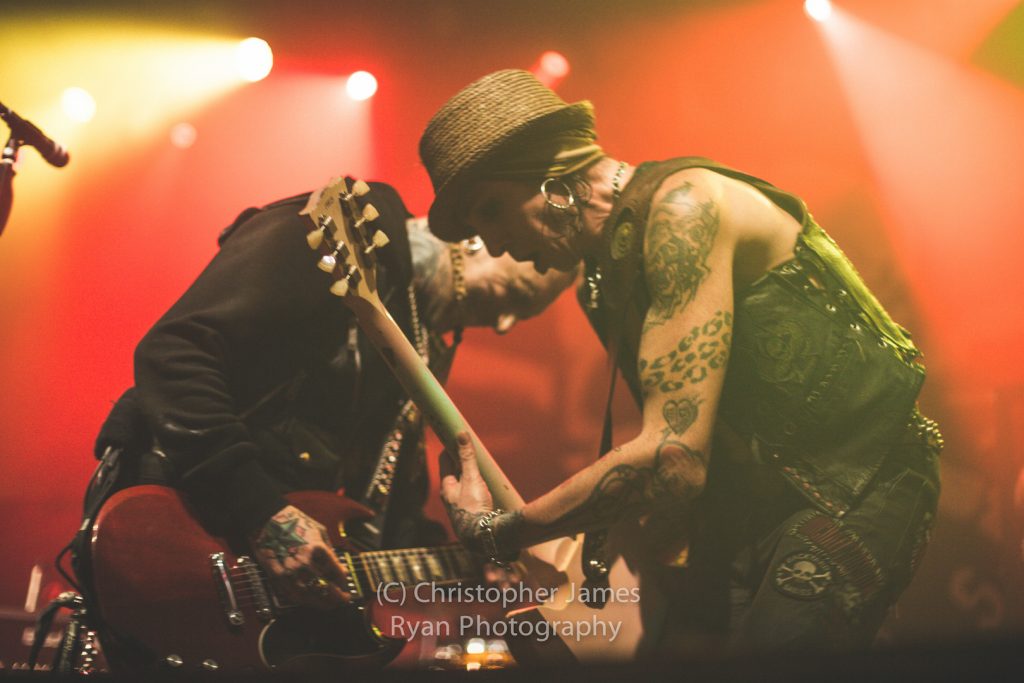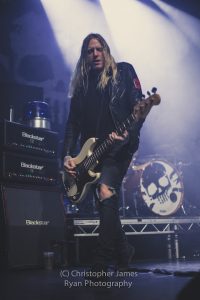 With this being a long set, rather than the new album being showcased there was a great balance of what it seems are the fan favourites, as the crowd are ecstatic. What makes it great is the band have an excellent stage presence, jumping around everywhere, guitar duos and just all-round happiness. One of many highlights for the show is 'Painkiller', the acoustic is out of this world and the song goes out to anyone struggling with addiction. If you are looking for a band that just wants to have a good time and rock out then Backyard babies are the one! Tracks for the night include 'Th1rt3en or Nothing' ( a crowd favourite), 'Heaven 2.9', 'Nomadic', 'Minus Celsius' and 'Highlights'.
Newcastle's very own rock and roll sons The Wildhearts have returned and with a bang. Not only releasing their first album in ten years, 'Renaissance Man' back in March, but they have also released an EP called Diagnosis in October, highlighting mental health issues as a whole. Regarding the institutions, the patients, the people and how our country is failing to help. For a band that started in 1989 and have then made their now ninth studio album while having multiple breakups over the decades, it's safe to say that all this hasn't negatively altered anything at all.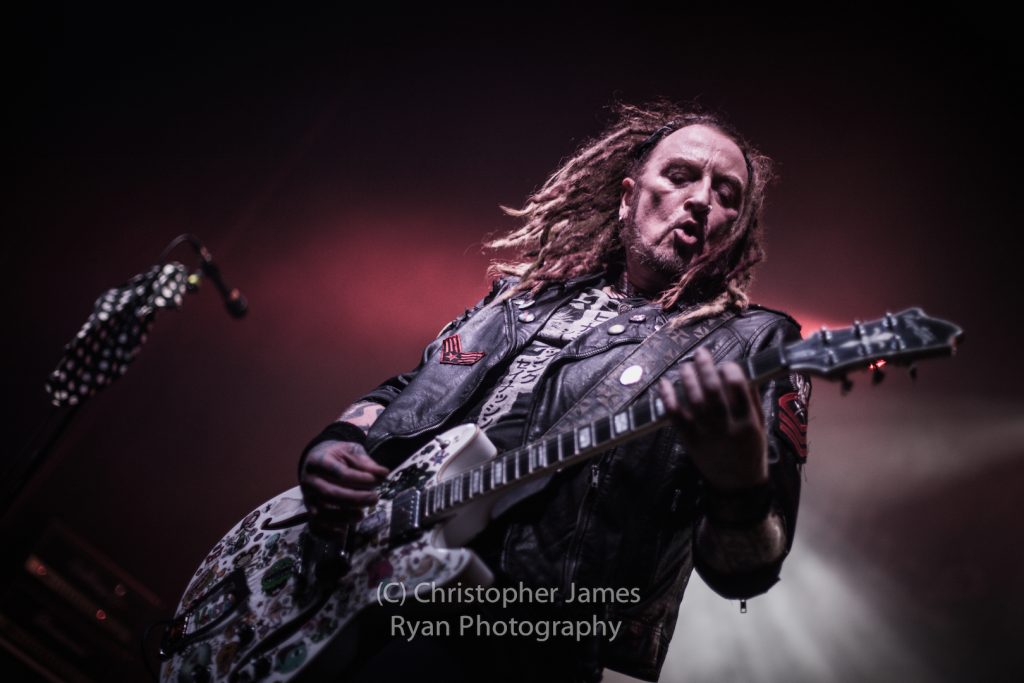 The Wildhearts are one of many pinnacles in the good old fashion rock and roll you see today. Heavy, addictive riffs, the punk but happy musical attitude and to come to do one thing and that's to spread the good message of rock. The band has done similar to what Backyard Babies did regarding the setlist, giving us a great balance of new tracks along with all the old gems while having a good laugh with Ginger Wildheart. Opening up with 'Everlone' it sets a kickass start to the night. Ginger asks the crowd to sing along to 'Diagnosis' if you have ever had anything to do with mental health, the clapping is from the entire venue. This is what I like about live music, stuff like this which brings us all together. "That's a fucking rock gig" Ginger acknowledges as the crowd cheer.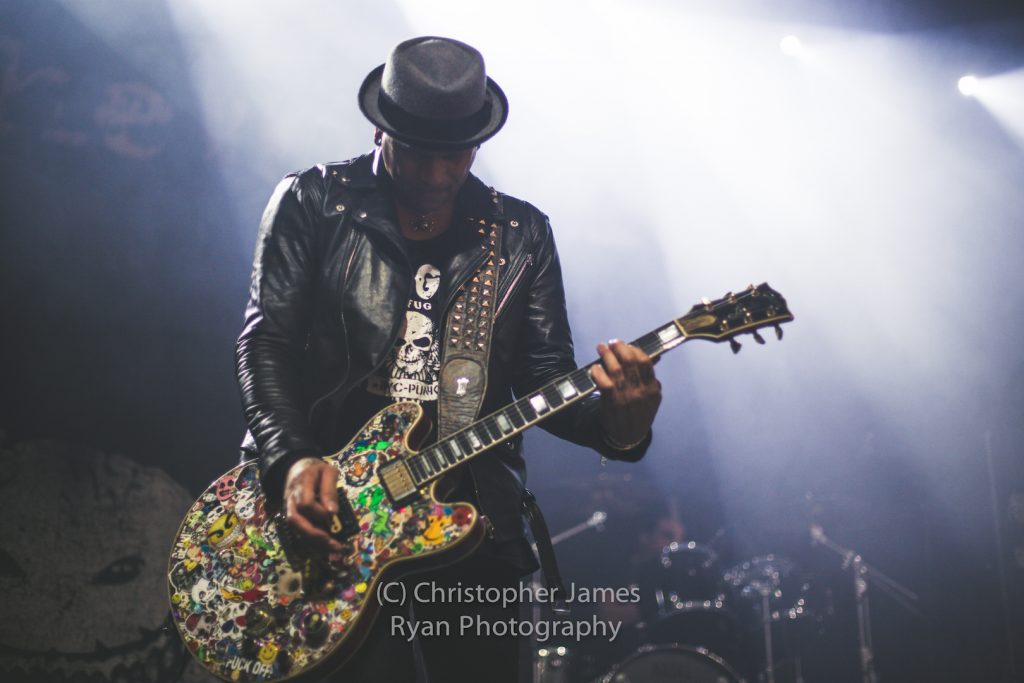 Spicing the mood back up with chanting and cheering is the popular 'Vallina Radio' – It's one of many gems The Wildhearts have produced over their long career, a gem that shines bright after all these years. To top this off,  'Greetings From Shitsvile' was played, which came from the band's first album way back in 1993. This was one of a few from that album played tonight with 'My Baby Is A Headfuck' during the encore. There also featured a song dedicated to people who know "wankers" in their life or have removed them from their life called 'Let's Get Rid Of All The Wankers From Our Life', Ginger says jokingly "Let it go".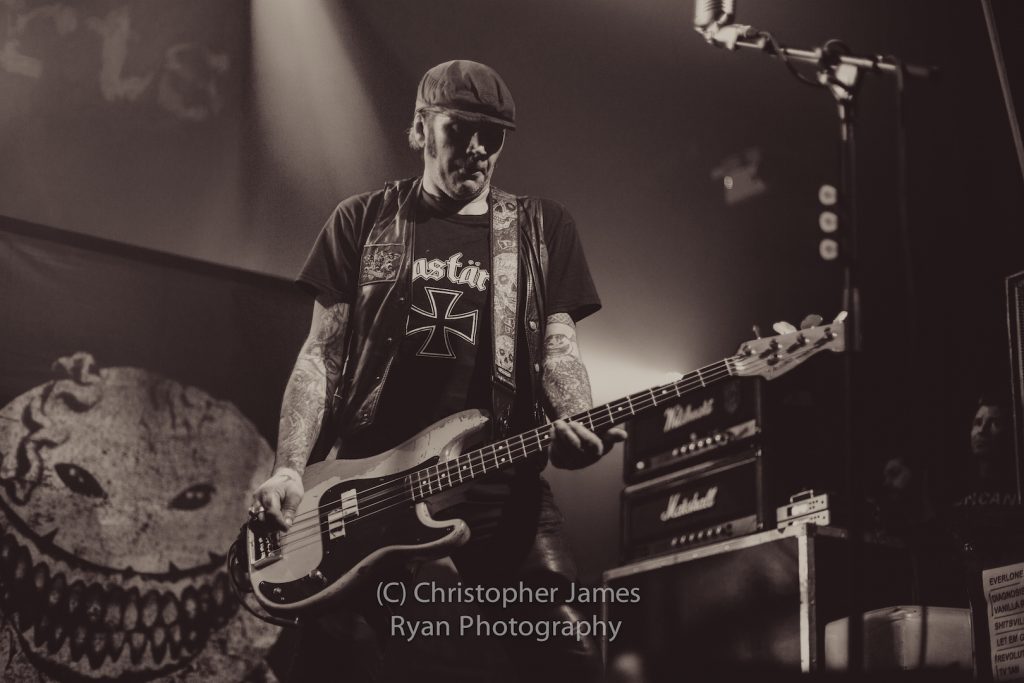 This is what makes The Wildhearts great, it's rock and roll to just not care, but to just play music and have a great time. Ginger didn't want to brag but apparently, Manchester has been the best gig to date, here's hoping we are still top by the end of the tour. Another crowd pleaser is 'Sick Of Drugs', which Ginger said would be great if everyone could sing along to, which the crowd did with pride before ending the set with 'My Kinda Movie'.
Fear not as I said before there is an encore, a triple track in fact. '29X The Pain', 'My Baby Is A Headfuck' which the crowd went nuts for, jumping about arms everywhere and booze flying. Ending the show with 'I Wanna Go Where The People Go', Ginger is so thankful to the crowd and the support acts and thankful he didn't have to cancel tonight's show as last time a show was planned he had to miss due to illness. So to wrap this up from what we have seen from these two legendary bands, rock is far from dead and let the inner punk be free for generations to come!
Words by Hollie Louise Gent.