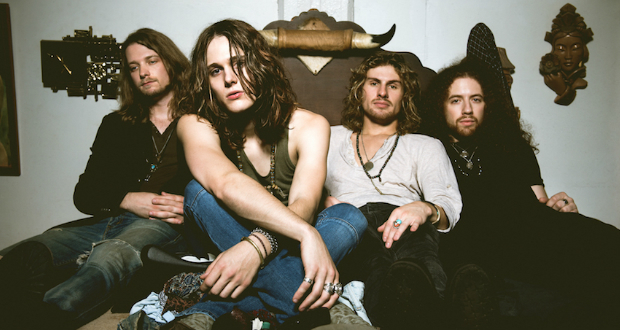 Meet the band who will not only be playing with Guns N' Roses this year, also Aerosmith, Deep Purple and Tom Petty!
Tyler Bryant is a 26-year-old guitarist hailing from Texas. He moved to Nashville, Tennessee, at age 17 to write songs and that is where he met bandmate Caleb Crosby (drums). Completing the line-up of Tyler Bryant & the Shakedown is Graham Whitford (guitar) and Noah Denney (bass). Last year the band toured with AC/DC before playing support slots with their friends The Cadillac Three. This summer Tyler Bryant & the Shakedown certainly have another good run ahead of them, you will also be able to catch them on the Zippo Encore Stage at Download Festival, Sunday 11th June.
Their 2015 single 'Loaded Dice & Buried Money' is slick Rock N Roll with a groove to it that will have you bobbing along, pint-in-hand, in no time.

Other tracks such as 'The Wayside' are so simply captivating that you feel you are falling in love or feeling that problem at the back of your mind fly away. It's not often you can feel the passion of a song through a YouTube video. Most bands can only achieve this with a live performance. This track shows how passionate and beautifully Tyler Bryant & the Shakedown are able to make music.
The band have been hard at work writing their follow up record to their 2016 EP The Wayside – we hope to hear a preview on the holy grounds of Donnington next month!
I image almost every journalist who writes about Tyler Bryant & the Shakedown predicts them a big future. It's not just the number of amazing shows they have managed to get under their belt over the past few years, it's the way their songs capture your attention playing to a range of emotions throughout their show.
Tour dates are as follows:
May 30 Estadio San Mames Bilbao, Spain (w/ GNR)
May 31 Sir Laurens Oviedo, Spain
June 2 Passeio Marmo de AlgesLisbon, Portugal (w/ GNR)
June 4 Madrid Esadio Vicente CalderonMadrid, Spain (w/ GNR)
June 5 Rocksound Barcelona, Spain
June 7 Woodstock Guitares Festival Ensisheim, France
June 8 Les Thermes Longwy, France
June 10 The Joiners Southampton, UK
June 11 Download Fest Donnington, UK
June 12 The Live Room Chester, UK
June 13 Limelight 2Belfast, UK
June 14 ArenaDublin, Ireland (w/ Aerosmith)
June 16 London StadiumLondon, UK (w/ GNR)
June 17 London StadiumLondon, UK (w/ GNR)
June 20 Laxness ArenaCologne, Germany (w/ Aerosmith)
June 23 Genk on Stage Festival Genk, Belgium
June 25 Waldse Freiburg, Germany
June 26 Unipol Arena Casaleccio de Reno, Italy  (w/ Deep Purple
June 27 Mediolanum ForumAssago, Italy(w/ Deep Purple)
July 1st Backstage Halle Munich, Germany
July 3 Nachtleben Frankfurt, Germany
July 4 Keller Club Stuttgart, Germany
July 5 HallenstaidonZurich, Switzerland (w/ Aerosmith)
July 7 Stade de FranceParis, France(w/ GNR)
July 8 Bospop Festival Weert, Netherlands
July 9 Hyde ParkLondon, UK (w/ Tom Petty)
July 10 Ernst Happel StadiumVienna, Austria (w/ GNR)
July 12 Nijmegen Gofferpark Nijmegen, Netherlands (w/ GNR)
July 15 Hayarkon Park Tel Aviv, Israel (w/ GNR)