Only a few days ago we saw the new masks and heard the new tunes from the nu-metal survivors SlipKnot, in the form of their latest video 'Unsainted'.
Ahead of their Download 2019 headline set, this was very exciting for fans who wanted to see the band's new look. We can all agree on both tracks:  'All Out Of Life' and 'Unsainted' are future classics, and the M.Shawn 'Clown' Crahan directed video clip for the latter was a great way to showcase the Iowa nine-piece's new stage gear.
Who exactly is this?
In the past year SlipKnot has lost members, and obviously gained members. But who is this zipped-mouthed drummer? RAMzine put their detective hats on to investigate.
Exhibit A: Chris Fehn or Joey Jordison?
Unfortunately, one of the biggest stories surrounding SlipKnot in the past year has been their legal battle with former member Chris Fehn. Some may know him as the one with 'the long nose'. All kind of stories has been going around saying he was a 'hired gun' and never had business dealings with SlipKnot. After taking this into account and the fact this case was made very public, it's extremely doubtful this is Fehn. Plus his nose isn't long enough. Although he has a zip for a mouth. Still doubtful. SlipKnot released this statement in March in relation to the departure of Fehn:
"Slipknot's focus is on making album #6, and our upcoming shows around the world, our best ever. Chris knows why he is no longer a part of Slipknot. We are disappointed that he chose to point fingers and manufacture claims, rather than doing what was necessary to continue to be a part of Slipknot. We would have preferred he not take the path that he has, but evolution in all things is a necessary part of this life. Long Live The Knot".
Is it Joey Jordison? Beloved drummer and Murderdolls member? Again because of his departure in 2013, for what is described as 'personal reasons' by the band, this is very unlikely. Joey answered this by saying he was 'fired' from the band. We would later find out this was due to a neurological disease which affected his drum playing.  Also, if Joey re-joined the band: wouldn't he have his iconic 'goth' mask? Also wouldn't we already know about it?
Verdict: Neither Fehn or Jordison
Exhibit B: Corey Taylor
Now, if Corey is already the front-man of SlipKnot, why would he be doing double duty on the drum kit? Hear us out. AJ Good – a SlipKnot expert, mask collector and YouTuber behind  'House Of Masks' – has spotted that a following scene in the video the mystery drummer has the number '8' on his sleeve. As most 'Knot fans know -'#8' is Taylor's number. Also looking closer at the press photo (isolated above), the person has blue eyes – as does Corey Taylor. Looks like for the video shoot Taylor stepped in for this absent drummer last minute. Either the person in question could not make it, or the position was not yet filled. There is a photo with Corey and the new member both present (below) but this could easily be a stand-in or a photoshop job.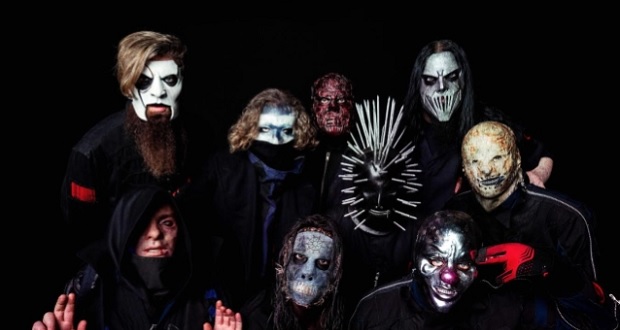 Check out the video by House Of Masks below for more on this theory:
Verdict: For the video and photo – yes, still not a new member though
Exhibit C: Jay Weinberg or Alessandro Venturella.
A lot of fans have gravitated towards the two newest members of SlipKnot for this one because…they're new. Well, new as of 2014. They are replacements for Joey Jordison and the late Paul Gray, rather than recently departed member Chris Fehn. Also, former Krokodil guitarist Venturella does not play the drums, despite being a master on bass and the six-stringer. Also, both members already have masks, so why design another? Check the actual 'Unsainted' video below to see all of them showcased.  Wikipedia even lists their 9th member as "TBA – Percussion, backing vocals" and the same for the entry on the upcoming album We Are Not Your Kind.
Verdict: Not Weinberg or Venturella. Most likely to be a new, unnamed member.
Exhibit D: Dave Grohl
Well, he's in every other bloomin' band and plays the drums – so let's throw him into the mix! Since joining Nirvana on the drums, after leaving his former band Scream – Grohl formed Foo Fighters and has played the drums for Queens Of The Stone Age, Tenacious D, Probot, Killing Joke, David Bowie, Them Crooked Vultures, The Prodigy…most bands in existence: so why not SlipKnot? He's friends with Corey Taylor so it's not impossible. There's no evidence to back this up so maybe not…or maybe yes…?
Verdict: No. No evidence that is. Of him not being in the band…or actually being this guy.
Exhibit E: An Omelette.
E for Eggs. Now come on, who did this? We salute you, you genius.
While looking for this meme, it seems a lot of Facebook commenters actually agree it looks a bit like the egg-based dish.
Verdict: Obviously not.
Conclusion:
Well after some investigation the most likely person wearing the mask in the video is Corey Taylor, standing in for the new member. The new drummer/percussionist, on the other hand, is a bit of a mystery still. I'm sure all will be revealed before the release of the new album (We are not Your Kind) on August 9th. We may even find out before this as SlipKnot are headlining Saturday 15th of June at Download Festival 2019.  So the jury is literally still out on this one.