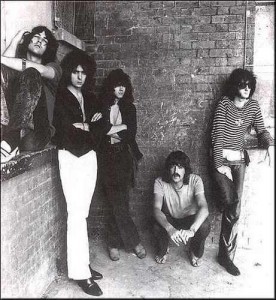 If Black Sabbath were the parents of rock and roll, then Deep Purple certainly have a claim to be the godparents. The    quintet really changed the sound of rock and roll, and really kept to the bluesy roots of early metal. The MKII lineup of Ian Gillan on vocals, Richie Blackmore on guitar, Ian Paice on drums, Roger Glover on bass and Jon Lord on keyboards/organ really captured a new essence of what rock and roll meant. This is epitomised on this lineup's first album: "In Rock".
The album opens up with a progressive sounding intro which delves into some big chords from Jon Lord's Hammond organ. Then, "Speed King", one of the band's best known tracks comes out of nowhere. This song would have sounded so aggressive and heavy back when the album came out in June 1970. Ian Gillan's vocals are so powerful and heavy, yet always have ah int of soul about them, and Ian Paice's drums power the song along at a frantic pace. The song is solid, yet as is so often the case with Deep Purple, it has the feel of being an off-the-cuff jam. This spontaneity that the band create is one of their hallmarks, and kicks the album off in a furious manner.
Next up is "Bloodsucker", a song which hangs off Richie Blackmore's fantastic guitar riff. The man is simply one of the greatest guitarists of all time and the things he could do with the guitar were simply unheard of back in the early 70s. Gillan's vocal range is really on show here and his high falsetto was unmatched in the rock world back when this album first came out. It's clear to see that he was a major inspiration for Iron Maiden's Bruce Dickinson, who has cited this album as one of the most important in his rock music development. This song is quite straight up, yet Paice's drums change the feel of the riff and keep the song fresh.
Following on is "Child in Time", a real masterpiece of a song. Opening with a simple keyboard solo, the song's vibe is very progressive. The vocals are really soothing here and allow a brilliant sense of melody to come through the speakers. The song comes across like a classic by Yes or Rush, but with heavier influences. The song really delves into a blues jam during the guitar solo, with a shuffle drum beat carrying the rest of the band as they swing under Blackmore's virtuoso guitar playing. The band were on fire in 1970, and to write a song as complex as this, yet keep it accessible, is no mean feat. It's easy to see why so many bands these days have been influenced by Deep Purple, like Iron Maiden and Red Hot Chili Peppers. This is the album's true highlight, and shows Deep Purple as more than just your standard rock band.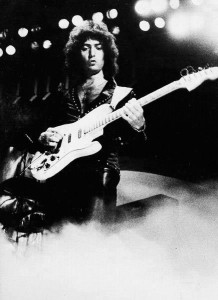 Up next is "Flight of the Rat", a real classic rocker. The tempo is fairly quick, yet it swings as well. Deep Purple's variety is simply unparalleled, and they even manage to get different feels out of the same song parts. Blackmore's guitar parts vary so much, and create different moods. He's such an emotional guitar player that even playing the simplest pattern can have the listener hooked. This is a real underrated song on the album, and keeps the classic Deep Purple jam tradition by having a massive instrumental mid-section.
Next is "Into The Fire", a song which is more heavy, and is possessed of a phenomenal guitar riff. The simple vocal melody is so bluesy and harks back to John lee Hooker, if he was raised on a diet of Iron Maiden. Gillan's vocals are on top form here and his stunning vocal range is on show once again. Getting Ian Gillan into the band was one of the best things that Richie Blackmore ever did; he was one of the first singers with that classic multi-octave vocal range that had such an impact on the music.
Following this is "Living Wreck", which is based around a really funky drum groove. This song just oozes class and the guitar breakdown in the middle with the off beat drums under really shows Deep Purple's commitment to doing something different. Paice's drum fills are simply stunning here and served to inspire a generation of drummers to pick up the sticks and follow in his stomping footsteps. Lord's organ solos, on this song in particular, really changed how the keyboard was viewed in a rock band. It became more of a leading instrument and some of the sounds he managed to get out of it were simply not normal! Yet, they were fantastic and added an extra dimension to this multi-faceted band.
Closing the album is "Hard Loving Man" a song based around a solid guitar pattern from Blackmore. However, it's Jon Lord and his Hammond organ that steal the show on this particular song. Once again, Lord changed the way people view the keyboard. The organ solo sounds like a caged beast is being unleashed, and this case the keyboard escapes with furious effect. In interviews Lord has said he let himself completely loose on the keyboard on this album to see what he could do. Well, he completely revolutionised the instrument. A fantastic closer to a brilliant album.
In closing, this album paved the way for a multitude of hard rock and metal bands to follow. With their varied, yet accessible sound on this album, Deep Purple cemented their place in heavy metal legend. With fans such as Iron Maiden, RHCP and Dream Theater, it's no wonder they're still as relevant today as they have ever been.
FOR FANS OF: Rainbow, Black Sabbath, Whitesnake