We've been through this all before. Black Sabbath were the first heavy metal band. Working the "diminished 5th" chord, or "tri-tone", they created a sound that was simply more evil and heavy than their predecessors on their self titled 1970 debut release. However, it was with October 1970's "Paranoid" that the band began to explore more commercial avenues, while still retaining their trademark heavy sound.
Comprised of singer Ozzy Osbourne, guitarist Tony Iommi, bassist Geezer Butler and drummer Bill Ward, Sabbath explored these heavy sounds even more on "Paranoid", yet with a more commercially minded view. The album opens with the legendary War Pigs, a pot shot at politicians around the world. Opening with heavy chords and a slow drum beat to build the atmosphere, the vocals kick in and the effect is, quite simply, awesome. Even though the vocals are singing over gaps in the music initially, when the riff kicks in the heavy effect blasts through your speakers and punches you in the ears. This is heavy metal in its purest form. The song continues for around 6 minutes, and while that's fairly long, it makes sense due to the number of repeating refrains. The listener can keep up with the song, and this is testament to the wonderful songwriting of the band. Ward's drum fills on this song are particularly brilliant, and holds the rest of the band together. A stunning opening track.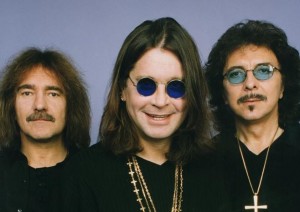 Next up is Paranoid, and the riff that defined an entire genre. This opening guitar riff IS heavy metal, and is just so catchy. Tony Iommi is an indisputable genius . This is Sabbath's most commercially popular song, and it is not hard to see why. With it's simple rhythm section, catchy melody and riff, it is embedded in the psyche of a generation of music lovers. Ozzy's lyrics are, as usual, about insanity and depression, however with the melody being so upbeat it seems like a happier song. This is some achievement.
Following on is Planet Caravan. This song is so ethereal and emotional, and is a real departure from previous Sabbath songs. It is acoustic led and the way the percussion and vocal effects add drama and atmosphere is just stunning. The guitar solo is really bluesy, and shows Iommi's frankly ridiculous virtuosity. This song shows off the bands versatility as well, and willingness to explore new sound-scapes. What an impressive track.
Up next is Iron Man, another legendary Black Sabbath song. The main riff's doom feel really does make it sound like a war machine is walking towards your city, ready to destroy it. Ozzy's wailing vocals and mournful lyrics are perfect for this song, it really hits home. The double time instrumental section in the middle, with a fantastic guitar solo is a great way to keep the listener interested. Again, this is a wonderful song, and if you don't know it we can't be friends. 
Next is Electric Funeral which again starts off with a slow heavy riff. Sabbath really heralded the start of heavy metal; these lyrics and bass guitar lines are just the epitome of heavy. The way the guitar riff follow the vocal melody is so creepy and adds another heavy effect. Ward's carefully accented drums bring out certain parts of the riff which again adds to the overall dynamic effect.
Following swiftly is Hand of Doom. This song opens with a funk feel groove; this coupled with Ozzy's vocals added gives it a wonderful sound. When the main riff kicks in, with fantastic improvised drums underneath, it is just classic Sabbath. Iommi layers guitars on this track and they sound incredible. Ward's funk groove is just brilliant; it allows the band to show off another side to their sound, and more of their funk and blues influences.
Next up is Rat Salad, which is a brilliant instrumental. Iommi, Ward and Butler are so tight, and their stops for Ward's drum solo breaks are perfect. Sometimes, it is like the bass and guitar are harmonising with each other, which is extremely difficult to do. Once again, Ward's amazing drumming must be mentioned. He is an influence to thousands of drummer worldwide and with his approach to fills and grooves, it is not hard to see why.
Closing the album is Fairies Wear Boots. This song is very progressive, and has an almost psychedelic influence on it. It is possessed of an incredible toe tapping groove, and guitar lines that wail and create such amazing melody. The odd timing parts of the song are performed with aplomb, and allows Ozzy to lay his vocal sermon perfectly over the top. This is a surprising album closer, with it's odd times, however Sabbath make it work perfectly.
In closing, it was always going to be hard for Sabbath to follow their first album. Here, they created an album which stands next to it, as its equal. The wailing vocals, heavy guitars, rolling bass and pounding drums are all present and accounted for, and this album is a commercial extension of the established Sabbath sound. The first true heavy metal band. Bring on their new album later this year.
FOR FANS OF: Deep Purple, Judas Priest, Rainbow