Late last year Frontiers Records released a stellar power metal opus titled Renaissance by the Italian act known as Eternal Idol, and yours truly was blown away by its moving, atmospheric, and massive-sounding content. Rich in texture and overflowing with great melodies, this skilled outfit is one that you ought to pick up on and check out if you are into epic music with a sense of grandeur and bombast to it. Being rather intrigued by the compositions, lyrics, and stunning artwork that constitute the aforementioned album, RAMzine caught up with Nick Savio (guitars and keyboards) in order to learn more about the hard-hitting, symphonic metal ensemble and what makes them tick creatively.
Greetings Nick, how are you feeling today and what are you up to these days? And what is happening in the Eternal Idol camp, are you by any chance working on new compositions?
Nick: Hi guys, things are quite good here and I'm looking with optimism to the future. We had a rehearsal with Eternal Idol in March because we have never stopped thinking about and playing music. Seven new compositions are on the way and in May I will start pre-production with Fabio for the new (i.e. the third) album.
Could you tell us a bit about how and why Eternal Idol came to be and what inspired you to launch the hard-hitting, powerful, and gloriously symphonic band in the first place?
Nick: In 2015 I was working on the new Hollow Haze album and we had the idea to combine two lead vocals in the line-up. Talking with Fabio he said that would be a great idea, so he asked Frontiers Records for a new deal, and they said "okay" but wanted a new band name. After a couple of weeks, we were working on our first album, The Unrevealed Secret.
With evocative and cool song titles ala 'Black Star', 'The Edge', and 'Lord Without Soul', I simply have to ask what things inspire you guys to write words and lyrics and whether there are any themes or topics that figure prominently in the lyrics? What things in life inspire you to write and compose music?
Nick: As the album title and the artwork suggest, our lyrics talk about humanity and real-life situations where people go through bad periods like war, crisis, etc. and on to better moments. So here we are with the covid problems and the concept of the album became very current. The fact is we wrote the album and the concept before this pandemic world situation.
I love how the title of the album and its artwork correspond to and complement each other. Both are striking and immediately appealing, but what do they refer to? Is there a deeper meaning or some veiled allusion to something obscure behind the title and album cover?
Nick: As I mentioned in my previous answer, we talked about the renaissance of humanity arising from difficult moments, which could also be the story of the band. Indeed, after the first album we had some problems but after four years we are back again, and we are ready to hit the stage as soon as possible.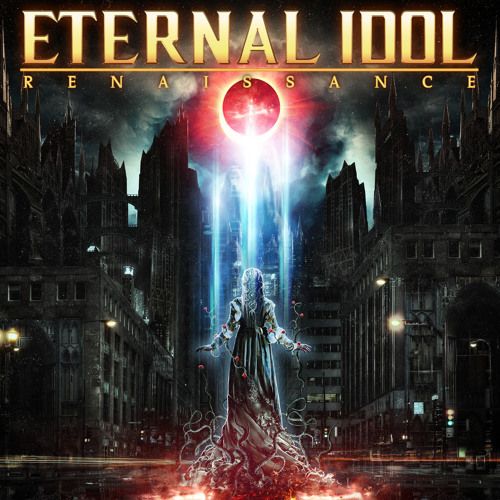 How does the entire creative process within Eternal Idol usually unfold and who in the band contributes what things to the sound, the arrangements, the melodies, and so on and so forth?
Nick: I write all the instrumental parts of the album in my own studio including the orchestral arrangements. I also play all the instruments and use samples in order to have a good drum sound. After this Fabio comes to the studio and we make a vocals pre-production where he writes vocal lines and part of the lyrics. When all is done and the soul of each song is outlined and we start to record the album. This whole process takes about six months.
Were there any leftover tracks from the Renaissance recording sessions? One of the reasons I ask is that your kick-ass Rocking with the Idols EP was released a relatively short time after Renaissance, and I was wondering if those four cover renditions that constitute the aforementioned EP were recorded simultaneously with the full-length material?
Nick: No, we joined forces in the studio again after the summer of 2020 just for the EP; it was fun to work on that material. Sometimes making a full symphonic album is very demanding, while for me working on some covers is very easy because I feel less responsibility. We used our sound, and we did not emulate the original songs.
Given that I am a huge fan and admirer of the Tony Martin-era of Black Sabbath and the flawless The Eternal Idol in particular, I just have to ask whether your band is a reference and nod to this specific record and/or that extremely underrated era of Sabbath's storied career or not?
Nick: Of course, we decided on the band name thinking of that Black Sabbath period. I am a big Ozzy fan, but I am not a fan of Black Sabbath with Ozzy – I prefer the Tony Martin era and our band name is a tribute to that period. Personally, my favorite album is TYR.
What is next for you guys and do you plan on touring Renaissance later on this year or perhaps in 2022?
Nick: We have some shows scheduled in Italy and Spain after the summer, but I think we will talk about a real tour only in 2022.
Thanks once again for your time and best of luck with your future musical endeavors. Any words of wisdom to our awesome readers?
Nick: Thanks for the support, Jens, and thanks to all the readers. I hope we can come back to the light soon and see you on tour with Eternal Idol.