Nominated a band to watch out for by Planet Rock, The Bad Flowers are drawing attention to themselves in a way that's not something to be sniffed at. The Cannock based power trio's appeal has been strengthened by nationwide tours supporting more established acts and the breath of fresh air that was their radio hit single 'Thunder Child'.
In 2018 The Bad Flowers follow this with the release of their debut album Starting Gun. It will be released on Friday 16th February, then as of the 22nd they will be going out on tour again, alongside Stone Broken and Jared James Nichols. Before things get too busy the band's singer/guitarist Tom Leighton took time out to be interviewed by Paul H Birch, the results being featured here exclusively at Ramzine.
Paul H Birch (Ramzine): Tom, who or what first got you interested in music, and what made you decide to pick up a guitar? 
Tom Leighton: There's a lot of music in my family. It was my dad that really got me interested in playing the guitar, I remember seeing his Les Paul for the first time and thinking "I've gotta have me one of those!" Finding a Monsters of Rock cassette tape too with loads of live  Led Zeppelin, I mean who wouldn't want to play rock 'n' roll after hearing that?!
Ramzine: I first caught The Bad Flowers live a few years back as a support act. There was something that struck me about you that made me think you may have begun as a singer/songwriter. Am I barking up the wrong tree here? 
Tom Leighton: No, actually it's always been a band thing. I do spend a lot of time writing on an acoustic guitar though and taking those ideas into the rehearsal room. Some of our fastest heavier songs have actually come from slower acoustic ideas!
Ramzine: Following on from that, I know you've done solo acoustic sets in recent times. Is this something you continue to be interested in or are The Bad Flowers going to be your main commitment going into 2018?
Tom Leighton: The Bad Flowers will always be my number one commitment, the few solo gigs that I do are just to keep me playing in between runs out with the band, but we're always so busy, they're few and far between.
Ramzine: How did the band actually get together?
Tom Leighton: Dale (bass player) and I have been in bands together since our early teens we've got a very similar idea of where we want to take the band. The last band came to an end and we were looking for a new drummer, we'd played a show with Karl's old band a year or so previous and he was the first person to answer the ad, and as soon as we started rehearsing, it was clear it was going to really work!
Ramzine: Where does name The Bad Flowers come from? And, if any, what kind of identity did you want it to portray for the band?
Tom Leighton: The names from a lyric in an old song we wrote in a previous band, it was always a working title… But it stuck!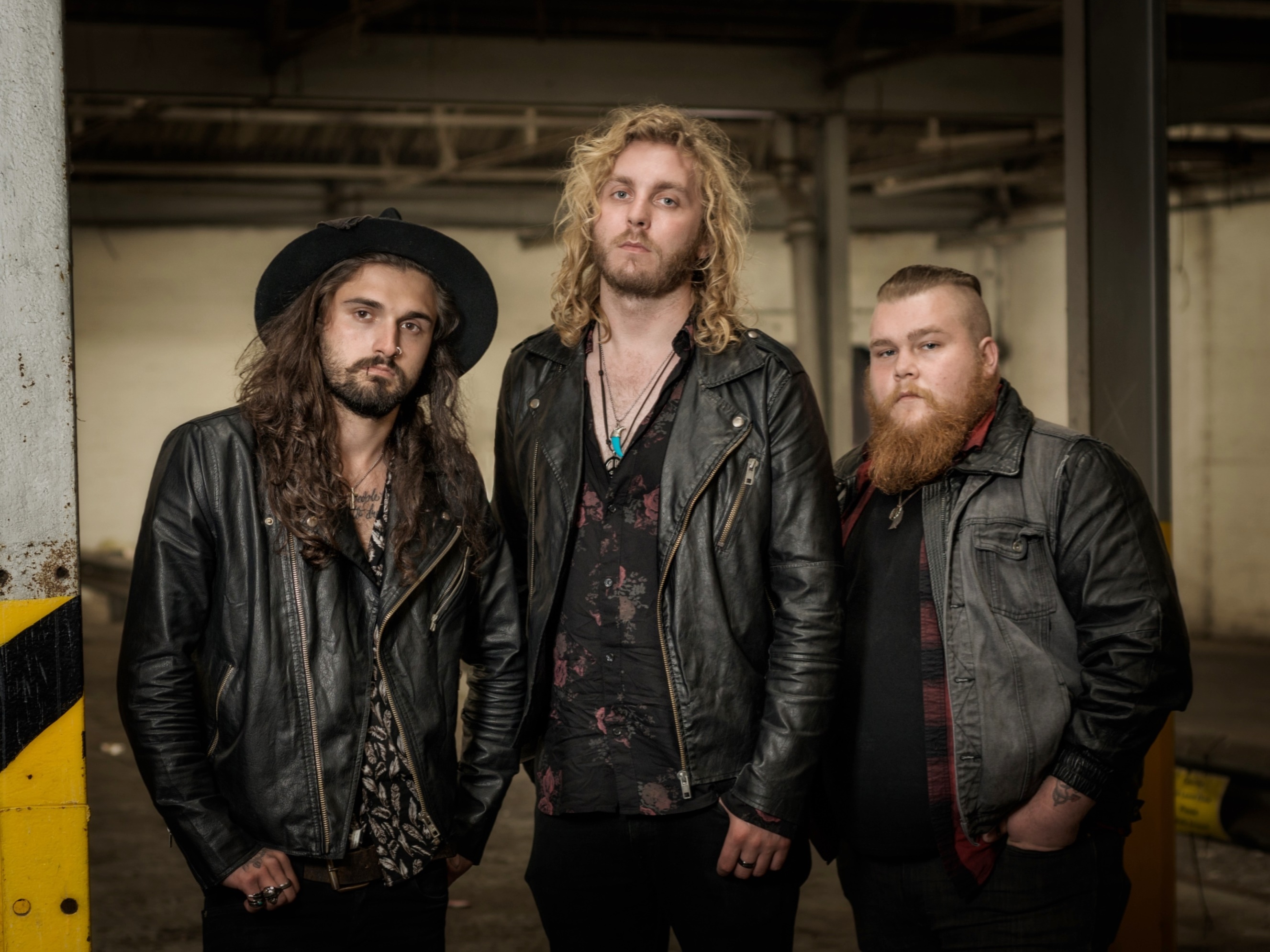 Ramzine: You're based in the Black Country town of Cannock. Has your background and social environment affected the way the band's developed in anyway?
Tom Leighton: I think so; we've been brought up on bands from the area like Black Sabbath, Deep Purple, Trapeze, Led Zeppelin to a degree, so it's something that we're very in touch with. Music's always been a big part of where we're from. In our teens there were so many good bands playing around town all the time you just wanted to be involved. So, I don't really know where I'd be without it to be honest.
Ramzine: You've been together since 2014. How have you as a band and the music scene in general around you changed? Was it hard to get gigs at first?
Tom Leighton: Locally there doesn't seem to be as many bands at the minute but there has been some venue closures, which sucks. It was always pretty easy to get gigs in The Midlands when we started out but I think we were just more tenacious than we realised! As a band I think we've become a lot more professional and realised that this is what we want to do with our lives!
Ramzine: As a live act you put on a very distinct performance. With a trio, there's a greater demand for each player to rise to the occasion but it also allows for more intuitive interplay between players. How would you describe the band's sound and what would you say each member brings to the table that helps make you collectively unique?
Tom Leighton: I think we've always tried to make it sound like there's more than the three of us! Karl really does smack the shit out of his kit and Dale has such a huge bass sound; he's not just the bass player he's the second guitarist, too. I'd describe the sound as a very organic, big, thunderous rock sound when we play live. On the album though, there are a few surprises!
Ramzine: Thus far into your career you've released a couple of EPs. Do you view those as a testament to where the band stood creatively at that point in time, promotional tools to help spread the word more, or both?
Tom Leighton: A bit of both I think, if you go back to Vicious Lullabies that we released in 2015, it's a very different sound and song writing style. I think that shows how far we've come since then though. Those first couple of EPs really did help us to get the name out there a bit.
Ramzine: In recent times, you've been playing a number of support and guest slots to more established bands, such as Crobot, Scorpion Child, Tyler Bryant & The Shakedown and most recently The Picturebooks. Has this helped the band evolve, and if so, how?
Tom Leighton: Oh 100% it's helped us, we've learnt so much from playing with bands like the ones you've mentioned and also doing the longer tours with them has helped us learn a lot about ourselves. We've definitely seen what it takes to get to where these bands are, and what the next step on the ladder is for us.
Ramzine: Following the release of 'Thunder Child' as a single, Planet Rock Radio has described you as "Ones to watch".  Do you feel this validates the work you guys have put into the band, and has it resulted in a more genuine interest in the band from promoters and fans?
Tom Leighton: We're extremely grateful for the coverage Planet Rock has given us, it's a great thing they're doing over there in highlighting new rock bands. We've had a fair bit of interest since they started playing us and the article. It's partially resulted in us being part of the tour with Stone Broken and Jared James Nichols in February/March.
Ramzine: Having to work every angle to get a band noticed in this day and age, from live performances, to merchandise and self-promotion, do you feel the rewards are worth it? Or do you feel musicians are pre-destined, possessed, and yes egotistical enough (or all three) to do all they can to get noticed?
Tom Leighton: I think they are yes; it's a real sense of self accomplishment when people are enjoying the music we make. We work hard on our social media pages and try and make some eye catching merchandise to get the name out there.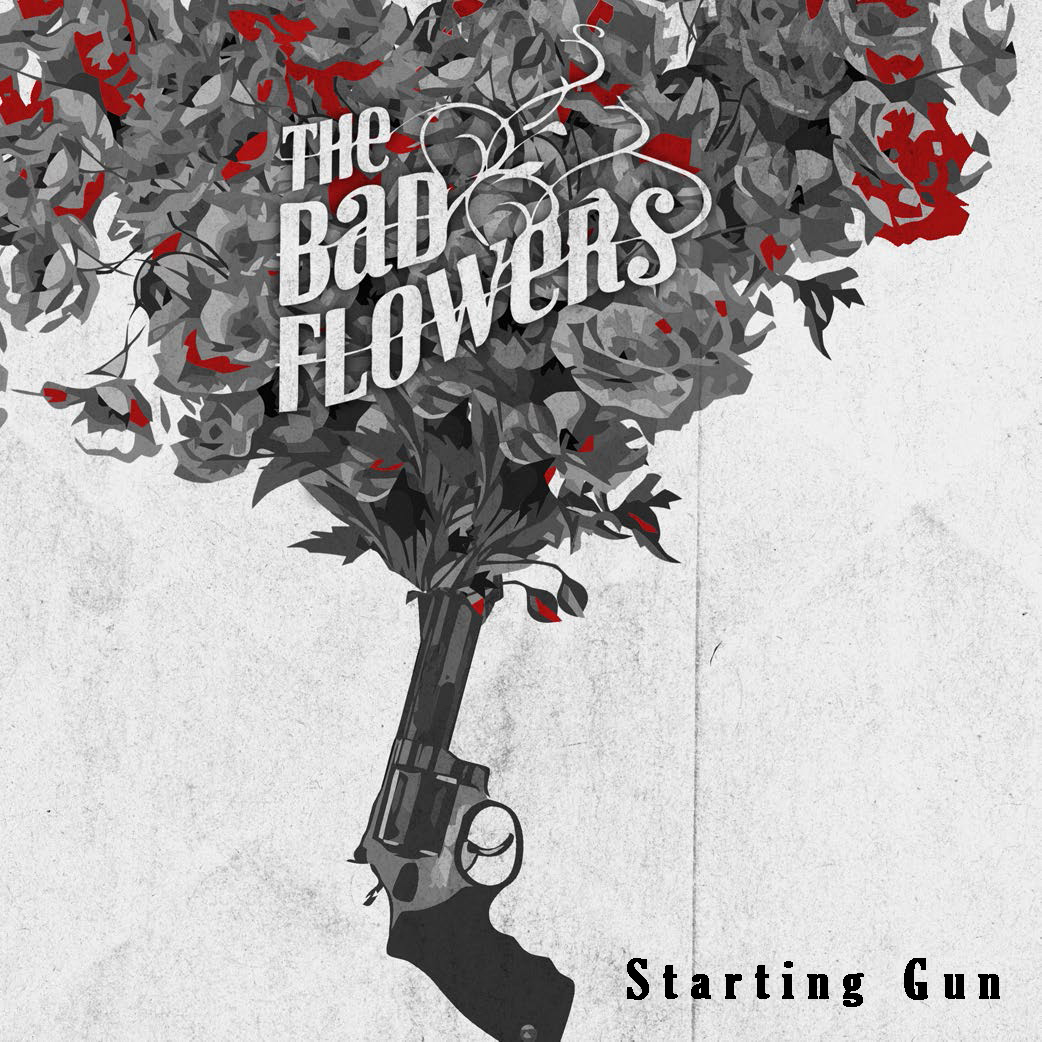 Ramzine: Your debut album Starting Gun is due for release in February 2018. In a press release I've seen, all three of you have described making the album as an emotional rollercoaster – How so? I gather you considered making the record a year back but decided against it.
Tom Leighton: Yeah we've all had our ups and downs this last year as everybody does, but I think it's added to the songs as we could all use the band as a way to channel things. We were going to try make an album a while back, yes, but we really wanted it to be as good as it could be and I think we came to the realisation that we needed to play live more and build our profile as well as writing more songs so we could pick the correct ones!
Ramzine: Starting Gun was recorded and engineered by Adam Beddow, who co-produced it alongside you. The general public might have pre-conceptions that the record is NWOFHM styled, since he's been involved with Diamond Head's more recent work. What were the decisions that lead to involving him, and how did that work out?
Tom Leighton: He's been a friend of the band for a long time, so he knows our sound really well and has a great ear, so he knew the sounds we wanted before we did! He makes it really comfortable to work with him and is very creative so we were always bouncing ideas off one another.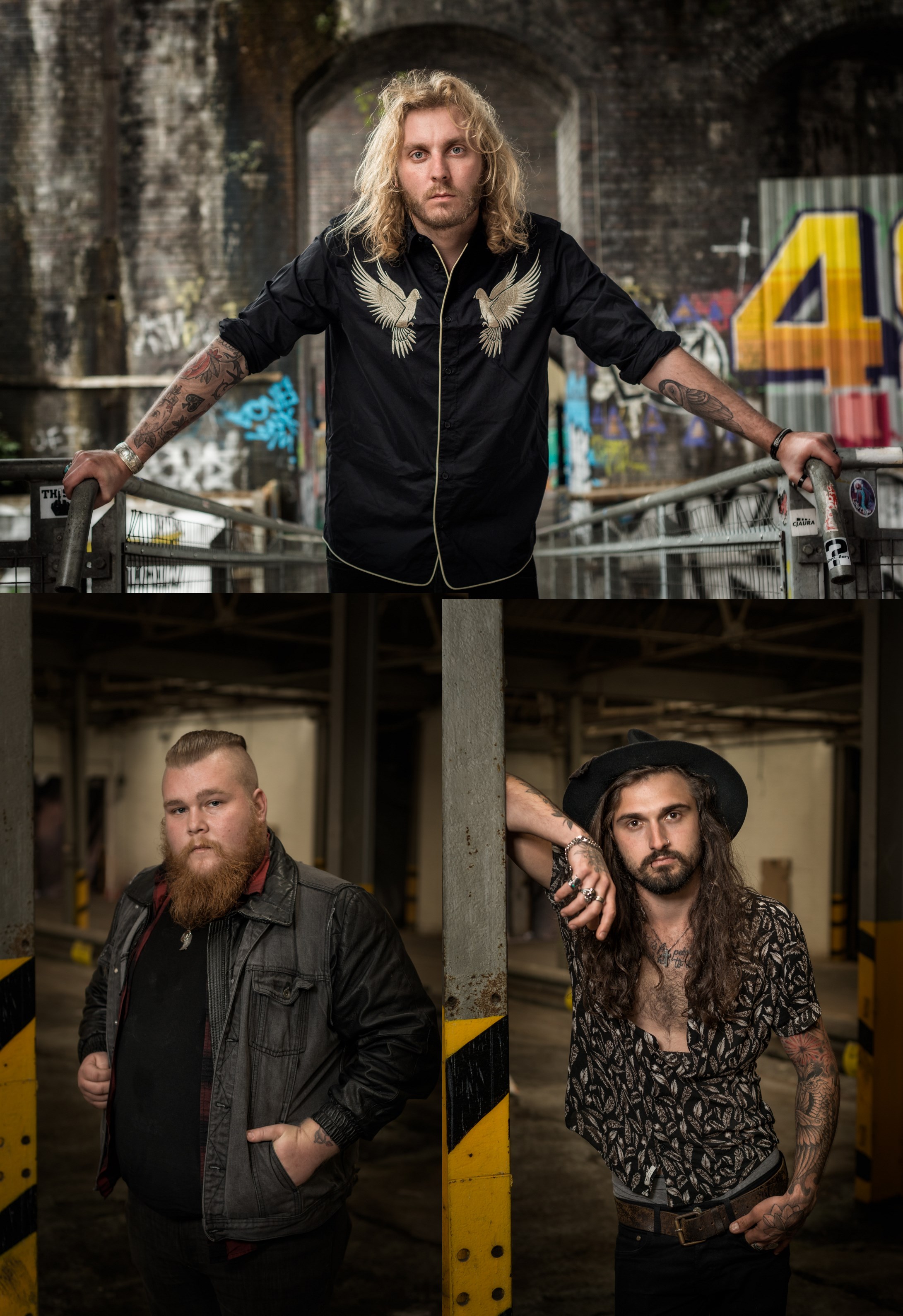 Ramzine: The album lists all three of the band as co-writers. How does that arrangement work; does it add to a greater musical diversity or do you have to temper individual tastes in favour of the band's identity?
Tom Leighton: We are all moving in the same direction when we're writing. We basically spend a lot of time jamming in the rehearsal space and all come up with ideas to put into the songs. We're really honest with each other, too, so if it's not working, we'll say so until it works perfectly for us.
Ramzine: There are some out and out rockers with some heavy duty performances, alongside food for thought lyricism, and musical twists and turns on the advance copy of Starting Gun in my hands. What do you think makes the record stand out and is the reason people should go out and buy it?
Tom Leighton: I think the reasons you've listed there pretty much sum it up. We've tried to make a really honest, heart on the sleeve type record that people can connect with. We've tried to make it as interesting as possible from start to finish, too, and we've added some surprises that, I think, people who have heard us before won't expect.
Ramzine: Can you talk about some of the tracks on the album, what they mean to you and which you see being played live in the future?
Tom Leighton: We've played them all live, I've said before that these songs are almost like diary entries. I think that's why they provide food for thought. Take 'Let's Misbehave', for example, during the recording of that song I was going through some pretty tough stuff but I think if I hadn't been, then it would have been a very different song indeed.
Ramzine: In February and March you will be going out on tour alongside Jared James Nichols with Stone Broken headlining a Planet Rock tour.  Is this a good match, what can those attending expect, and are The Bad Flowers themselves excited about this?
Tom Leighton: We're super excited about this! Although the bands are different I think the balance between them is perfect. It's going to be killer riffs from start to finish. We know both bands really well so it's going to be fun for us, and those attending can expect us to play out of our skins every night, we'll leave everything on those stages. That's a promise.
Ramzine: The start of 2018 looks to be a busy one for the band, with the release of Starting Gun and the Planet Rock tour. Are there any other plans scheduled for the band yet?
Tom Leighton: Yeah we're working on stuff all the time. We have Steelhouse Festival as well as Winters End, we're working on a small headline tour later in the year too… We're hoping to be on the road for the majority of 2018.
Ramzine: Long term, what are your hopes for The Bad Flowers?
Tom Leighton: Hopefully more albums, more touring, more rock and roll! We'll just keep going as long as the good people keep coming to the shows!
Ramzine: There will be exclusive album launch for The Bad Flowers debut album Starting Gun the Birmingham Asylum 2nd on Saturday 17th February 2018. The band will play all the songs from the new album alongside some surprises. For more details on this and their February/March UK tour click here.
Photos by Mark Varney.