Just exactly what lead us to a dark, dingy and altogether dodgy looking staircase behind Bristol's SWX with the 36 Crazyfists' main man Brock Lindow is anyone's guess – but here we are. For the Anchorage metalcore enforcers it's their first date on the UK leg of their European tour supporting Bury Tomorrow. Riding shotgun this time around, by no means is this 36' passing the torch but are helping to stoke the fire.
Formed in 1994, only a handful of the absolute legions of bands who followed in their footsteps are even around today, and even then, only the strongest of those are still pulling in new fans. So, for them to still be slaying it, making new music and touring the world is a testament to how important they still are in the minds of their fans. After seven albums that have all stayed the course to the band's original vision respectfully, 36' may not be the biggest fish in the pond, but fucking hell, do they still command the respect from all the bigger sharks.
In the final moments of Bury Tomorrow's set this evening, vocalist Dani Winter-Bates couldn't have said it better, 'It was 36 Crazyfists, the farmers of metalcore, who helped to inspire Architects; Bring Me The Horizon; Parkway Drive; Us! Without them, we wouldn't have these bands.' He has a point. The Alaskans help put down some of metalcore's biggest bricks in their quarter of century of pounding out cathartic belters. If you haven't screamed your lungs dry to 'Slit Wrist Theory', you're a liar! Why are you lying to us?
Which brings us back to the Saw inspired staircase. Lindow, sitting a few steps above us as RAMzine, however, huddles in the more tactically advantageous corner should we encounter any murderous puppets headed our way. The vocalist is in good spirits and jokingly remarks his distaste in our taste of hockey jersey (Boston Bruins, go B's!) that gets this ball rolling: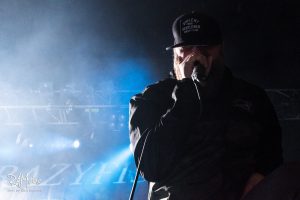 RAMzine: How you doing man, alright? Welcome back to the UK. We're always pumped to get you guys here. How does it feel to be back?
Brock Lindow: Yeah man, we've been out on the road now on this tour for like three weeks and I was really looking forward to getting to the UK towards the end. More times than not when we're doing a European tour we'll start in the UK and it's always so amazing. It's nothing against the other places, but this is one of our strongest markets – always has [been]. We always had these amazing people who have followed our band for a long time so it's cool to finish on that note instead of starting with it. So, to answer your question: Stoked to be in the UK again and it's awesome.
RAMzine: It's a pleasure to have you here as always. You've been doing it for so long and people are always so surprised to see bands like you still going, but does it surprise you?
Brock: I think there were maybe certain parts in our band's career I was like, 'Wow, it's like 10 years now,' or even before that when it was five years. Couple of days ago it was our twenty-fourth anniversary and next year is a pretty big year for us. For our twenty-fifth anniversary I think we've got something pretty special planned. December 5th is the date that we had our first practice in 1994. I don't know, I'm grateful I think more than anything. Other than the birth of my daughter, meeting my wife, it's been the most incredible thing in my life and I really enjoy doing it still.
We were right out of high school when we started 36, so I've always just been in this cool thing with my best friends and I think that's the big part of it. It's beyond the music it's a brotherhood. We're so integrated in each other's lives every day. Sometimes we want to kill each other ha, ha! But overall, we always love each other.
There was a time period for sure when I wasn't sure about the future of the band. Like when our old drummer Thomas [Noonan, member from 1994-2012] decided he didn't wan to tour anymore, and when I was dealing with the passing of my mother. There was a weird lull there but I didn't really think it was ever over. I just wasn't sure exactly what was going on for sure. This is where we're at now. I think our band is better than it's ever been and we're having more fun than we've ever had. We definitely grown up as far as like our behaviour's concerned. We're not in our twenties, we're in our forties. We still pride ourselves on having a great time and having some beverages and that kind of thing, but we're not trying to kill ourselves nightly anymore. It's kind of nice to not be doing that so much.
RAMzine: Do you think your consistency has helped you carry on the course? Do you think that's one of your strengths as a band?
Brock: I think people may have looked at this certain niche of music and thought, 'They're not going to succeed.' You hear that sometimes in your career, and you think, 'Oh I wish I were you guys [other bands].' But I think the older we've gotten, the more we stayed in our own lane; whichever direction it went in. I think it was a big importance to our longevity. We may not be the biggest band in the world – we're definitely aware of that – but we have a really wicked rad following. So, we know we've connected with people in a way and touched their lives as much as they've touched ours. But I think not paying attention and not caring as much anymore about what are we going to do next has made us who we are.
RAMzine: So, with every album you write, is your mindset like, 'Guys we got to raise the bar on this one,' or do you let it flow organically?
Brock: Yeah, I think so. I don't think there's ever been a 'raise the bar' conversation. It's just to do the next branch of the tree. As we get older I think it's been a little bit less metalcore, I guess, but I don't even know what that even means really to be honest with you.
RAMzine: Interesting you should say that about metalcore. On that note, do you think it's regressing or progressing?
Brock: I don't really know how I feel about it either way. It's kind of irrelevant to the way I think. I mean, if you're in a band and you want to do this sort of thing I'm totally down with that. I don't care what anybody else is doing. I don't think about which way it's going. I like old shit, you know, and I listen to old shit, that shows our age probably ha, ha. I didn't know about Bury Tomorrow before this tour and they definitely have a few new fans in us. We fucking love those dudes, they have treated so well.
This was a good opportunity for us as well because they have younger fans and who doesn't want to get new fans? If you're not getting anything new out of it I guess in that sense you're not progressing, whether that actually means anything to anybody. That's been one thing I've thought about before the tour: if we get a chance to turn some new heads I think that'll be really important for our band.
RAMzine: Your latest album Lanterns, your seventh, there's a catharsises there for the listener but for you, you're putting yourself out there every night in such a vulnerable position given the subject matter of your mother's passing. How do you do that night after night?
Brock: You know, there's a kind of a different animal between writing an album, writing the songs and then performing them live, being on tour and doing it nightly. There are certain times where I do recognise lyrics and the feeling behind the lyrics, but that being said sometimes the live connection between people is way bigger feeling. For instance, this girl the other evening in Germany, she was just losing her mind. Just eyes closed and I could see her mouthing every lyric and I was like, 'Man, how cool is that?' My words have connected with this woman somehow, someway in her life. I think that lyrics are fine to be interoperated. I didn't know 'Master Of Puppets' was about cocaine when I first heard of it, you know? I just thought it just got me pumped up for hockey.
So, lyrics are open to interpretation and for me, yeah, these stories are about my life and the struggles I've obtained and they could be a way out of them or if I'm still struggling to get out of them. That's how I've always written music but at this age, I try to make sure that I'm not rehashing the same thing like, 'Geez, how can that guy be so bummed out? This guy's just miserable!' ha, ha!
Like you said it's cathartic and it's a way to get some things off your chest. Everyone needs it and if you don't need it I want to know how you're doing it because I wouldn't mind hanging out in that sunshine for a while.
RAMzine: You guys think you can keep this up for seven more albums?
Brock: I don't know, hmm. I wouldn't say I could guarantee it but I don't see why not. I mean, we don't know what else to do ha, ha. That's not true, everybody's got their own thing, you know? Life always takes people in certain directions like it does. A couple of us are fathers now. Divorces and marriages have come through. And I think that if it's still fun for us, we're going to do it. But seven more albums, wow! If we did do seven more albums, I think something special must have happened to continue it. It's a tough business so you got to have a few different irons in the fire like we all do now. I'd love to say we could, but who knows?
RAMzine: You're a big hockey fan! Who would be your dream all-star team made up of metal greats dead or alive?
Brock: Ooph! My all-star hockey team? Ok these guys don't have to play hockey in real life?
RAMzine: Imagine their charisma and talent has somehow manifested into hockey form ha, ha!
Brock: Ah cool, so I'm going to put Gene Hoglan [Dark Angel, Testament, Dethklok] in the net, I'm going to put Zakk Wylde [Ozzy Osbourne, Black Label Society] on D-partners with Phil Demmel [ex-Machine Head] and then let's see, we're going to get me on left wing. Then Jerry Cantrell on right wing and was it live or dead?
RAMzine: Yeah, man.
Brock: I'd have Layne Staley centre.
RAMzine: Who's your goon (enforcer)?
Brock: Me! Ha, ha!
RAMzine :Ha, ha! Not a bad shout, hell of a team! Brock, pleasure mate. Take it easy.
Brock: Pleasure, thank you.
Lanterns is out now via Spinefarm.