Glasgow hard rock band GUN formed all the way back in 1987, split up and reformed in 2008. They toured with many big names like Bon Jovi, fellow Scots Simple Minds and music idols The Rolling Stones, not to mention sold out many of their own headline shows.
Gun's flame burned brightly with the success of their debut album Taking On The World, peaked with their chart-bothering 1994 cover of Cameo's 'Word Up', and the confusingly-titled '0141 632 6326' record. After the success of Frantic these talented guys are back with a new upcoming album called Favourite Pleasures. The Gizzi brothers, Dante and Jools are the sole remaining members that took the band to the top of the charts on many occasions in the 1990's and we are very pleased to get the chance to catch up with them at the Sanctum Hotel in Soho.
What's going on with the band at the moment?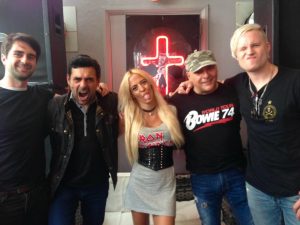 Dante: We got a new album coming up on September the 15th called Favourite Pleasures and we are pretty excited about it. We have some shows in December, also in London at the Electric Ballroom. We'll be in Manchester around that time too and you can check all the other dates on our Facebook page or website.
What makes Favourite Pleasures stand out?
Dante: I think the last two albums Frantic and Break The Silence are more mainstream probably, this one is more rock, a lot more dynamic, not as poppy as the other ones. All the songs are very diverse and overall we can say we are very happy about it.
Is there one or more tracks in particular that describe you better as a band?
Dante: I think Favourite Pleasures is very much representative and the response by the fans on this song has been absolutely incredible and fans are also saying 'Is Gun returning to the old ways?', I guess that's the general thought and a massive compliment too. But then again there are so many other great tracks, my favourite at the moment is 'Silent Lovers'.
Jools: There's a very good track called 'Here's Where I Am' but for me it kinda changes all the time. I try not to listen to it too much because I start telling myself I could have done this or that better. I'm happy with it though and as he said I'm very excited.
What's your favourite pleasures in life?
Jools: Do you ever watch 'Lively'? It shows these horrible graphics of people getting shot, kinda mafia style. I like watching that! (laughs).
Dante: I'd say spending time with my children and I like watching football.
Jools: And obviously eating pasta (laughs).
Is there a song of yours that still gives you goosebumps when you play it live?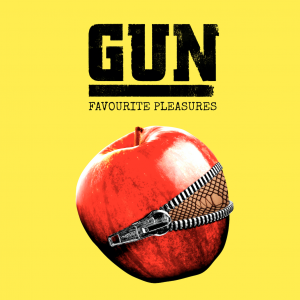 Dante: For me it's 'Frantic', the table track from the last album. Also on the new album there's a song on the piano called 'The Boy Who Fooled The World' and I've been listening to that quite a lot and it gives me goosebumps because it takes me back to my childhood, it's more meaningful because it takes us right where we started and celebrates our genuine love for music from the very beginning.
Jools: For me it's 'Shame On You', it's usually the very last song of the concert and there's so much energy that builds and builds and builds and gets the crowd crazy and that always gives me goosebumps in the back of my neck but I also agree with him about 'Frantic'.
Can you name a band you supported from whom you learned a lot? 
Dante: The Rolling Stones … At the time we had never played stadiums before so we were touring America for a month and a half and it was amazing but also quite tiring.
Jools: I remember we had two sold out dates at Whisky a Go Go and on the Saturday we had to fly all the way back to Europe so we ended up having two gigs in one day. On one of the first shows with the Rolling Stones the head of security came and put special stickers on each of our passes. He said, 'This means you can get into The Rolling Stones' dressing room and nobody is going to stop you. You can go in there, play the snooker or the pool table and hang out with the band because they want you to'. As we were all young and shy we thought, 'What would we have to say to Mick Jagger and Keith Richards?' But in the end we ended up going in there and we got close with Ronnie and Keith. After every show, there would be a party on Keith's hotel floor. We would be jamming with Charlie Watts on drums, me, Keith and Ronnie on guitar playing all these old Stones songs and blues songs. It was a dream coming true.
You formed in 1987 and despite some line-up changes and break ups you are still together and going strong, what's the secret?
Dante: I think it's drive, ambition but most importantly having a love for music as corny as it sounds it's true.
Jools: When we broke up we had kind of a tough time but from when we came back in 2008 I think we learned from that and we sounded even better than we ever did before. We've had a career of 30 years so it's normal for things to change but we have now reached a really good balance.
Is there anything you miss about the past within the music business?
Jools: I think you do what you do and you carry on making music. We had some great times in the past and we'll always remember that but at one point you just move on.
Dante: I agree, I sometimes look back and realise it's been an incredible ride, we won an MTV Award.. We were lucky but we worked hard to get there.
Jools: I remember we used to play big festivals like Rock Am Ring and we told the crew it was my birthday so we got a lot of booze and in the next festival it happened that it was Dante's birthday so the same thing happened again. Then we kept saying the same story in the next shows too and if there was someone from the same crew as before they happened to ask us 'Wasn't your birthday two weeks ago?' and I would be 'Yeah but don't tell anybody'.
What's next for GUN?
Jools: The main plan I'd say is getting everything ready for the record coming out in September, we are doing a lot of press.
Dante: Next year it'll really start to kick in tour wise, there's a pretty big tour support I am not allowed to say at this moment in time but you will all find out shortly. And we'll be playing festivals too.
Anything you would like to add?
Dante: Just a massive thanks to our fans for supporting us and come along to the next shows, you won't be disappointed. Now that we have seven album under our belts we got an extensive set list you'll definitely enjoy.
Catch GUN live:
DECEMBER
2nd Glasgow Barrowland (Headline Show)
8th Manchester Club Academy (Co-Headline with InMe)
9th London Electric Ballroom (Co-Headline with InMe)