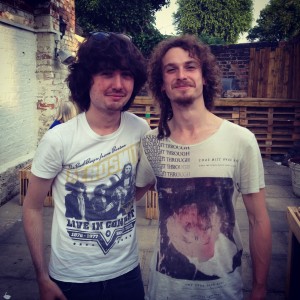 Before Heaven's Basement blew the roof off The Duchess in York on Saturday 6th July, RAMzine's Martin Durrant sat down with front man, Aaron Buchanan, and after some fantastic food in the beer garden of Gibson's on Micklegate, they discussed touring, festivals, and just how far Aaron would go to entertain his audience.
First of all, "Filthy Empire" released earlier this year, to rave reviews. How have you guys seen the reaction?
"When you write your first album, you don't quite know what to expect. We knew the sound we wanted to get out of the album, and we knew the way we wanted to record it. The main sound and the structure is exactly how we wanted, and the fact people enjoy that is such a huge bonus. You want to be successful producing music that you love, and we're just one of those lucky bands. It feels very good!"
What's your favourite track off the album?
"Well, if I ever sit down with somebody and they say "give me a song that represents your band fully" , it would definitely be 'Fire, Fire!' because it tells the whole story of the band. It's got the riffs, it's got the solos, it's got the lighter bits, it's got the screamy vocals, it's just carnage. I love that song, it was the first song we ever played where there was a reaction worldwide, which was amazing."
That success has lead to tours with bigger bands, for example Buckcherry in the USA and Black Veil Brides in Europe. How has the experience been?
"Well, we were pretty lucky, various people around us either knew somebody or could help us. ("Dean Gaffney!" shouts Scott Findley (HB's guitar tech) from the other side of the beer garden). People said :"Do you want to do this tour?" or: "This tour?" So to be able to accept these tours was so great. It was a massive shame the Black Veil Brides tour fell through a couple of days into it, you know we've played with Halestorm, Seether, Tremonti Project, they've all done us huge favours."
Speaking of tours, I just have to mention Download. I was there, right in the crowd and it was a brilliant show. How was it from your view?
"People have come up to me since that show, and the first thing that came out of their mouths was "The expression on your face!" I think I said it couple of times on stage; I didn't really know what to say, so I didn't. This is the music of Heaven's Basement, so enjoy! We started at Download a few years back playing to 400 people on the acoustic stage and got invited back on the strength of that performance to do an acoustic set, and then got added on the Pepsi Max stage last year. We walked out to 6,000 people, and we only expected 600, tops! Then to walk out to 20,000 people this year was just, wow, it was incredible."
We saw the show on the Pepsi Max stage last year too, and it seems with your constant rise it's a victory for hard work.
"We appreciate having people appreciate the band, so we always make the show and the music with the thought in mind that we want people to appreciate it. Nobody wants to be boring; I want people to walk away from our show and remember it for the next 10 years."
Bringing it back to the present, how's this particular tour going? Good reactions with the full headline show?
"Again, just off the hook. I don't quite know where people heard of us, or how, based on the fact we've only had the album out for about six months! Three of the four shows we've played so far have sold out, tonight has sold ridiculously well, Glasgow's sold out, London's sold out. We've never done a tour that has had this much positive reaction, so thank you to everyone that's come out and keep doing it because it's supporting rock music and as much as certain people like to say "rock music is dead", those people are a bunch of liars."
There's so many rock clubs, and cities that are putting on shows around the country, there seems such a burgeoning desire for rock music in the underground, that it seems a bit strange that the mainstream aren't taking more notice.
"The thing is, there's a lot of bands out there that are doing rock music, but rock music from the 80s, and retro music. That's all well and good, but if you haven't got your own slant on it, people get bored of hearing the same old thing. I'd like to think Heaven's Basement have got a modern edge. I don't go out on stage pretending to be Steven Tyler, or David Coverdale. They're incredible vocalists of the past, and audiences today react differently because the music industry is in a different state right now, so you treat the situation differently. Of course there'll be some clichéd stuff in there, and there's more modern stuff as well. With regards to the show, I took my inspiration from bands like Fei Comodo, Exit Ten, Deaf Havana. They taught me how to work a small stage. With big stages, you have to work the crowd in a different way. On a small stage however, woah, I don't care if I break my spine, as long as people remember it."
So, what's up next? Any new material or tours?
"We aren't writing at the moment, I mean, we spent two years in a studio and the last thing I want to do is sit in front of a piece of paper. There's a whole world to go and see, which is what we're doing at the moment. We've got Europe, the whole of America, Australia, possibly Asia and Russia I hope too. At the moment for us, it's literally just touring this album. All I care about is playing shows at the moment. New music will come, people will hear new riffs, if we're mucking around on the road then we'll put it in the show, keep it fresh. I'm quite happy with playing the album right now though."