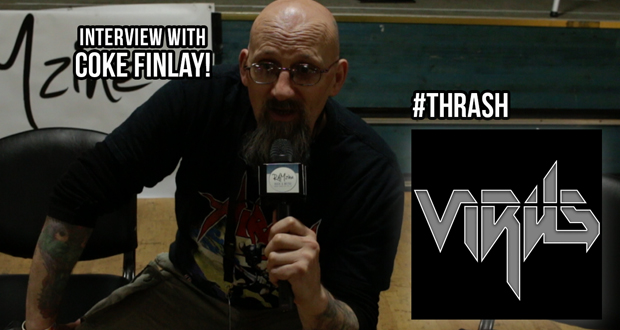 Coke Finlay the lead guitarist and vocalist of Virus clearly has a problem…
Imagine if you formed a Thrash band all the way back in '86, you were in your prime, one of the first bands to be signed to Combat Records; which later also became the home of Megadeth, Nuclear Assault, Agnostic Front, Agent Steel, Dark Angel, and Exodus. You are about to join a huge tour and suddenly you are dealing with band member drop-outs and a demised tour slot.
You bow out and take a long break. A long break turns into a "20-odd-year hiatus".
Imagine staying away all those years to come back into a whole new music industry!
It's literally like Coke went into a hole for those 20-odd-years and came out to discover music is now "Bullshit" and he can't understand why "all the young people so stiff?"
Now in 2017 Virus are getting their asses back in the studio and are due to release their first album in 27 years!