Announced on a live video feed by Frank Carter -the final bands and forest sessions were added to this year's 2000 Trees line-up. Every year, the 'Forest Sessions' at the festival sees big names on the festival bill perform acoustic sets, in an atmospheric forest setting.
From festival organiser, James Scarlett: "The Forest Sessions are probably my favourite thing about 2000trees. It's such a beautiful, intimate environment and you're seeing the bands stripped back and playing songs in ways you haven't heard before. Seriously it's amazing! I can't decide who I'm most excited for, but I can pretty much guarantee that Frank Carter and Hundred Reasons will be very special!"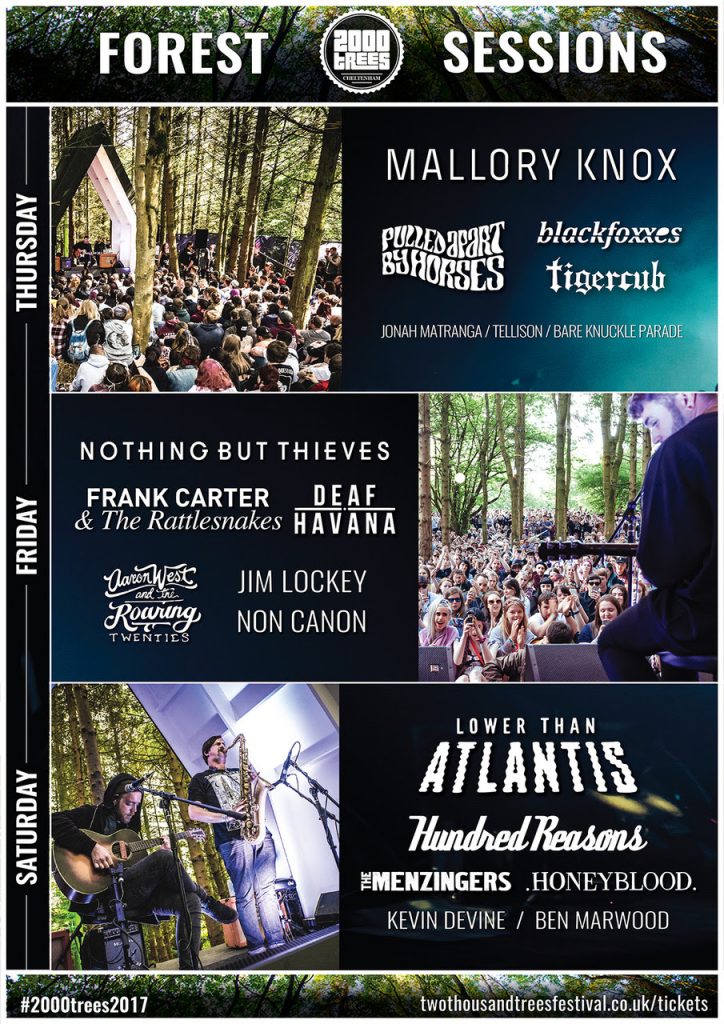 This year's Thursday performances will come from Mallory Knox, Pulled Apart By Horses, Blackfoxxes, Tigercub, Jonah Matranga and Bare Knuckle Parade.
The Friday of the festival sees a rare UK set from Aaron West and the Roaring Twenties (The Wonder Years frontmanDan 'Soupy' Cambell's side project). Frank Carter and the Rattlesnakes will also be delivering a set, alongside Nothing But Thieves, Deaf Havana, Jim Lockey and Non Canon.
On Saturday, catch Lower Than Atlantis, The Menzingers, Honeyblood, Ben Marwood and Kevin Devine – along with a special Forest Stage performance from Hundred Reasons.
For ticket information, see the festival website.