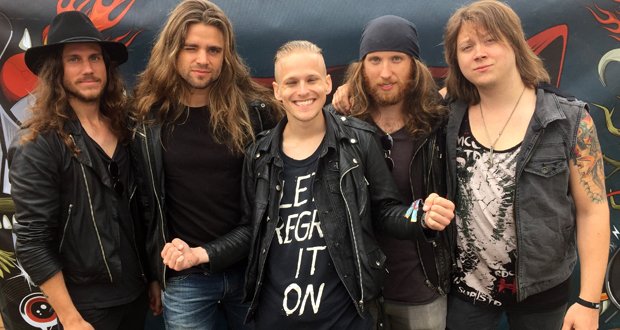 Swedish melodic rockers H.E.A.T. have released a lyric video for 'Time On Our Side', the first track to be released from the band's upcoming fifth studio album Into The Great Unknown and available now available on Spotify and iTunes.
"'Time On Our Side' is a song about a relationship in which you have lost something over the years and it has become more and more difficult to endure," said the band's singer Erik Grönwall. "The song lyrics are sung in the perspective where you are begging your counterpart to have faith and patience in each other with a promise that you'll do everything in your power to make it better again."
"When I first heard the chorus on 'Time On Our Side' there wasn't a single hair on my body that didn't stand straight up," remarked bassist Jona Tee. "It's just one of those songs that immediately touches you and sends shivers all over the body. The combination of the melody and the lyrics is just perfect. It instantly puts you in a state of mind where you begin to ponder what really matters. I may have experienced this before only with 10 songs, tops. The rest of the song serves as the perfect appetiser for the epic main course. Enjoy!"
While 'Time On Our Side' is available now on Spotify and iTunes it will be followed in a few weeks by H.E.A.T.'s first official single from the album 'Eye of the Storm' with Into The Great Unknown itself released on Friday 22nd September through earMusic and available to pre-order now.
Into The Great Unknown was once more produced Tobias Lindell and features guitarist Dave Dalone who rejoined the band last October, having played on their first three albums. Dates for a December UK tour are promised soon.