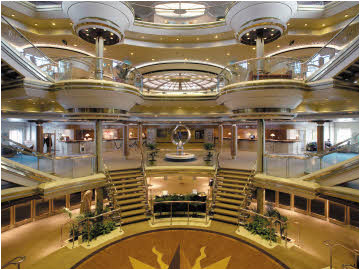 Fancy doing something a bit different in 2013? Well how about this, a Festival on A BOAT!!! I know it sounds too good to be true! But this actually exists! In one months time Majesty of the Seas will be sailing to the Caribbean!
Book your cabin now at www.70000tons.com and be part of Heavy Metal History made in the Caribbean on 70000TONS OF METAL.
This is 70000TONS OF METAL, The World's Biggest Heavy Metal Cruise where you enjoy unrestricted festival access to all live shows on board. And don't forget, every band plays twice! There are also Open Mic Nights, Clinics, Work-Shops, the infamous 70000TONS OF METAL Karaoke, Bars that never close, you heard right: They don't close, two full days at Sea, a fun-and-sun-filled day on a beautiful Caribbean Island and an opportunity to mingle side-by-side with the artists that all join us for the entire trip. It's like everyone has a backstage pass!
You can also get all your memorabilia signed at the Meet & Greet sessions. Be part of their infamous Metal Karaoke and many other special activities with the Artists. And last, but not least: Don't forget that they have bars on board that never close! What are you waiting for? You might even need a vacation from this vacation when all is said and done.
The following 30 out of 40 bands have already been announced:
3 INCHES OF BLOOD
ANACRUSIS
ANGRA
ARKONA
DELAIN
DIE APOKALYPTISCHEN REITER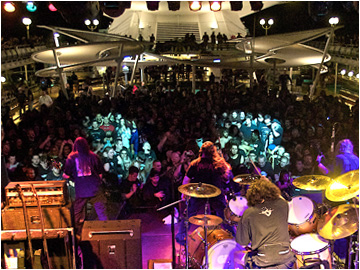 DORO
DRAGONFORCE
ENSIFERUM
EVERGREY
FLOTSAM AND JETSAM
GOTTHARD
HEIDEVOLK
HELLOWEEN
HELSTAR
IMMOLATION
IN FLAMES
KREATOR
LACUNA COIL
METAL CHURCH (Reunion Show)
NILE
ONSLAUGHT
RAGE and LINGUA MORTIS ORCHESTRA
SABATON
SINISTER
SUBWAY TO SALLY
TIAMAT
TURISAS
TÝR
UNEXPECT
The ship will sail Monday, January 28, 2013 from Miami, FL and will not return you to the real world for four days until Friday, February 1, 2013.
Taxes and fees per person are included and include all on-board entertainment, non-alcoholic and non-carbonated beverages, and all meals at the dining rooms, most on-board restaurants and even 24 room service!
What are you waiting for? Check out http://www.70000tons.com/ for more information.