A Force of Nature by blues rock singer Sari Schorr and her band, The Engine Room, is released on September 2nd through Manhaton Records, and is produced by the legendary Mike Vernon.
New York-based Schorr was recently inducted into the New York Blues Hall of Fame and has toured throughout the USA and Europe with the likes of blues legend Joe Louis Walker and renowned guitarist Popa Chubby over the years. She actually trained as an opera singer Sari but mixes blues, rock, and soul into her repertoire, and lists among her various influences Howlin' Wolf, Muddy Waters, Lead Belly, Bessie Smith, Etta James, Ella Fitzgerald, Freddie King, Robert Plant, Martha Velez and Bob Dylan.
"My songs are rooted in the blues and honouring that long tradition is important to me," said Schorr  "My song-writing draws heavily on contrasting melodic hooks with aching harmonies.  I spend a lot of time working over and rewriting my lyrics.  I rely heavily on imagery and enjoy using double-entendres that are entertaining to those who catch them."
A Force of Nature is said to deliver hard-driving blues rock, influenced by the late '60s British Blues movement, and that's where Vernon comes in, having been at the controls for the likes of Fleetwood Mac,  John Mayall & the Blues Breakers, Savoy Brown and Ten Years After and David Bowie at pivotal times in their careers.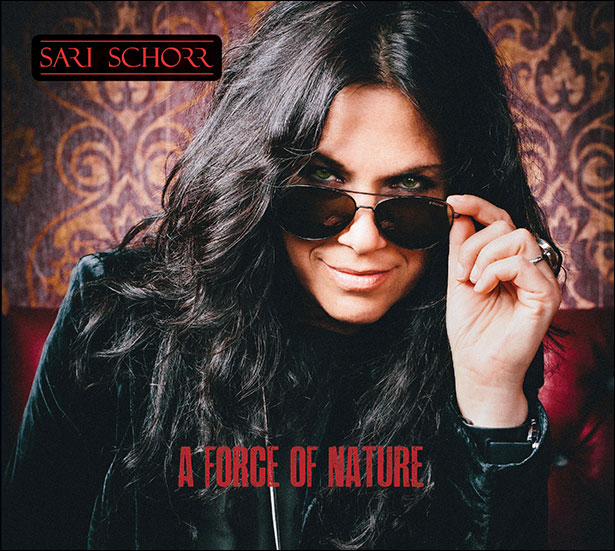 In January 2015, Vernon was at the International Blues Challenge in Memphis, Tennessee to receive a Keeping the Blues Alive award where he was so knocked out watching a performance by Schoor that he came out of semi-retirement to produce her new album.   The album also features guitarists Walter Trout (John Mayall, Canned Heat), Innes Sibun (Robert Plant), Oli Brown (RavenEye) and keyboardist John Baggott (Massive Attack, Portishead).
Released on CD, and mastered for itunes digital and standard digital download, A Force of Nature features the following tracks: 'Ain't Got No Money', 'Aunt Hazel', 'Damn the Reason', 'Cat and Mouse', 'Black Betty', 'Work No More', 'Demolition Man', 'Oklahoma', 'Letting Go', 'Kiss Me', 'Stop! In The Name of Love' and 'Ordinary Life'.
Schorr reveals more about herself and her new album on the video featured below, and you can catch her on tour throughout the UK from August through to October.
SARI SCHORR & THE ENGINE ROOM – EUROPEAN TOUR DATES
AUGUST
August 26       Norden Farm Centre for the Arts, Altwood Rd, Maidenhead
August 28       Seacroft Double Festival, Norfolk
August 29       Great British RnB Festival, Colne, Lancashire
August 28            Seacroft Double Festival, Norfolk
SEPTEMBER
Sept 9             Darlington RnB Club, The Forum Music Centre, Darlington
Sept 5             Half Moon Putney, London (Album Launch)
Sept 10           Blues Club, Devizes, Wiltshire
Sept 11           Winchester Discovery Centre, Winchester
Sept 14           The Tunnels, Bristol
Sept 15           Southern Pavilion, Worthing Pier, West Sussex
Sept 16           New Crawdaddy, Billericay Town FC Billericay
Sept 17           Old Town Hall, High Street, Hemel Hempstead
Sept 23           Selby Town Hall Yorkshire
Sept 24           The Iron Road, Evesham, Worcestershire
Sept 25           Hope Tavern, Caistor Rd, Holton-le-Moor, Market Rasen,Lincs
Sept 28           Vonnies Blues Club, Cheltenham
Sept 29           Cranleigh Arts Centre, High Street, Cranleigh, Surrey
 OCTOBER
October 1       Hereford Blues Club, Booth Hall, Hereford, UK
October 6       Bar Brunel Bridgewater, UK
Save
Save