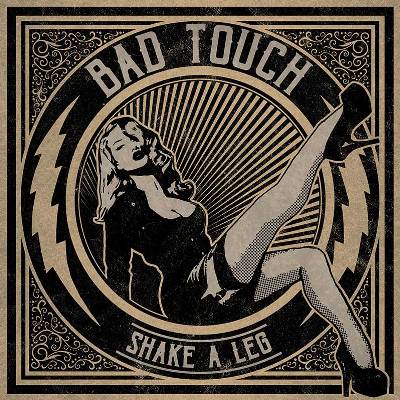 Third album in, Bad Touch have a working blueprint for the kind of record they want to make: Classic in that it references the rock bands they were themselves brought up on, but more particularly one containing songs that will strike a chord with those seeing them alive; with a good singalong that if heard at a festival the ear worm that develops will induce you to buy the record or if you're already a fan then instantly inform you you're in for a good night's gig partying with the band.
That approach is summed up from the get-go with 'Lift Your Head Up'. There's a slight dirty Marc Bolan sound to the guitars for this rock and roller singalong, and a real bum shaker once it gets going. Lyrically it's not so much preaching to the converted but celebrating them, and may well be the number they open their sets with in the future.
Less fickle friends are the story behind 'Hammer Falls' that begins with a broken chorded introduction that has an air of Neil Young about it before it swings more towards southern rock fetching guitar melody. 'Too Many Times' implies more of the same the way vocalist Stevie Westwood spews out his anger, musically however it's a  sub-Stones type rocker, with a pumping bass and a couple of fine lead breaks courtesy of Rob Glendinning.
Back in the party spirit is 'Dressed To Kill' leading with a harmony guitar intro before lashing out with a call and response affair of the Fleetwood Mac 'Oh Well' variety on the verses and more of an up tempo ZZ Top metal boogie chorus, with catchy lyrics that will have you smiling every step of the way. There's even time for a bit of a drum solo in between some guitar action.
'Skyman' has been out as a single, and while it's apparently nspired by the late great Duane Allman fits more of a Stones/Faces mould bridging into a bit of Zeppelin riffage.  Old school again 'I Belong' feels like something that could of been picked off either of Humble Pie's first two 12 inchers. It's one of those rock 'n' roller as wandering cowboy wistfully reminiscing about where they come from numbers. The irony being some of us will go "It's a bit grim up north! Can you really mean that about Norfolk?"  Clever lyrics are found on the politically correct sexual excuse me that is 'Show Me What It Means' a harmony vocal intro before a Zep style big riff and booty drum workout ensues.
Drums are to the forefront for 'Tussle' before flicking away as a country rhythm rocker, getting harder edged riding it through the solos. There's also a short bluesy rap delivered by Westwood and while it might not be to hardened fans' tastes I reckon the right remixed could turn a tack like this a surprise crossover hit.
That Mac/Zep approach is there again for 'Take Me Away' with added lolloping bass line thrown in for good measure. Slower blues rock steeped in a 70s stadium vibe is what you get with 'Believe In Me'  with a country twanged guitar solo that soars away and expects its player to stand centre stage looking skywards with eyes closed while doing so. Lest we become a tad melancholy 'Movin' On Up' features the kind of riff Page had spare when producing Led Zeppelin II  then raves up further with a heavy funk groove chorus.
The album ends with a couple of mainly acoustic numbers, one of which at least they may have aired to the public when touring earlier in the year.
'Slow Tempest' features  bongos alongside the acoustic six strings, and I have to say a few notes of piano wouldn't of been out of place should they have added them, Its tempo builds, rocking up with a couple of solos to end on. Then, it's just acoustics and vocals for the album's coda with 'Bury Me (When I'm Gone)'.
If the record's not broke goes the saying, and frankly it sounds in rather good nick!