Featuring past and present members of bands such as Thin Lizzy, Alice Cooper and Megadeth; Black Star Riders have released the album cover for their debut album All Hell Breaks Loose.
The artwork comprises of a piece by the late Gil Elvgren who is best known for his paintings of the classic 'pin-up girl' in the USA.
Check out the artwork below!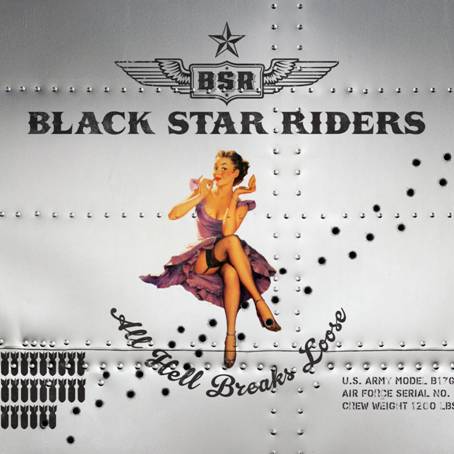 Ricky Warwick commented on the bands choice for the artwork:
"I was watching a documentary about World War II bombers and saw the name painted on the side of one of the aircraft. The name just resonated with me and it seemed to encapsulate the turmoil that we, as a society, are currently experiencing.  The past few years have been such a wild ride and now with the release of the album, it sounded like a bad-ass album title that summed up what Black Star Riders is all about."
All Hell Breaks Loose is due for release in the UK on May 27th via Nuclear Blast. The band have also confirmed a UK show with an appearance at this year's Hard Rock Hell in Wales on November 29th. Check out behind the scenes footage of the band in the studio below!