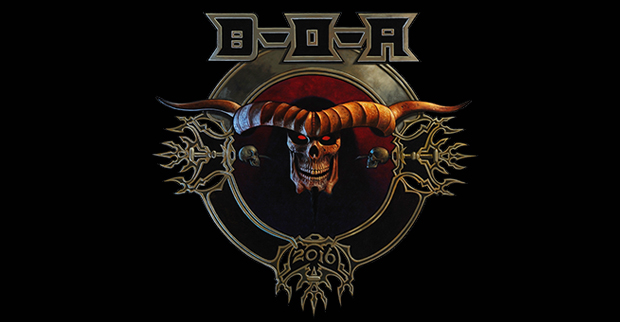 Bloodstock-Open -Air 2016 is slowly creeping closer, now with less than 6 months until its arrival, the Bloodstock family have added a further four bands to the already impressive line up.
Gracing the Ronnie James Dio stage for the first time since their recent reformation, come industrial metal titans Misery Loves Company, speaking of the announcement the band keep it no secret of their love for the UK and performing here.
"The UK was always special to MISERY LOVES CO, our very first show outside of Scandinavia was in London and without the support of the British people we probably would have stayed in Scandinavia for ever, listening to ABBA, eating herring and dreaming of the outside world… MISERY LOVES CO + Britain = a true love story. Now, when we return to the stage, we're extremely happy to showcase our industrial demons in front of the British crowd once more. Doing a summer of festivals without coming to the UK would have been a failure, so, we can't wait to come to BLOODSTOCK!"
Also joining the RJD stage for the Saturday are a band making their third appearance, British tech metal band Cambion. Following on from performances in 2012 and 2014, they are set to return again in 2016 and until that comes, they are working on their debut album. Cambion are growing on their previous release Virus Extended Edition EP, 2016 is set to be their biggest year yet. You can keep up with updates on the release of the debut album release date on their web page: http://www.cambionofficial.co.uk/.
Filling the Friday night headline slot for the Sophie Lancaster stage come a band that should need no introduction. Diamond Head, the iconic NWOBHM legends will be gracing the fields of Catton Hall with their presence. One of the most important bands in the development of thrash, they are hailed as heroes and one of the defining reasons thrash became what it was, without Diamond Head, Metallica have happily stated they probably wouldn't exist themselves. The merry men of Stourbridge are currently preparing to release their new album simply titled 'Diamond Head' on April 22nd, the first studio album in more than 8 years. These are a band not to miss. They have nothing to prove, but should you need it, here is fan filmed footage of the axeman Brian Tatler himself hitting the stage with none other than the Big 4 (Anthrax, Megadeth, Metallica and Slayer) with a live Diamond Head cover of the most famous of songs 'Am I Evil?'.
Hitting the SOPHIE stage on the Saturday come Krysthla, these British metalheads will be bringing their instruments of destruction with a determination to walk off the stage in front of a crowd of fans larger than they started with. The bands debut album release 'A War of Souls and Desires' can be found and purchased on their bandcamp page – http://www.krysthla.bigcartel.com/. Expect big things from Krysthla.
Bloodstock Festival are currently preparing to celebrate the Easter weekend giving fans the opportunity to win a pair of weekend tickets with camping with their Easter Egg hunt. Head over to www.bloodstock.uk.com for more details on how to take part, the competition is live from Good Friday, March 25th. Also check the website for all the details of the upcoming festival, including ticket purchasing options.
Bloodstock Festival 2016 is set to take place at Catton Hall, Derbyshire over the 11th to 14th of August and is building to be just as big as any other year and will leave you kicking yourself should you miss it.