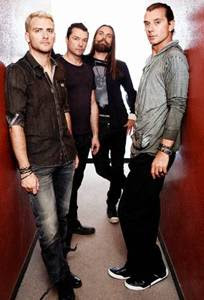 Next week will see the release of new single 'The Only Way Out' from the multi-platinum rock legends BUSH. The single will take lead from new album 'Man On The Run' which is set for release 20th October via Zuma Rock Records/ RAL.
The album was recorded by Grammy-winning producer Nick Raskulinecz at Studio 606 (owned by Foo Fighters frontman Dave Grohl. Nick has previously recorded Mastadon, Deftones, Foo Fighters, and Alice In Chains.
BUSH has also teamed with PledgeMusic for a special campaign that offers fans a chance to take a behind-the-scenes look at the new album, along with a number of Pledge exclusives including limited-edition vinyl, hand-written lyrics, pre-order opportunities and more. To view the campaign, please visit http://www.pledgemusic.com/projects/bush.
The album is available in the UK here –http://smarturl.it/ManOnTheRun
Over the course of their remarkable career, BUSH has sold close to 20 million records in the U.S. and Canada alone. They've also compiled an amazing string of 17 consecutive Top 40 hit singles on the Modern Rock and Mainstream Rock charts, including 11 that hit the Top 5, six of which shot to No. 1: 'Comedown' – 'Glycerine' – 'Machinehead' – 'Swallowed' – 'The Chemicals Between Us' and 'The Sound of Winter'.
Make sure you check out 'The Only Way Out' next week as it hits radio, iTunes, Amazon and all major retailers on September 9th.