Erja Lyytinen will release her fourth live album Diamonds On The Road – Live 2023 via Tuohi Records on Friday 6th October, ahead of a new UK tour. Ahead of that comes the latest single taken from the parent album, and it's the title track, out now.
The 'Diamonds On The Road' title track live single starts off with an oppressive mood that tells the story of a poor woman. She's left alone in a shabby home with a baby, while her man has snuck out to be with his rich lover. She plans revenge in her bitter mind and rushes out into the rising storm. The cinematic feel of the song unravels into a mean slide guitar solo and to the explosive double tempo by the band in this blues rock – slide chase.

"There's a slide solo in the outro, where I'm using lots of delay, whammy and distortion to create this gloomy feel," said Lyytinen about the new live single, "I wanted to have a Strat sound on this solo, so I'm playing with my Fencer Custom Shop Stratocaster in open G tuning."
The single is available on all streaming platforms here. The music video is available to watch right here at RAMzine.
As you'll both hear and see, echoed guitar chords and eerie wind-blowing sounds from keyboards lead the way for this doomed Gothic romance blues number that gives passing nods to both The Doors and The Rolling Stones amid a rather. scintillating guitar solo.
The internationally acclaimed guitarist's previous single was 'Crosstown Traffic', where Lyytinen certainly put her own spin on the Jimi Hendrix classic.
It's still available on all streaming platforms by clicking here,
"There is only one Hendrix, there's no way you can replicate Jimi, and that's why I wanted to perform my own take on this classic song," the guitarist remarked. "We brought the song to the 21st century by adding some new elements. Our version is slightly faster than Jimi's and I'm also playing the song in open C tuning with a slide and that gives the song a whole new approach."
The technical tuning stuff aside, Lyytinen imbues 'Crosstown Traffic' with a post-punk energy – The first few bars are like an askew bluesy skiffle before you wonder if Devo are involved in the hardened psychedelic rock that ensues. The familiarity of the lyrics and Lyytinen's own trademark slide guitar work ensure we don't stray too far; the urgency of her guitar playing escalating two minutes in wherein there's a somewhat sensual solo, then near the end, lest you think you're hearing an interesting wah-wah effect, that's actually a blooming kazoo… You can check out the video here yourselves at RAMzine.
"The song is a lot of fun to play live, it's energetic and I just love the lyrics!" Lyytinen noted. "There are plenty of metaphors and sexual references, all cleverly delivered by describing a traffic jam, which alludes to how a relationship has come to its end. I´m using a kazoo in the ending riff of the song, as Hendrix did use a comb and cellophane to create the sound of traffic. The result is a fun and cool live track with some interesting turnouts in the arrangement!"
Sexual shenanigans being a something of a requirement it appears, for the first single released from the new album was 'You Talk Dirty' back in July. That's also available to stream and download, alongside an accompanying video that's out now you can view here.
Speaking about the new live album as a whole, Lyytinen said: "When playing live, you've got one moment to get it right, and then the moment is gone. There is no correcting stuff later. It is very raw and exciting to play and sing at the same time. The adrenaline runs through your body, and everything around you affects your performance."
Her fourth live album, following on from Songs From The Road, Live In London, and Lockdown Live, it will be available on vinyl, digitally and on CDs where tracks featured are: 'Diamonds On The Road', 'Rocking Chair', 'Bad Seed', 'Black Ocean', 'Waiting For The Daylight', 'Väinämöinen Tuonelassa', 'Last Girl' and 'Never Really Had You' on CD1. With 'You Talk Dirty', 'Lover´s Novels', 'Wedding Day', 'Crosstown Traffic' and 'The End Of Music' encompassing CD2.
"Diamonds On The Road was recorded towards the end of our Spring tour in March 2023," Lyytinen noted ."We played ten shows in a row, of which eight were sold out. The band had a good flow going, and the songs were rolling nicely."
Since pandemic restrictions were lifted, the artist has graced the stages of venues and festivals across Europe and beyond. Unlike Lockdown Live, that captured a key moment in time during the pandemic, the artist's new double live album highlights the joys of once again being able to perform in front of a sold-out crowd.

"Compared to our previous live recording Lockdown Live, which was filmed and recorded as a streaming gig without an actual audience during the first two months of the pandemic in 2020, this was quite different with an interactive crowd," she reflected. "The show took place at Rytmikorjaamo, Seinäjoki, in the Western part of Finland. On the night of the recording, people were enjoying the live performance, cheering to the solos, dancing, and having a good time together next to each other."
Commenting on the first single to be released from the new live album, she said: "'You Talk Dirty' was originally released for the first time 20 years ago on my first recording." The song was given a new lease of life on the artist's last studio album Waiting For The Daylight. However, the track has become a live favourite also for the woman dubbed the queen of the slide guitar. "It is my favourite live track. I get to play loud guitar, using my Whammy up and down a whole step-up in the most critical places, to create this heavy doom effect. My guitar playing has gotten heavier since Lockdown Live," she said.
Over the years, Erja Lyytinen's sound has evolved dramatically. Beginning with her traditional blues roots, Lyytinen has been simultaneously pushing forward with a hard rock-orientated style of play whilst always keeping that blues sound at the core of everything she does. "My sound has changed since the last live recording. My playing has more of a hard-rock element and edge," she noted.
The artist attributes some of those changes to her equipment and repertoire of trusty axes. "Since my last live recording, my live guitar arsenal has grown quite a bit. I have five to six guitars, from Strats and Teles to custom-made guitars, on stage with me. It´s quite cool to dig out the different characteristics of each guitar. I´m using my road-worn Fender Custom Shop guitar on the songs 'Black Ocean' and 'Never Really Had You'. I had the guitar fine-tuned right before the tour and added it to my live arsenal. I feel as though it has been a sin to keep this Strat as my sofa guitar for years!"
The songs featured on Diamonds On The Road showcase the old, the new, the borrowed and the blues. "For the set list of the live album, we had a mixture of my favourite old songs and then a selection of the songs from my latest studio album, Waiting for The Daylight," she explained. "We also recorded a Jimi Hendrix classic, 'Crosstown Traffic'. I made my own version of it by playing the song using slide! It is so cool to play the song, and, on the recording, it is our first encore."
Diamonds on the Road – Live 2023 includes an exclusive feature not found in the artist's previous concert albums. "I wrote a song based on artwork by famous Finnish artist Pekka Halonen´s painting Väinämöinen Tuonelassa. The piece tells the story of the Finnish epic saga, Kalevala, where a shaman called Väinämöinen goes to the underworld. The song is slightly folk metal and sung in Finnish. It is a cool addition to the set list, making this live recording my first to have a song sung in Finnish."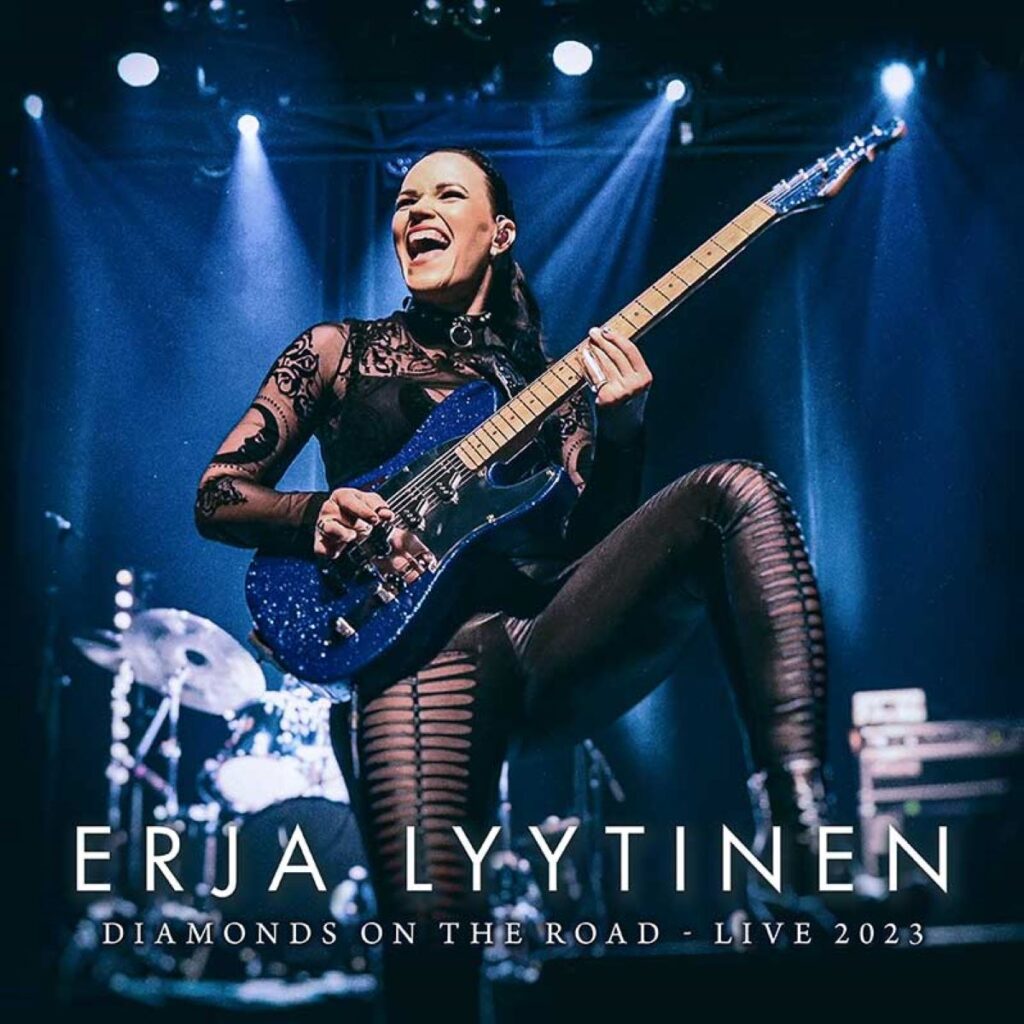 The new live album showcases Erja Lyytinen and the band doing what they do best, playing concerts for their fans. "I have always loved performing live, but now, I enjoy playing even more and saying this on behalf of my band; I think they do, too. Performing live is stronger, more relaxed, and empowering. I´m grateful to be a guitarist and singer who is giving her best for the audience each night. It's the best thing you can do with your pants on," she concluded.
Stream/download, 'You Talk Dirty'here and check out the video here at RAMzine.
Diamonds On The Road – Live 2023 is available to pre-order on Double CD, vinyl and digital here.