The king of AOR Frederic Slama has been speaking about his new album 'The Secrets of L.A.', which was released earlier this month. This is Slamas 12th album under the name of AOR.
Once again utilising the incredible talents of guitarist Tommy Denander (Swedish guitarist who has played with countless artists including Michael Jackson, Paul Stanley, Alice Cooper, Ricky Martin, BB King – and that's just naming a few!)
Slama uses a range of vocalists on 'The Secrets of L.A': Fergie Frederiksen, Jeff Scott Soto, Jim Jidhed, Bill Champlin, Bob Harris, Robin Beck, Göran Edman, Mikael Erlandsson, Bob Harris, Tamara Champlin.
'The Secrets Of LA' is already getting some nice reviews Frederic….Where does it sit in the Grand Scheme of things given yo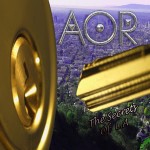 u're working on the next one already…
"Well, it's always great and encouraging to have great reviews. It means that I was right to go in a heavier direction and that's what evidently really appeals to fans and press alike. The next AOR will be in the same vein, maybe a little harder. But, I'm still far from doing Hard Rock! A music career is a long term vision and each album is like another brick in the wall. It's already been 13 years with AOR and more people know about my music each and every day so that's what every musician should be proud of."
Any plans for shows?
"I'm setting up things with some cool musicians now but it takes a lot of time to plan all these shows, sometimes almost a year in advance. It's hard to know what these big names will be up to in several months from now. We're getting there though, and I have to find festivals or venues that have a decent budget so I can bring some really cool names to the stage."
How is it working with Tommy Denander? How you're friendship has grown over the years and the results as you see them? How important is this to the success of the AOR albums?
"It's strange really because Tommy and I used to live in the same street in L.A.; at the same time in the early 90's, though we didn't knew each other then. I guess we were meant to meet someday in our life.  Over the years Tommy has become a close friend and is in part responsible for the success of AOR. We've done 10 albums together and he's always there to help me with his ideas and wonderful guitar solos. He's a very cool human being who works with the biggest names in the industry and it's an honor for me that his interest for my project gets stronger and stronger year after year. Hats off to Tommy!!!"
Tracks And Vocalists
1) Deep Whirlpool:  with Fergie Frederiksen
2) Stage Struck: with Jeff Scott Soto
3) Secrets In The Shadows; with Jim Jidhed
4) Back To San Francisco: with Bill Champlin
5) Out Of The Past: with Bob Harris
6) The Name Of The Game: with Robin Beck
7) Web Of Lies: with Göran Edman
8) Hollow Triumph: with Mikael Erlandsson
9) The Main Attraction: with Bob Harris
10) Voices In The Wind: with Tamara Champlin