Gillan – The Vinyl Collection 1979-1982 is due out as a box set on 2nd September collecting the hit albums of Deep Purple vocalist Ian Gillan and his band during that era.
Following the more jazz-fusion influenced Ian Gillan Band, Gillan retained keyboard player Colin Towns, and after some trial runs brought in his former Episode Six colleague Mick Underwood on drums, plus John McCoy on bass and Bernie Tormé on guitar (latterly replaced by Janick Gers) for an altogether heavier band who fitted in more aptly with the times.
The collection features the Gillan debut album Mr Universe (1979), Glory Road (1980, featuring the bonus album For Gillan Fans Only that came with it), Future Shock (1981, with its 16 page booklet), Double Trouble (1981, again two LPs) and Magic (1982). All on 180g heavyweight vinyl as exact replicas of their first pressings from Demon Records. For those ordering from Amazon, an exclusive edition is available that will include a bonus 7" single for 'Spanish Guitar'.
"It's a wonderful thing, vinyl," said Ian Gillan, pleased with the way box set has turned out:"Best held in two hands and treated with respect, as you place it carefully upon the turntable. You just bought something significant, not easily disposable. And look at the sleeves" he commented, observing one of the records "Aren't they cool. Read the lyrics and enjoy the artwork, while you are in the groove. No computers involved in the making of this music… Enjoy".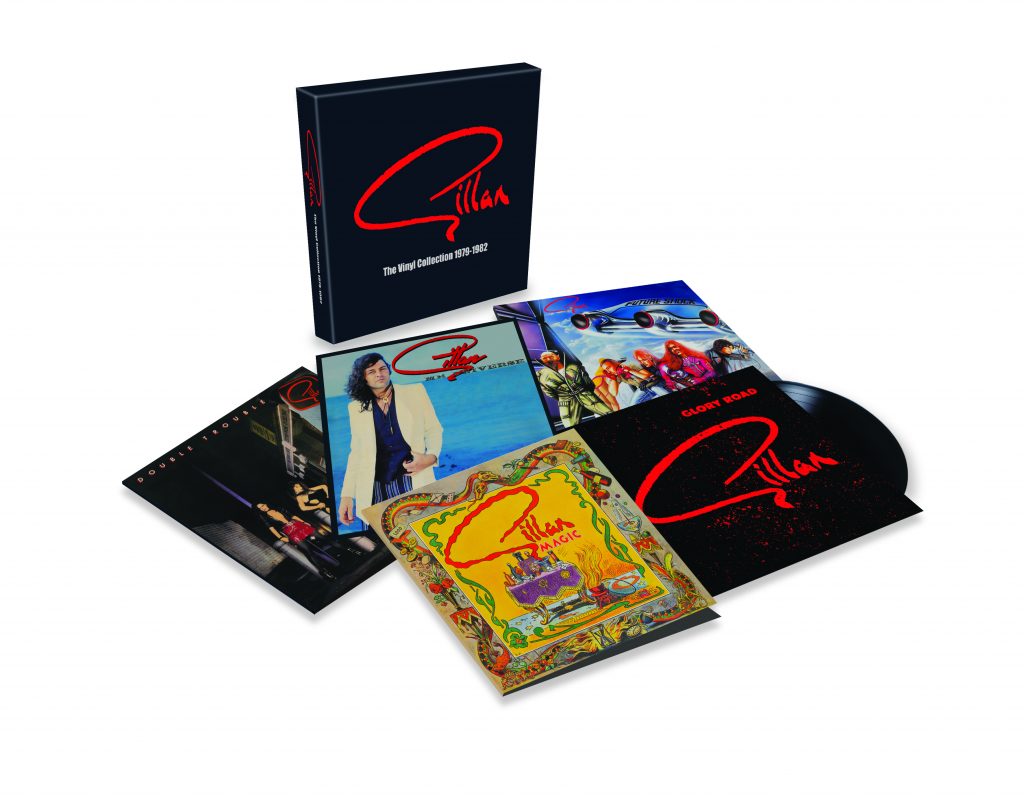 Gillan – The Vinyl Collection 1979-1982 contains the following tracks on each album:
 Mr Universe: (A Side) 'Second Sight', 'Secret Of The Dance', 'She Tears Me Down', 'Roller', 'Mr. Universe'; (B Side) 'Vengeance', 'Puget Sound', 'Dead Of Night', 'Message In A Bottle', 'Fighting Man'.
Magic: (A Side) 'What's The Matter', 'Bluesy Blue Sea', 'Caught In The Trap', 'Long Gone', 'Driving Me Wild'; (B Side): 'Demon Driver', 'Living A Lie', 'You're So Right', 'Living For The City', 'Demon Drive Reprise'.
Glory Road: (A Side) 'Unchain Your Brain', 'Are You Sure', 'Time And Time Again', 'No Easy Way', 'Sleeping On The Job'; ( B Side)  'On The Rocks', 'If You Believe Me', 'Running White Face City Boy', 'Nervous'; (C Side) 'Higher And Higher', 'Your Mother Was Right', 'Redwatch', 'Abbey Of Thelema', 'Trying To Get To You'; (D Side) 'Come Tomorrow', 'Dragon's Tongue', 'Post Fade Brain', 'Damage', 'Egg Timer', 'Harry Lime Theme'.
Future Shock: (A Side) 'Future Shock', 'Night Ride Out Of Phoenix', 'The Ballad Of The Lucitania Express', 'No Laughing In Heaven', 'Sacre Bleu'; (B Side) 'New Orleans', 'Bite The Bullet', 'If I Sing Softly', 'Don't Want The Truth', 'For Your Dreams'.
Double Trouble: (A Side) 'I'll Rip Your Spine Out', 'Restless', 'Men Of War', 'Sunbeam'; (B Side) 'Nightmare', 'Hadely Bop Bop', 'Life Goes On', 'Born To Kill'; (C Side) 'No Laughing In Heaven', 'No Easy Way', 'Trouble'; (D Side) 'Mutually Assured Destruction', 'If You Believe Me', 'New Orleans'.