Headliners of the first and second stages have been announced for the annual Dundee festival, Hordes Of Belial.
Topping the bill is British metal mob Anger Management alongside second stage headliners Korpse. The lads will also be joined by Rex Shachath, Nolti Nan Gana Nan Nolta, Necrogrinder, De Profundis, Thrashist Regime, Sound Over Silence, Threshold Sicks and Beckon.
Check out the latest poster below!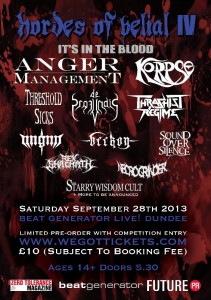 The festival takes place at Beat Generator Live! Dundee, Scotland, on September 28th.
Tickets will be £10 plus booking fee and are available from here.
This is the fourth edition of the Hordes Of Belial festival, to find out more information go to the event's official Facebook page.