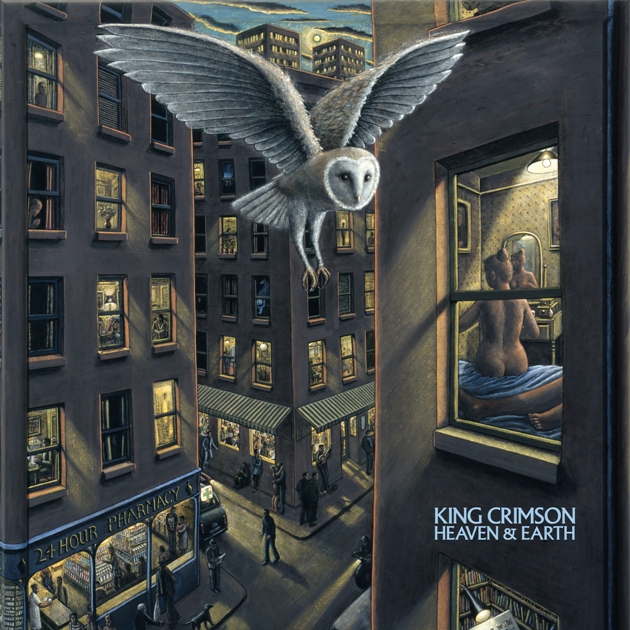 King Crimson celebrate their 50th Anniversary this year with a series of concert dates at the Royal Albert Hall along with a collection of special CD/DVD and Blu-ray releases and special documentary chronicling their illustrious career.
If not the first musical act to be termed progressive their evolving line-ups through the decades have certainly reflected the highest pedigree of musicians to fall under that generic umbrella while often pushing rock's boundaries. Consistently lead by the guitarist Robert Fripp throughout their career.
King Crimson's current roll call, aside from Fripp, features Jakko Jakszyk (guitar & vocals), Tony Levin (bass, stick and backing vocals), drummers Gavin Harrison, Pat Mastelotto and Jeremy Stacey (who doubles on keyboards), veteran member Mel Collins and recent addition (both saxophones & flute).
The band's anniversary was officially noted with an exclusive one-day event in London, attended by worldwide media. It was hosted by Fripp (a rare event in itself) and included a presentation by film director Toby Amies on his forthcoming King Crimson documentary Cosmic F*kc, to be released later in the year.
Imminent, at the end of this month, is Heaven and Earth, the latest in the band's acclaimed boxed set series covering King Crimson through 1997 – 2008. This features 18CDs, 2DVDs and 4 Blu-Ray discs. It includes unreleased audio/video/Hi-res stereo & 5.1 surround audio and is said to be the band's most comprehensive boxed set release to date.
Also available as of 31st May are The ReconstruKction of Light and The Power to Believe. The former is a CD/DVD set featuring the 1997 album in original stereo/radically remixed/part rerecorded new stereo & 5.1 Surround sound plus bonus material and all in hi-res audio on the DVD. While the latter is CD/DVD set featuring the 2003 album in original stereo/expanded mix/& 5.1 Surround sound plus bonus material, again all in hi-res audio on the DVD.
With their release all King Crimson's studio albums from their 1969 debut through to 2003 period will have been made available in hi-res stereo & 5.1 surround sound.
King Crimson's performances at the Royal Albert Hall will take place on 18th, 19th and 20th June. There will also be selected festivals and headline shows spread across three continents.
Since 2014, as well as performing old favourites and newly written material, the band has been performing a large number of historic pieces, previously not performed live. Their regularly last three hours long, with set lists change daily by Fripp, ensuring each performance is a unique event.
King Crimson tickets for the Royal Albert Hall can be reserved here.