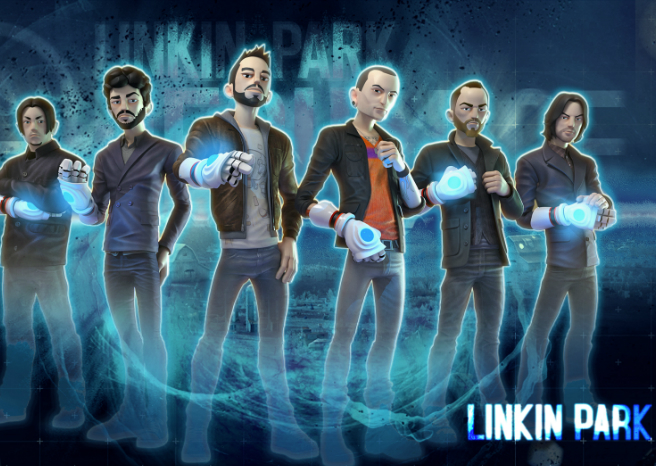 Linkin Park and Steve Aoki have now confirmed their collaboration! The band first connected with Steve Aoki (the EDM producer/DJ and founder of Dim Mak Records) to put together initial ideas for the song several months ago…
"It was about building this bridge between our two worlds and doing it in an organic way," said Aoki in an interview with Billboard. "We've stayed true to both our elements. Our fans in the EDM space and the Linkin Park space can gravitate towards it naturally."

"I love what's happening right now. It's stepped into the spotlight and then gone in so many directions, like Avicii doing basically a folk song. For me, what always transcends any genre or movement is songwriting." says Shinoda.
Fans will be able to access the studio recording of the song 'A Light That Never Comes' by playing the new 3D Facebook game LP Recharge, fans will need to work together collectively to unlock the track. Once the single is unleashed, the track will stream on demand exclusively for fourteen days on Xbox Music, Microsoft's all-in-one music service
'A Light That Never Comes' will feature on the upcoming Linkin Park album 'Recharged' which will be released on October 28th on Machine Shop Recordings / Warner Bros. Records. 'Recharged' features new interpretations of songs from 'Living Things', the band's most recent album that debuted at #1 in over twenty countries.
A limited-edition version of the album will feature an interactive 3D sculpture based on the 'Living Things' album artwork. The sculpture was derived from a digital manipulation of a lion's head, housed in a glass globe surrounded by a magnetic liquid called ferofluid this one-of-a-kind piece allows fans to interact with the solution via a magnetic stylus to create unique patterns and designs. Included with the sculpture is a 48-page art book, 2 CD folio pack including 'Living Things' and 'Recharged', and the aforementioned magnetic stylus. All contents are contained in a custom-hinged, clam shell-styled display box. Each box set will be numbered and limited to 500 copies globally.
Pre-orders will begin on Monday September 16th at www.linkinpark.com while pre-orders of the digital 'Recharge' album will begin on iTunes once the new single is unlocked.
www.facebook.com/lprecharge