Award-winning guitarist Michael Schenker releases a new studio album entitled Spirit On A Mission in the UK on Monday March 23rd, a video for the new single 'Live & Let Live' is out now.
Released by in-akustik, the album of all-new material features Schenker's Temple of Rock band on 12 rock guitar-driven songs that highlight Schenker's distinctive and dynamic guitar playing, underpinned by the same rhythm section that he originally performed with on The Scorpions's 1979 album Lovedrive in drummer Herman Rarebell and bass player Francis Buchholz, with former Rainbow front-man Doogie White on vocals and Wayne Findlay on guitar and keyboards.
Recalling how he came up with the name of the new album Schenker said:  "A while ago I was asked how I wanted to be remembered, and I said 'as a spirit on a mission, spreading the joy of music from a place of pure self expression.'"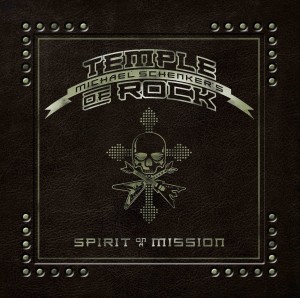 The album was recorded at Kidroom Studios, Muenster, Germany; the same studio where 2013's Bridge The Gap album was recorded. The album was produced by Michael Voss and Michael Schenker, and engineered by Voss.
"After the Bridge The Gap Japan Tour in March 2014, I started to put new material together for what was to become the Spirit On A Mission album," said Schenker. "I went to the recording studio in June 2014 to put down the song arrangements and we finished recording in November." However, during the recording, the original recordings and guitars were stolen from the recording studio. "Fortunately it was just performances and not compositions. We caught up and performed the music better than before. It forced us to work extra hard and longer but it made it stronger," he recalled.
"I already knew ahead of time that I wanted to take Spirit On A Mission to the next level by adding more 7-string guitar on some songs to get more of the low heavy sound, and on other songs to keep it very fast and energetic with melodic vocals and a couple of mid tempos with more of my writing like in my UFO days.
"Doogie did an amazing job with his melodies and singing," added Schenker. "Even though we had our instruments, music and equipment stolen from the recording studio, we had to rerecord a lot of his vocals again, but when we did it the second time around, it got even better. I asked Wayne to come up with a few cool guitar riffs on his 7 string. I added my parts to it and the outcome was very unique. Again, with the addition of Doogie's vocals, we entered a whole new place that was an extreme pleasurable experience.
"All the songs were co-written by Doogie and myself, Wayne co-wrote five songs. I originally wanted to write the album as a group effort, but I had this concept that needed to be focused on differently. However, Herman and Francis did very well by adding their amazing 'Rock You Like A Hurricane' rhythm section parts that gave it all it needed."
Michael Schenker's Temple of Rock Spirit On A Mission is released on March 23rd.