The Gypsy Pistoleros are back, returning with a best-of 18 track anthology due 28th August going by the handle The Greatest Flamenco Sleaze Glam Band Ever, a brand-new album in the works, and out now new single 'Una Para Todo Es Bandido', a remixed and remastered version of the original song.

Gypsy Pistoleros may be best described as being the ideal house band for the fictitious Titty Twister bar of Rodriguez's From Dusk Till Dawn. Between the nods to Morricone's tense, tumbleweed atmospheres and the Gypsy Kings' manic Mediterranean energy, a New York Dolls raw glam spark and a surplus of prime Guns 'n' Roses attitude.
'Una para todo es Bandido' encompasses what Gypsy Pistoleros are all about. One minute you could be sitting in Cabo sipping the most exquisite tequila the next you are downing pints in an underground club in London. Unique, engaging and dangerous, it pounces between upbeat Mariachi and street born-and-bred sleaze-drenched, fiery, rock.
Born roamin' somewhere between Barcelona and Birmingham, Gypsy Pistoleros were brought into the world to a soundtrack stack-heeled anthems of sleazy '70s America, back in 2005.
The insane inspiration came from frontman and songwriter Gypsy Lee Pistolero (Aka Lee Mark Jones) who began wielding this unique sound whilst living in Zaragoza (Spain) whilst supporting The Ramones and Motorhead in 1993 & 1996.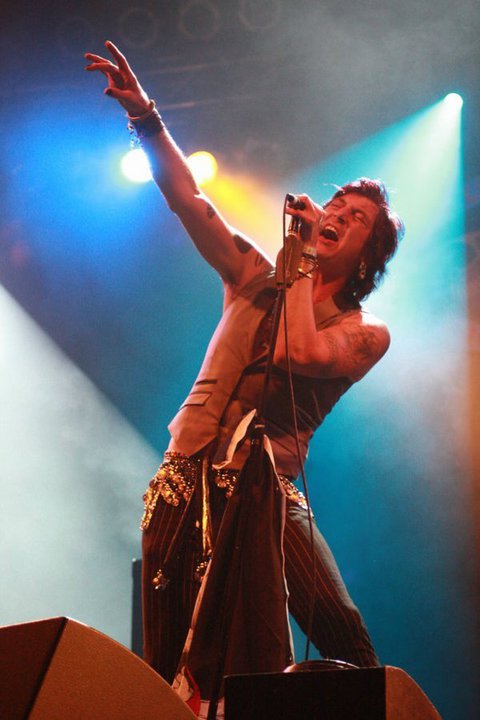 A slew of releases followed, and they toured relentlessly with the likes of The Ramones, L.A. Guns, Faster Pussycat, UFO, Motorhead, Ratt, Twisted Sister, Poison, Skid Row, and Dokken, and played the Rocklahoma festivals in Oklahoma, USA from 2007 through to 2011.
With a new line-up constituted, Gypsy Pistoleros now feature vocalist Gypsy Lee Pistolero, guitarist Mark Westwood (Shadowland, Clive Nolan, GLP), lead guitarist Iggie Pistolero, bass player/backing vocalist Ian MacDonald Walker, drummer Jan Vincent Vellazo (Pendragon, Ghost, PIG) and Kris Jones on trumpet & horns.
As previously noted, they already have a new album in the works, with all these releases coming through a freshly signed worldwide record deal with Golden Robot Global Entertainment/Riot Records.
The Mescalito Vampires! is the album's title and it's being recorded at Black Tree Recording Studios, with guitarist Mark Westwood engineering & producing, scheduled for a Christmas time. An alternative mix will also be done by Joe Gibb (David Bowie, The Cure, The Kinks, Janes Addiction).
You can stream/buy 'Una Para Todo Es Bandido' here and watch the video for it right here at RAMzine.
Singer Gypsy Lee Pistolero, as Lee Mark Jones, continues his Edinburgh Festival Fringe 2019 hit one-man show 'A Rock n Roll Suicide!' as a UK Tour this October. It is an autobiographical story that includes singing live, chronicling his life as a nearly never was rock star, and how it ironically led to renewed interest in his musical career and the new ongoing saga of the Gypsy Pistoleros.