Former Manowar guitarist Ross The Boss releases a new album in the form of By Blood Sworn on 20th April, and has just released a lyric video for the track 'This Is Vengeance' taken from it, that you can check out right here at Ramzine.
Concurrent with playing with the band DeathDealer these days, Ross The Boss is also the name for his own solo outfit, having previously released the records Hailstorm and New Metal Leader with them. The band's line-up is completed by Marc Lopes (vocals, keyboards), Mike LePond (bass), while on By Blood Sworn Lance Barnewold plays drums and Steve Bolognese will do so on tour. The record itself was produced by Dean Rispler and will be released April 20th through AFM Records.
"The main thing is that my band all live nearby me instead of in Germany," explained Ross. "So, we were able to really work the tunes up. Mike LePond and I started going through riffs and tunes in July, worked up the tunes, and started forming them. It was a very satisfying process.
"For my guitar playing, whatever the song needs, the songs get! The record is more old school, but with a fresh attack – The songs are not repetitive, and this record is also not a 'drum machine recording' like most these days." The album has been described as "hard-hitting and heavy" and features a cover of Manowar's 'Hail and Kill'.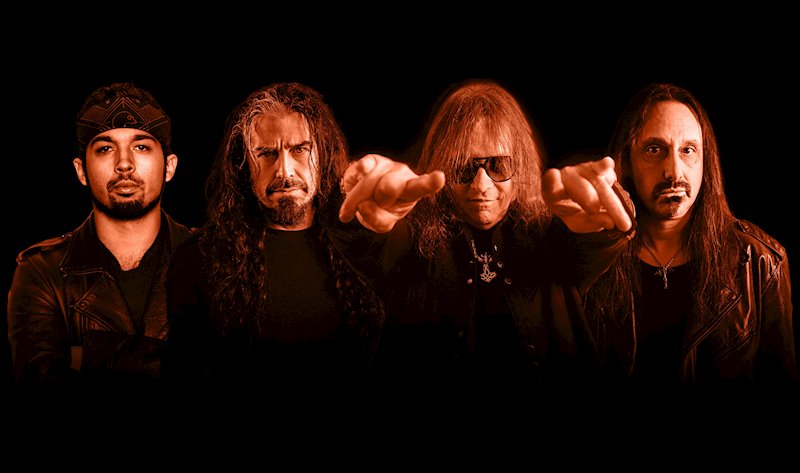 Ross the Boss can stake a claim as not only one of the pioneers of power metal but punk rock too, having been guitarist with American band The Dictators whose 1975 album Go Girl Crazy! was released the year before The Ramones' debut record, going onto record  1977's Manifest Destiny and 1978's Bloodbrothers. He then went on to be one of the co-founders of Manowar, recording such records as 1982's Battle Hymns, 1983's Into Glory Ride, and 1984's Hail to England.
Reconnecting with members of The Dictators during the late 80s they played together as  Manitoba's Wild Kingdom, serving as a bridge between his love of punk and metal, as evidenced on 1990's …And You?. He has also played with The Hellacopters, The Spinatras, and reforming with The Dictators, and as the new millennium turned with Brain Surgeons, alongside former Blue Öyster Cult drummer Albert Bouchard. These days focusing on DeathDealer (also featuring vocalist Sean Peck, guitarist Stu Marshall, bassist Mike Davis, and drummer Steve Bolognese) and his solo outfit.
By Blood Sworn features the tracks: 'By Blood Sworn', 'Among The Bones', 'This Is Vengeance', 'We Are The Night', 'Faith Of The Fallen', 'Devil's Day', 'Lilith', 'Play Among The Gods', 'Circle Of Damnation', and 'Fistful Of Hate'. The album can be pre-ordered by clicking here.