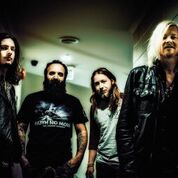 Melbourne rockers Palace Of The King have released new single 'It's Been A Long Time Coming' as a taster to their new album Get Right With Your Maker due out in 2018 through  Golden Robot Records.
"Our new single 'Its Been A Long Time Coming' was actually the last song we recorded for the new album, said Palace Of The King singer/guitarist Tim Henwood. "We had a bunch of tracks already in the can that had been recorded in between touring, but I felt it would be worth having one more studio session at the end of the They Who Rock tour with Screaming Jets and Baby Animals while we were on a roll and the band was playing so well.
"So, we headed back to Medici Studios in Geelong (about an hour from Melbourne), set up with me engineering and playing guitar behind the desk and the guys in the live room, and we started jamming on a few ideas Sean and I had been throwing around in our heads." Sean being Sean Johnston (keyboards/guitar), with the band rounded out by rhythm section Anthony Licciardi (bass) and Travis Dragani (drums).
"The result was that we captured a great, raw energy and the songs came up awesome. Once I had finished overdubs we sent it off to Machine (Clutch, Crowbot) for mixing and it's sounding killer! I can't wait for everyone to hear the rest of the album," Henwood said.
Formed in late 2012, Palace Of The King – nameless at that point – recorded a 3 track demo and developed the vision of a blues-infused rock and roll band. Having spent their formative years storming stages in every corner of Australia (Alongside bands as varied as Airbourne and The Tea Party) Palace Of The King took their live show through Europe in October 2015.
Following the release of two EPs, a vinyl long player and last year's blues and psych-infused hard rock album,  Valles Marineris, they headlined in Europe and as guests to Airbourne, hitting America for the second time with multiple laps of Australia as headline act and also as guests to The Angels, Baby Animals and The Screaming Jets. Now, they are gearing up for the release of Get Right With Your Maker.
"Palace Of The King is literally like a huge ground shaking Palace of riffs, soul and rock 'n' roll," commented Joel O'Keeffe, lead singer and guitarist of Airbourne. "With more hooks and lines than a hard working Bering Sea fishing fleet they are guaranteed to tangle you up, reel you in and blow you away with their unique six- stringing, soul singing, sexy stomping Rock'n'Roll! They are the real fuckin' deal ! Crank up Palace Of The King!"
You can watch the video to the single here at Ramzine: