It is with deep sadness that YES has announced that Alan White, their much-loved drummer and friend of 50 years, has passed away, aged 72, after a short illness.
The news has shocked and stunned the entire extended YES family and
White had been looking forward to the forthcoming UK Tour, to celebrating his 50th Anniversary with YES and their iconic Close To The Edge album, where Alan's journey with YES began in July 1972, playing live.
He recently celebrated the 40th anniversary of his marriage to his loving wife Gigi. White passed away peacefully at home.
Alan White was born in 1949 in County Durham. A number of health setbacks, since 2016, had restricted hiss time on stage with YES on recent tours with Jay Schellen filling in and Alan joining the band, to great applause, towards the end of each set.
He was considered to be one of rock's great drummers and joined YES in 1972 for the Close to the Edge Tour. He had previously worked with John Lennon's Plastic Ono Band after a call, in 1969, to play at the Toronto Rock Festival. White continued working with Lennon including on the Imagine album and with George Harrison on All Things Must Pass.
He also worked with several other musicians, over the years, including Ginger Baker's Air Force, Joe Cocker, Terry Reid, Gary Wright, Doris Troy and Billy Preston to name but a few.
Alan White was inducted into the Rock and Roll Hall of Fame as a member of YES in 2017.
YES will dedicate their 50th Anniversary Close to the Edge UK Tour in June to White.
"It is with great sadness that I join with the other members of Yes to acknowledge the passing of our dearest friend and drummer, Alan White," said guitarist Steve Howe. "He gave so many of his best years to the band and was a true believer and determined professional til the very end.
"Being a kind and loving human being just came naturally to him, with his mellow, non-confrontational personality and abundant generosity, which made him so popular with his friends and everyone he met."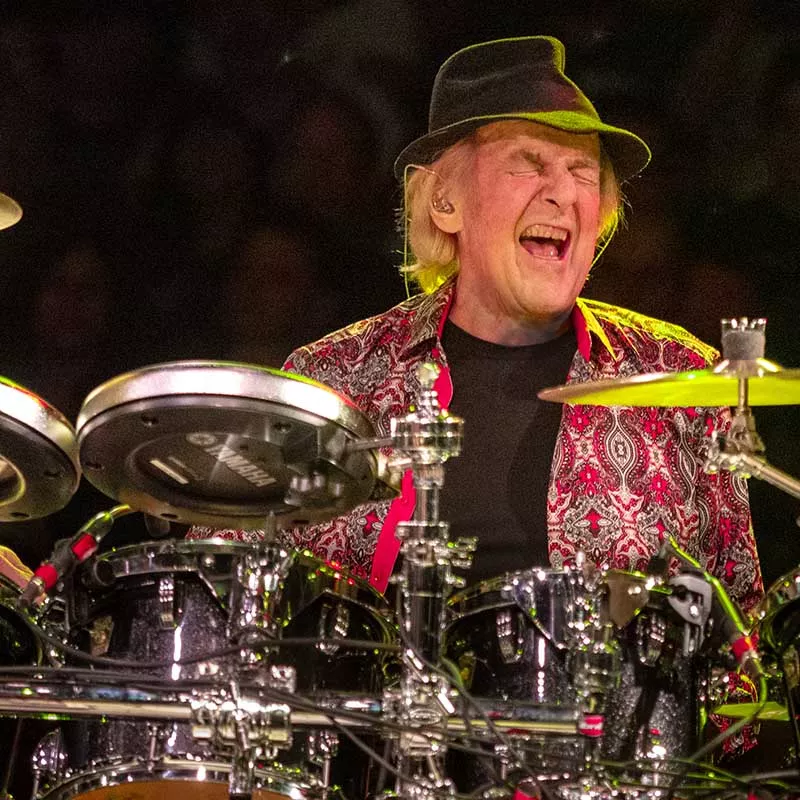 While keyboard player Geoff Downes noted: "It is with the utmost sadness I have received the news of the passing of my dearest friend and bandmate Alan White. He was truly one of the greatest men I have ever met. Honest, loyal, passionate, caring, kind, generous, considerate, charitable, funny; so many superlatives, too many to mention, simply, an all-round top guy and one of the best. And despite living for many years in his adopted hometown of Seattle, he never lost that Geordie wit, irony and charm.
"As a musician he was unique in every way, and his powerhouse technique influenced whole generations of drummers and percussionists; an absolute legend in the true sense of the word. He was a joy to share the same stage with, often glancing over at the keyboard riser with a wink and a smile, but still laying down that solid, yet intricate groove as only he could. This was Alan; a genius who never took himself too seriously.
"We had some great laughs together, became very close, and always looked after each other to the point where they started referring to us as The Odd Couple!
The Close to the Edge show, now dedicated to Alan White, will comprise full production and a high-definition video wall featuring the work of Roger Dean who will also be joining the tour with an exhibition of Yes related art.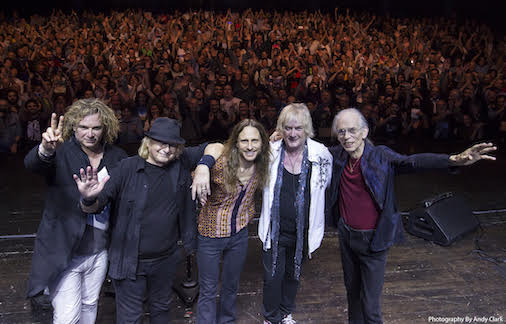 YES 2022 UK Tour Dates Are:
15th June Wednesday Glasgow Royal Concert Hall, 17th June Friday Manchester Bridgewater Hall, 18th June Saturday Nottingham Royal Concert Hall, 20th June Monday Liverpool Philharmonic Hall, 21st June Tuesday London Royal Albert Hall, 22nd June Thursday York Barbican, 24th June Friday Birmingham Symphony Hall, 26th June Sunday Newcastle O2 City Hall, 28th June Tuesday Dublin Vicar Street, Eire and 29th June Wednesday Cork Opera House, Eire.