Redfest 2014 have made their first main stage announcements.
The first of the mainstage line up announcement includes the likes of Harry and Alfie Hudson Taylor, George Barnett, The Skints, The LaFontaines, Lauren Aquilina, Jim Lockey and the Solemn Sun, Lulu James, The Struts and JAWS, with more set to be announced soon.
Further announcements have also been made for The Total Uprawr Stage which includes Welsh rockers The Blackout who will be headlining along with TRC, Heart of a Coward, Heights, The Dirty Youth, Lostalone, Polar, Baby Godzilla, Astroid Boys, The Catharsis, Slaves, The One Hundred and Rat Attack also on the billing. Completing the lineup are Skies in Motion, Fathoms, Collisions, When We Were Wolves, Aurora, Our Hollow Our Home, A Moment Lost and Set Your Sails.
Check out the artwork below!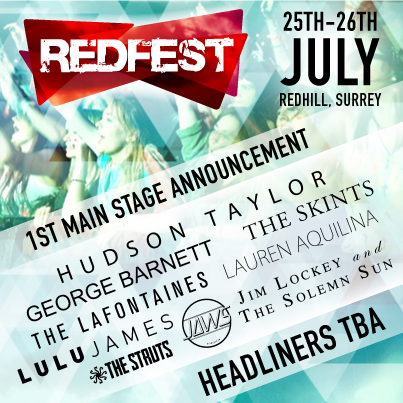 Keep your eyes pealed for further announcements.