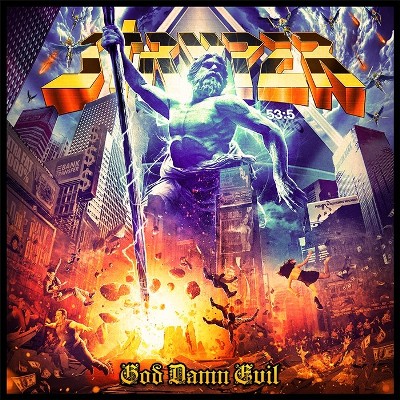 Christian heavy metal band Stryper show they're still going strong by releasing their brand album, God Damn Evil, on 20th April through the Frontiers Music s.r.l.
The band's 10th album, it follows on from 2013's No More Hell To Pay and has been described as their "heaviest release yet!"
As testament to that you can watch the video to the inspired crossover opening track, 'Take It To The Cross' as it thumps away right here at Ramzine – And, yes, those are death growls you here, and they come courtesy of  a guest appearance from Matt Bachand (Shadows Fall, Act Of Defiance).
Stryper were founded back in 1983 and still feature with their original members brothers Michael and Robert Sweet on lead vocals/guitar and drums respectively, and guitarist Oz Fox, plus former Firehouse member Perry Richardson now playing bass.
The first Christian heavy metal band to gain acceptance in mainstream music they would be nominated for Grammy awards and have albums that reached gold and platinum status. The band would split in 1992, then reform in 2003 and go onto sign a multi-album deal with Frontiers Records who they are still with and whose 2018 Rock Festival they'll be headlining on the first day over in Italy on 28th April 28.
There are songs on God Damn Evil such as 'Sorry' and 'Lost' that have been described as "classic Stryper" but with a modern heaviness and contemporary edge, alongside ballads like 'Can't Live Without Your Love'.
The full tracklisting is as follows: 'Take It To The Cross', 'Sorry', 'Lost', 'God Damn Evil', 'You Don't Even Know Me', 'The Valley', 'Sea Of Thieves', 'Beautiful', 'Can't Live Without Your Love', 'Own Up', 'The Devil Doesn't Live Here'.