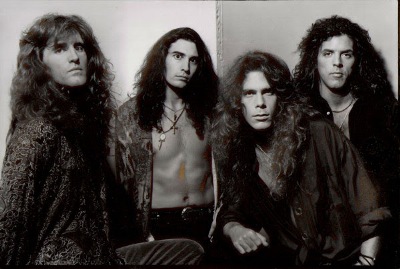 Continuing their quest to unleash unreleased music from hard rock bands of note across the globe, 20th Century Music have released Wicked Witch's Wicked Witch of Boston.
Wicked Witch featured members that went on to join and form bands such as Savatage, Metal Church, Trans Siberian Orchestra and Circle II Circle. The band formed when Zak Stevens and guitarist Matt Leff met while at the Musicians Institute in Hollywood, CA and then added the Boston based rhythm section of Mark Stewart and Jeff Plate, with whom they recorded several demos and slugged it out on the highly competitive New England club circuit.
From 1989 – 92 Wicked Witch did about 200 shows and two demos, the first recorded with Bob St. John (Extreme, Duran Duran etc) and the other with Paul David Hager (Van Halen, Devo etc). After features in Metal Edge magazine and some strong radio support, Stevens left the band after a show at the Xfinity Center Ampitheatre in Boston to join Savatage, with Plate following the next year.  Matt Leff then put together the band Trigger Effect and would later rejoin former Wicked Witch bandmates Stevens and Plate in Machines of Grace.
Wicked Witch of Boston collects music from those demos and features rare photos and the band's history, as told by Leff in a 16 page booklet, while the first 100 orders also receive a guitar pick replica.
Tracks featured are 'Fly Away', 'Rainbow's End', 'Love Lies', 'Live and Let live', 'Danger Game', 'Love Teacher', 'Lost in Confusion', 'Soul to Fire', 'This Time', 'Breakdown', 'Just a Game', 'The Moment' and 'Midnight Rain'.
Wicked Witch of Boston is available through 20th Century Music.