Only guitarist Hans Ziller remains as an original member of German melodic rock band Bonfire, a band who've had their successes since the mid-80s albeit failing to crack the American market. But then, the influence of British bands like Deep Purple and Uriah Heep touring constantly throughout Europe with hit albums during the 70s became engrained within the consciousness of many there, most particularly the influence of Richie Blackmore on guitarists, and became more the template subsequent bands applied.
Bonfire now constitutes Ziller and Frank Pané on guitars, with Ronnie Parkes on bass and Tim Breideband on drums, plus newest addition Alexx Stahl on vocals. The band is said to be at its heaviest with their latest album, Temple Of Lies, but melody has not been abandoned, and those old British warhorses mentioned remain influential, both of them having featuring keyboard players and one is present here too, though not credited.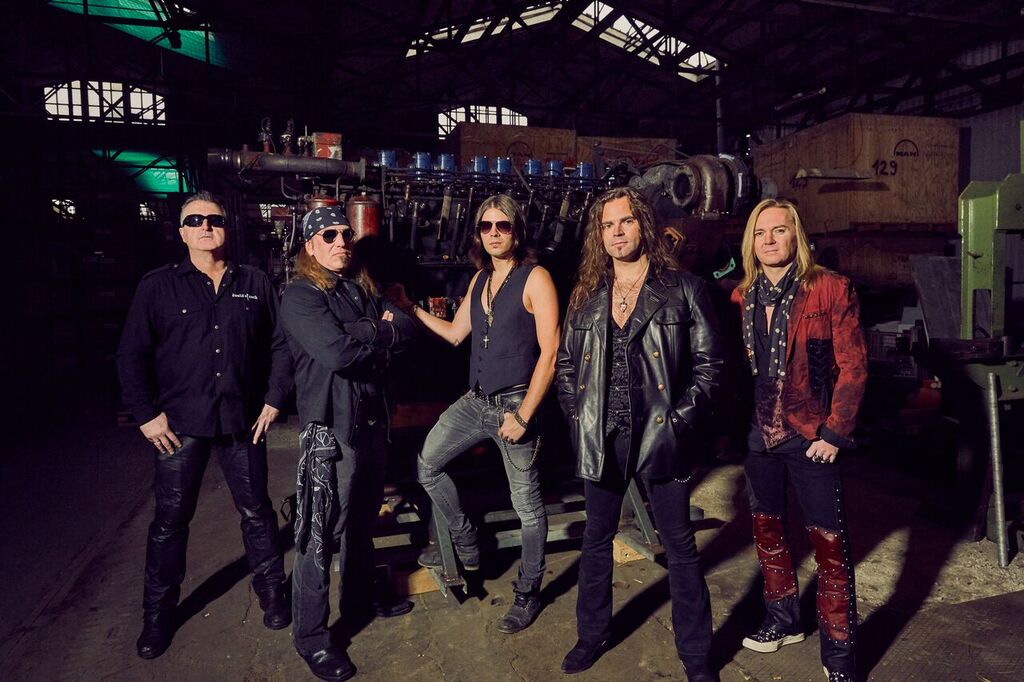 Temple Of Lies begins with a piano flowing in rhapsody, with words spoken by American voice actor David Michael Williamson as guitars curl round the brief melodic overture of 'In The Beginning' prior to the staccato opening of title track 'Temple Of Lies' itself amidst devilish laughter. This gives way to a speeding riff and vocals that veer between a screaming Rob Halford and a deeper husky throated voice, with big choruses and a Blackmore style solo thrown in for good measure. So far, so good.
The AOR melody of 'On The Wings Of An Angel' is more what I expected this album would sound like, however the verses merge and flow into the choruses and prevent the song's framework becoming too obvious, as do the gospel style harmonies.
Next up there are some nice Uriah Heep come Deep Purple bursts of guitar and a fine nagging riff to 'The Fire' but as a song it doesn't really gel. 'Stand Or Fall' corrects this opening with a enthralling charging riff, high-ended vocal scream and harmonies and an overall euphoric sound as keyboards flourish and some power metal drumming pounds in hard and guitars solo away.
Piano and guitar weave together on 'Comin' Home' Stahl applying his drier raspier tones to this ballad but hitting ever higher notes as XX leans into torpid solo that continues to wail away through to the end of the song. It's followed by 'I'll Never Be Loved By You' a really good straight to the heart throbbing hard rock song with a catchy melody as the guitar nags and wails dragging the listener along even as keyboards fill the sound for a sweeter AOR hook , wherein the guitar soloing refuses to wimp out even though the title implies otherwise.
 'Fly Away' is another number that owes its due to classic rock influences yet modernising the overall sound while 'Love The Way You Hate Me' features a rather affecting cod reggae section with harmony vocals over it but overall reminds one of classic German band Lucifer's Friend when Mike Starr was singing for them, in between the guitarists wrangling away on some vicious runs.
Final track 'Crazy Over You' is far too similar to Bon Jovi's 'Living On A Prayer' to deny otherwise. Regardless, it thumps out harder and with several melody line vocals going (they'd need another singer or tapes to pull this off live) and some prime Blackmore guitar strokes for good measure, and despite myself I find I really like this number.
Bonfire's Temple Of Lies may offer nothing essentially new and their influences are ever present but overall it proves to be an aurally pleasing package.