'Searching For Freedom' plays over the PA over and the Japanese audience rises and politely as cameras roll around the impressive looking International Forum on the evening of August 24th 2016. Then like some Teutonic trickster god transported into the heart of the rising sun Michael Schenker stands before them centre stage, arms raised as he calls out "Hello, Toyko… I am Michael Schenker! Are you ready?" Then louder "Are you ready?" They are, and off they rock 'Into The Arena'.
Chris Glen's bass is pumping like crazy even before you see the now wide-girthed Glaswegian. His rhythm partner (going all the way back to when they recorded as Tear Gas prior to being in the Sensational Alex Harvey Band) Ted McKenna's drums slash and thrash sharply, Steve Mann's keyboard purr out smoothly, and Mr. Schenker himself is applying his vintage UFO/MSG tone, ploughing into the instrumental's riff while applying feedback and one-handed tricks.
'Attack Of The Made Axeman' and 'Victim Of Illusion' follow in quick succession, a sleek funk beat affixed to their metal guitar beats, and the return of original MSG front man Gary Barden to the microphone with a voice in fine form. Sporting a cowboy hat he meanders around the stage, the bounding energetic form of his youth replaced by a daddy dancing smiling face. On the first of the song's Glen's delivers intricate shadowing lines over which the axeman plays some absolutely ace refrains, on the latter the crowd sing the chorus with Barden scatting alongside Schenker's guitar before a further extended solo before the band return en masse as the tempo changes for the rallying call of 'Cry For The Nations', followed by The elongated hard riffing and melodic variations of 'Let Sleeping Dogs Lie'.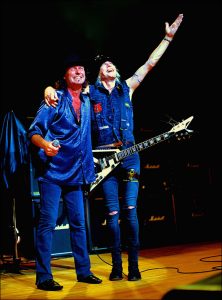 If you got hold of last year's Live In Madrid DVD by Schenker's Temple of Rock band, musically this is better. Whereas you can admire the quality of the former Scorpions rhythm section on that one, here the former SAHB's push Schenker driving him to play at the top of his game, and more than that the actual tone of his guitar is fantastic, capturing sweet and sharp textures amidst flurries of feedback and come 'Armed And Ready' some suitable shredding. The song itself is a little more hard rock 'n' roll than its original shot of heavy metal, but it allows both Glen & Schenker to add backing vocals as it suitably becomes a party song to fit the evening's atmosphere. Sadly, just as you feel Barden has paced and psyched himself ready to really let rip on the vocal front he waves goodbye.
Scorpions instrumental 'Coast To Coast' follows, indicating they'll act as musical intermissions between a changing of the guard on the guest vocal front.  Guitar wise here there are warm rippling runs and fiery blasts of urgent fury, with Mann also doubling on guitar here. Musically we're in safe hands, it was tonight's vocalists I was concerned about – Age isn't always kind to the most lusty of throats, and I've encountered Graham Bonnett live in recent years where there's been the odd dodgy moment. Here, as his sunglasses and skinny tie join us for 'Assault Attack' we find him in good pitch, his gravelly roaring soul rock radiates, the band supporting with class as touches of neo-classic metal are wrenched out. The complex changing melodic thrusts and asides of 'Desert Song' commence are laid out by Schenker, Mann's keyboards entering  melodically and Glen's bass digging into the treble register. Bonnett's voice remains clear like a raw razor blade above it all, and like Barden he's visibly seen laughing. All the bad feelings of yesteryear inter-band fighting brushed aside and enjoying the moment. For 'Dancer' Robin McCauley & Barden come on stage to act like a heavy metal version of The Temptations and add backing vocals.  A great little pop rocker that sank with all the internal bull of the times, and much better than the Rainbow songs Bonnett had hits with.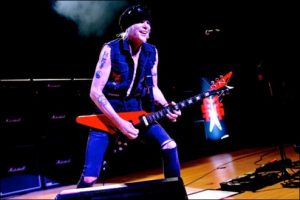 A change of guitar and another instrumental in 'Captain Nemo' prepares us for the next round. While moving at a slightly less frantic pace, McKenna's drums keep kicking at the edges, and Schenker shines playing embryonic prog metal between classical refrains, tasteful slide, left-handed hammer-ons and some sweet sustains. The next batch of songs will feature McCauley on vocals and with 'This Is My Heart' we move from blitzkrieg rock to arena pomp. 'Save Yourself' rocks things up, is well played and sung with some extraordinary guitar flourishes only for 'Love Is Not A Game' to bring us back to mid-paced AOR pump. Having been taken to the latter days of Schenker's MSG playlist we go back in time for the full-on booty of UFO.
McCauley remains on stage for these numbers  and I become a little concerned, but the band force the tempo into touch for 'Shoot Shoot', and his voice does give this raunchy old rocker something of a new spin and the weight of Schenker's left hand shifts through the guitar phrases over with aplomb.  This polite Japanese crowd erupt into noise as they hear the opening to 'Rock Bottom' and there's a worrying part of me that thinks I've just heard this song too often, in so many permutations now. For sure McCauley, though Irish by birth phrases with American mannerisms, and I'm not fond of how the verses are interpreted, it works during the climatic build of "When old darkness" and the crowd naturally takeover the repeated title chorus.
The cameramen have given all parties adequate screen time, Schenker notably the main focus obviously, and whereas Live In Madrid gave us more close-ups of his playing style, the signature solo he wrote when around sixteen is given full measure here. Sure you get the showmanship of him playing one-handed and assorted dramatic poses as feedback flows through his Flying V, more vitally you get to see his note and chord combination technique at work, as for the actual fretwork well a lot of it may look like variations on your pentatonic scale but you try and get those kinds of sounds out a six string. All three singers return to the stage we're given one last verse prior to Schenker soloing one-handed taking camera photos of audience with his other then one last crash of chords and the epic concludes. "Do you want more?" he ask and yes they do as seagull-calling echoed guitar notes are emitted, Mann playing the arpeggio background melody and Schenker varying the  opening  introduction to 'Doctor Doctor'  whereupon this traditionally docile Japanese audience are visibly bopping up and down once the chord sequence erupts. All three vocalists remain present and there's a nice interchange as each take old familiar lines and turning it into a conversation, though overall it's sung rather rowdily, but it's party time as everyone prowls the stage, those with guitars standing Quo like as they rock away to the very last note and exit the stage triumphantly.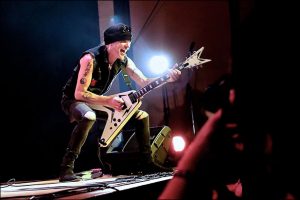 The bonuses take the form of a sound check that you'll watch the once and a slide show of photos that capture some amusing unguarded moments but goes on too long although the accompanying music is worth hearing. The concert performance is not just a nostalgia act, there's some terrific musicianship and not just from the mad axeman himself; and that for me kept my interest high as the vocalists interested me less with each changing of the guard. Personal preferences aside, there's some pretty top notch stuff throughout. Available from inakustic in a handsome 2 CD/DVD collection and other formats, check it out and enjoy the contents.