Two years down the road, second album in, Stateside singer Sari Schorr sounds much travelled and has a few things that she wants to get off her chest rather than go for the easy option and just sing about falling in and out of love. Message songs and preaching politics rarely get an audience in modern rock music, but she gives it a good go as soaked in mother's ruin she bleeds out the blues with a hefty rock swagger.
Most songs here are written by Schorr and producer Henning Gehrke. The legendary Mike Veron set the blueprint for her debut and what Gehrke has done is give the finished product a wider sheen. As it is, the greatest asset she has this time on record is a band rather than primarily session musicians. Rhythm section Mat Beable and Roy Martin play bass and drums respectively, former King King keyboard player Bob Fridzema continues to dally with blues rocking females, having been also seen with Joanne Shaw Taylor of late, while solo act Ash Wilson handles guitar duties and duly impresses.
Guitar and keyboards phase in and out as Schorr purrs raggedly like Bonnie Raitt meets Cher with a glass of brandy in hand on the bumpy rocking ride that is'King of Rock and Roll' – A song about the crossroads devil-dealing Robert Johnson than old Elvis.
'Thank You' strikes up next as the kind of blues rocker Paul Rogers delivers on his solo material. Powerful hook lines with an initial guitar solo that drags you by the scruff of the neck and tries to drain every last drop of blood out of you all in less than a minute. The song's about sabotaging good relationships so that makes sense.  There's vocal sighing in the foreground while she hollers doubling her voice in the background, with both voices joined on the choruses. Clashing guitars aplenty as drums stomping and roll, and another guitar solo of the wah-wah variety that spews out notes like it was the blood it swallowed lat time, all while keyboards highball it in gospel style.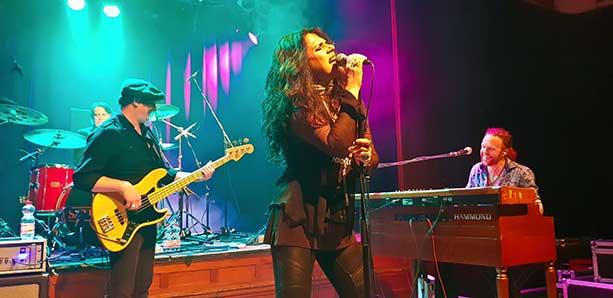 Mick Ralphs''Ready for Love'is next. Most rockers know it for appearing on Bad Company's 12" debut, but you'll also find it on the guitarist's previous hit album, Mott The Hoople's All The Young Dudes' where it's coupled with his instrumental solo 'After Lights', and always should be to get the song's full effect. This updates the song giving clarity to piano and guitar, more so it offers a female perspective to the lyrics' reading; deep and weary-voiced it is sensual to the core. In contrast, 'Valentina' comments on romantic encounters missed in a manner akin to the regret felt on Bonnie Raitt's 'Nick Of Time' while musically being a sprightly jumpy-riffed rocker with its balls swinging low.
Band-written composition 'The New Revolution' is a mid-paced soul belt-out dedicated to Martin Luthor King Jr. Protest rock in a kinda Jefferson Airplane mode; it's earnest and warm but possibly goes on a little long. Whereas 'Beautiful' could take me in its arms for a whole lot longer. "Broken but beautiful" goes the line so you know what this song is about. There's a tender guitar intro and it's warm autumn-kissed blues  with stirring emotively phrased vocals that stretch out to a roar as Wilson's guitar squeals like he's channelling Ernie Isley then taking off on his own, building to some hefty gospel by all concerned.  Tell me they play this in their live set – It'll bring the house down!
'Turn the Radio On' is another tale of regret and has the potential to be a mainstream hit single. Initially I felt this had a slight modern country rock feel but less so now, whereas 'Back to LA' does, in the manner of last millennium's latter reinvention of the genre.
 'Maybe I'm Fooling' slams out stridently. Imagine that the Swan Song signed Bad Company and Maggie Bell had played on Jesus Christ Superstar instead of The Grease Band and Dana Gillespie. Abusive relationships are its theme and because it's one you'll push replay to keep hearing, its message may strike home. In a similar manner the folly of America's gun laws are given vent over an angry blistering riff in the blues rock of 'Freedom'.
A reading of former Faces keyboard player Ian McLagan's 'Never Say Never' closes and gives the album its title, delivered with a porch-side country blues flavoured soul. Written as part of the healing process as he grieved over his wife's passing it fits into the somewhat resigned and weary approach Sari Schorr approaches a number of the songs on this album with. Despite which, it's a brace of tingling rockers that'll get you up shaking your thing.
More cohesive and yet varied than her A Force Of Nature debut; with a strong supportive band role feel it allows her to shift beyond too obvious Janis Joplin comparisons, and move towards a more raucously raw bluesy Anne Wilson plays Bonnie Raitt role. That, or just be her own woman. Either way very listenable.