Maybe it's the name but the impression I got before hearing them was that The New Roses were probably some glam-sleaze band, docking their caps to The Damned while churning out tunes like The Hellacopters or Ginger & the Wildhearts.
I was wrong.
Being German, you might also presume they were either gonna be following in the shadow of The Scorpions, Rammstein, or Accept.
Strike two. But I'm not leaving by the backdoor.
That they've played on a KISS cruise, supported the likes of The Dead Daisies, and had a track featured on the soundtrack for TV series Sons of Anarchy helps pinpoint their sound a little clearer. Well, it does once you hear Nothing But Wild.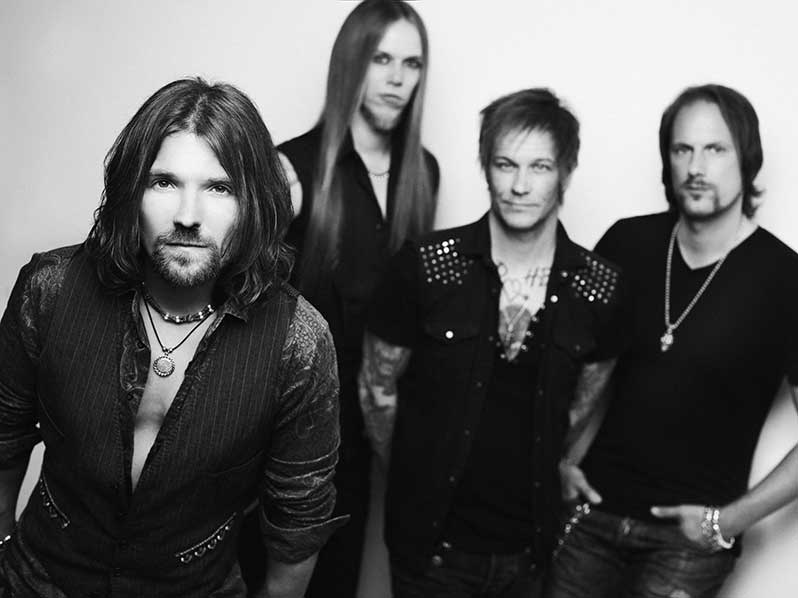 They're four lads from somewhere near the River Rhine who sound like their great-uncles took a motorcycle trek round the mid-west of America in the late 70s, shacked up with some friendly local lasses but come the mid-80s headed back home, armed with an extended family and a sizeable record collection. That these guys played the hell out of.
There's rock here that's shaven sharp enough to bite your hand off; it's classic, hard and heavy but with upwards hooks that could warm the cockles of your heart. There are family values and bonds of friendships espoused, but also tales of fit-looking babes and the joy they can bring with musical swings that hint at country, blues and the hardworking south.
It's warm and friendly, and it rejoices in life.
With a pounding rhythm over which a raw high pinched squealing guitar makes its home The New Roses declare their mission statement as way of life with 'Soundtrack Of My Life'. It's followed fast by 'Can't Stop Rock & Roll' that opens like the kind of number you expected Dave Lee Roth to be high kicking the splits to back in the day before it stomps along as some Cheap Trick meets KISS party animal of a number.
'Down by the River' was the first single released prior to the album's release. It's reflective looking back at their collective youth like a mid-west memory lane rock and roll with singalong AOR harmonies and hooks a plenty. There are some good lines, the kind of summer song that would have sold by the truckload back in those long ago vinyl and cartridge in the car times.
"Most of the band members grew up near River Rhine. Needless to say that we spent most our youth at the river," said vocalist Timmy Rough. "A six pack of beer, a cassette tape deck and a girl you can fall in love with immediately…and the river." The result of their growing up there? An extremely catchy tune.
'Nothing But Wild' is KISS playing AC/DC and while singing about a wanton woman, a lot less misogynistic than either, while 'Heartache' is a Tom Petty tune given a heavy rock treatment; one that works. Next up, an acoustic country rock love song by way of Bon Jovi, Guns 'N Roses and Nickleback where Rough sing he "can't take it anymore" in 'The Bullet'.
On 'Running Out Of Hearts' the verses have an interesting more European new wave-on-guitars flavour but come the chorus they rage, with a wiry guitar solo taking us to the heights of enthusiasm for both the love and lust postulated therein. This is countered by the stomping drums and loud chord strikes kicking into a hearty rock 'n' roll chorus for 'Unknown Territory', swiftly followed by another tune where the intent is a treaty on how to spend life (from the perspective of the young) while there are epic undertones to this that they decide not to take forward musically in 'As the Crow Flies' with its rumbling modern groove and radio friendly "whoah-whoas", while 'Give & Take' is another country rock come power ballad.
Sometimes similarities are obvious. For example, 'The Only Thing' is Poison given a mid-west bop while 'Meet Me Half Way' takes Tyketto as its template for a balshy mid-tempo rocked-up singalong, presumably about the joys of riding along the autobahn as it edges its way into a Steve Earle 'Copper Road' brogue with more hearty whoah-whoas to swing along to. In such cases, the feel good factor is such that one views such matters as inspired by rather than being derivative. The album, as such, ends with another single, 'Glory Road' that's blue collar Americana heavy rock from some young German dudes.
Possibly superfluous is an unplugged version of 'Down By The River' as a bonus track, albeit that with just acoustic and voice it shows the quality of the song was there from the start. Whereas the similarly non-electric 'Fight You Leaving Me' is a sweet sleeper with warm vocals for a touching love song – Too often bonus tracks spoil the flow of the naturally intended conclusion of an album, but this works as a fine coda.
Some fine lyrics are put to work over a great raw but far-ranging emotive vocalist, all driven by a heavy pounding bass, on this collection, that's more than worth checking out for those who recall rock's MTV glory days with fondness but want things a little more rough and ready now.