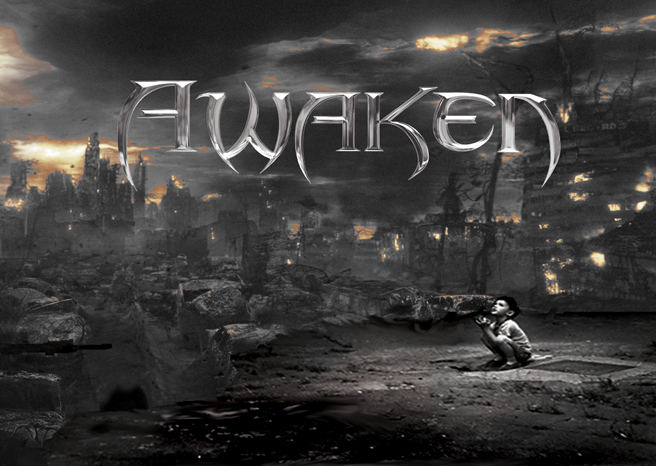 "One of the quintessential metal bands of our time" was how Kerrang! magazine once described American band Lazarus, before they were finally laid to rest, but three members have risen from their ashes under the name of Awaken: Glenn DaGrossa (vocals/guitar), Nick D'Alessandro (drums) and Freddy Villano (who also played bass with Quiet Riot and Widowmaker) form the core of this new band, and are now spearheaded on the six-strong front by guitarists Joe Todara and Scott Bennett.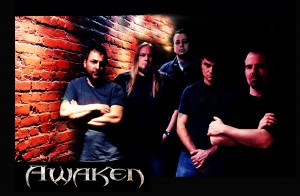 Within a few short years Awaken have contributed to tribute albums and now, under the direction of chief songwriter DaGrossa, have produced their own self-titled album for Mausoleum Records.
Opening with what sounds like Metallica grooving on an instrumental version of Black Sabbath's Sleeping Village, Awaken proceed with the melodic eeriness that is March of Aachen before the tempo changes and a strident riff takes us into As the Dark, So the Light with Glenn DaGrossa telling us about King Charlemagne's fight against heathen-kind through medieval Europe all weaved into a double- tracked chorus and some sweet rocking neo-classic styled guitar solos.
The mid-paced grind and gristle of Bones to Dust offers lyrics about confessions and redemption and the listener begins to get the impression this is either a rock opera or an extended cycle of themed rock songs. There's a lovely pull on the bass guitar through this one, and what sounds likes 90s styled keyboards in what's nearly a reggae moment three quarters of the way through.
What is for certain is that DaGrossa has a voice that's pitched somewhere between classic Ian Gillan Bruce Dickinson in terms of its natural tone. For the most part he avoids any patented screaming but double-tracked harmony lead vocals are much in use and to good effect in the way producer Martin Birch would apply them on vintage Deep Purple albums.
Beneath the Surface utilises the Awaken style of driving riff verse and harmony chorus style particularly well, turning a song of lyrical bleakness into an empowering three plus minutes of what is akin to Journey playing Alter Bridge. Mourning Heroes starts with keyboards and acoustic guitar but ends some time later with guitars shredding skillfully over prog-metal timings and then My Silent Breath enchants with acoustic guitar and piano throughout as an emotive manly ballad unfolds.
The creepy introspection of the band's signature song Awaken is possibly one of the weaker numbers but features a sweet electric guitar solo played over acoustic chords while a fractured power metal riff takes its moments over both prog-metal and the true progressive sounds with some wailing harmonised Judas Priest style solos during the mini-epic of The Inquisitor then the drums continue to pound even as DaGrossa reaches for the high notes during Death of Me before concluding with the hook heavy delivery of In This Circle with its sneering vocals and soaring guitars.
Already working on a new CD for September 2013 release and scheduled to tour with the likes of Queensrÿche and Diamond Head throughout the year, Awaken offer a pleasing debut delivering modern heavy metal with some suitable nods of the shaved head to those hair-shakers of yesteryear.
7 /10