It was somehow two years to the day that Blind River released their first, self-titled release, when Made of Dirt came out on Monday. Where on earth that time has gone is beyond me, but one thing I do know is they have traveled up, down and all around since then doing what they do best on stages both big and small; and happily, I can say I've been to many of those gigs!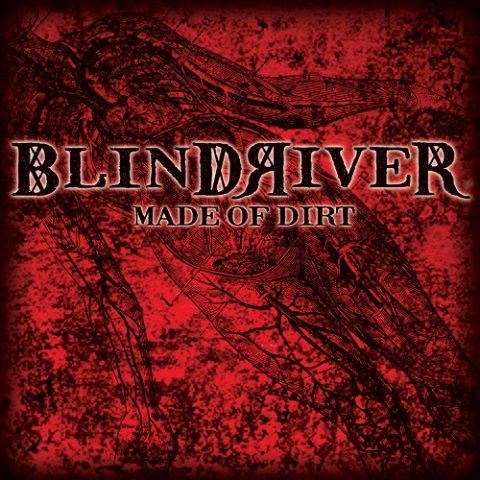 Despite all this year has thrown out the window, a bit of luck seemed to hit the Blind River boys as they found themselves in the studio earlier than expected to create their sophomore release, had things stuck to schedule, chances are we wouldn't have this, so maybe 2020 isn't all too bad! What Made of Dirt brings to the table is nothing new, nothing used, and positively nothing dull, from the opening riff of 'Waste of Life' you are gripped around the throat with catchy hooks galore. The pace is much higher than their debut and things really go to 11 quick. Title track 'Made of Dirt' throws some twin leads like the classic bands of their time through Dan and Chris, while Harry waxes lyrical with his raspy tones over top, "Dig it!" indeed! 'Acid Tongue' drudges up some proper dirt, but to the juxtaposition, follow up 'Slow Begins the Sickness' hits back with some real swagger, imagine ZZ Top being really heavy, Will really belting out some bottom end on the bass.
'Gone' brings our first taste of the mellow side of the record, on par with 'Home' from their first outing, the lads really know how to write a gentle track or two! 'Horsehead' is an absolute rocker that has me reaching for one of my guitars every time I hear it, and perfect timing too, as it's followed by 'Burn the Sun' that has an opening bass line reminiscent of Iron Maidens 'Wrathchild', there ends the similarity however as it slips more into an Alice in Chains feel, and the constant rock solid hammering the drums get from Andrew speaks volumes, but none as loud as those perfect moments of rest. 'Learning to Lose' is anything lives up to the opposite of its given title, a full on Thin Lizzy sounding peach of a track, harmonies all over just scream through you. 'Psycho Sapien' really mixes up with the most gentle Blind River have sounded yet, beautifully written, simplicity in style, but massively weighty on the emotional feel. 'No Surprise' indeed, the album closes off what is another soundtrack for endless summers, as said earlier, there is nothing new, nothing old and positively nothing dull, Made of Dirt is quite simply the extension of what Blind River was, and is. Road tested to the max, the ultimate DIE band, if it can be played, can rock, then Blind River will have it turned up and blaring.
Quite honestly, put it on, crack a beer, turn it up, and don't forget to tell your neighbours who Blind River are when they ask, everyone needs to know these boys! They transcend age groups, music tastes and any mood you could be in. Stream it, buy it and download it, it is absolutely and unquestionably fantastic, yet again!
Made of Dirt is out now via their own label, House of Bones… Like I said, the ultimate DIY band.