Let's get this out of the way right from the off, Blink 182 were one of those gateway bands for me. I was 16 in 2000, the first things I ordered off this new website called Amazon was Enema Of The State and Dookie by Green Day. I walked around Sixth Form with a Take Off Your Pants and Jacket hoodie, I went to a Halloween party dressed as Tom Delonge and I got my Dad's work colleague to get me an Atticus tee from Hot Topic while he was on a work trip to the States. Tonight I wore that same tee to see Blink 182 on the second night of their stay at the O2 Arena. That t-shirt is now legally old enough to drink in America.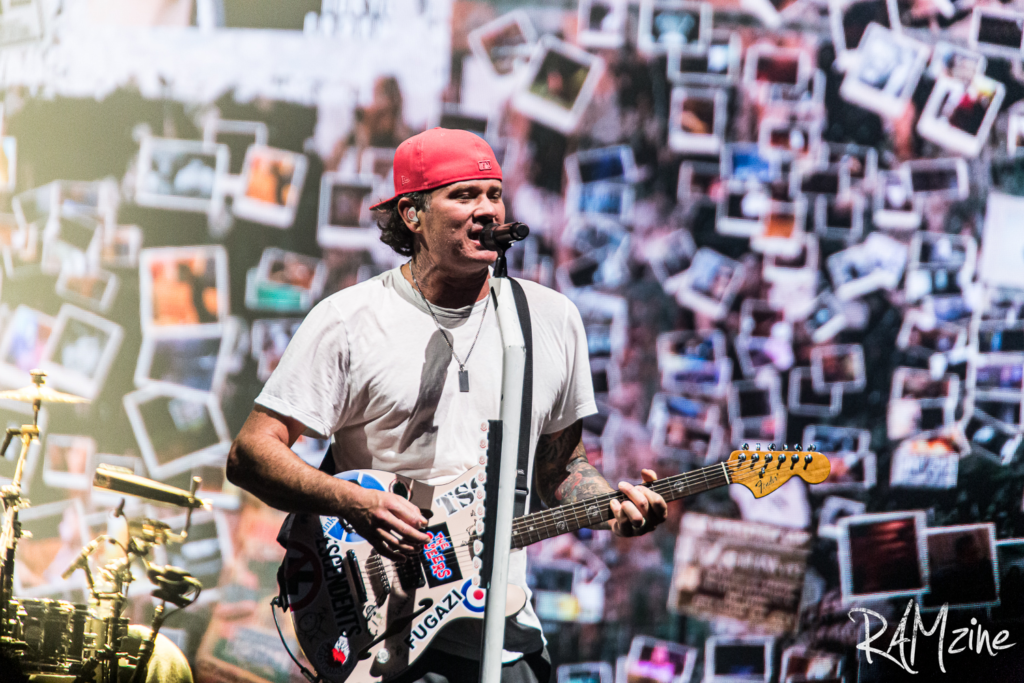 With Tom Delong reunited with Mark Hoppus and Travis Barker the dynamic they have had for years seems to have regenerated. Don't get me wrong, I have a lot of time for (previous member) Matt Skiba, 'From Here to Infirmary' by Alkaline Trio is up there as one of my favourite albums. However, he always felt like the often meme'd Steve Buscemi character in 30 Rock. There is just something about the macabre Skiba.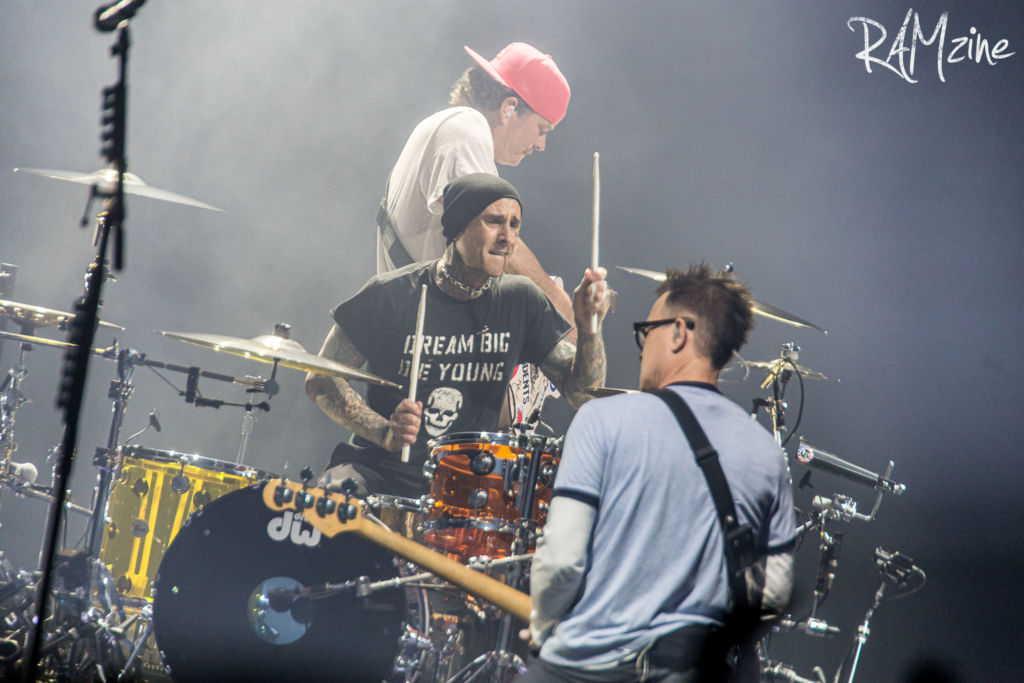 Tonight, however, it is the return of the Tom, Mark and Travis show. The flaming "Fuck" that was once a staple of their live shows has been replaced by a constantly changing video wall. Each track comes with its own music video (or at least a homage to the video), lyric video or artwork. And at other times it is some crazy inflatable – there is a giant inflatable Blink ambulance driven by Bunny (the Blink 182 Bunny originally drawn by former Blink 182 drummer Scott Raynor) with a caricature of the infamous nurse from Enema of the State (Pornstar, Janine Lindemulder). Not to be outdone Bunny shows up later on as a giant inflatable for 'What's My Age Again'.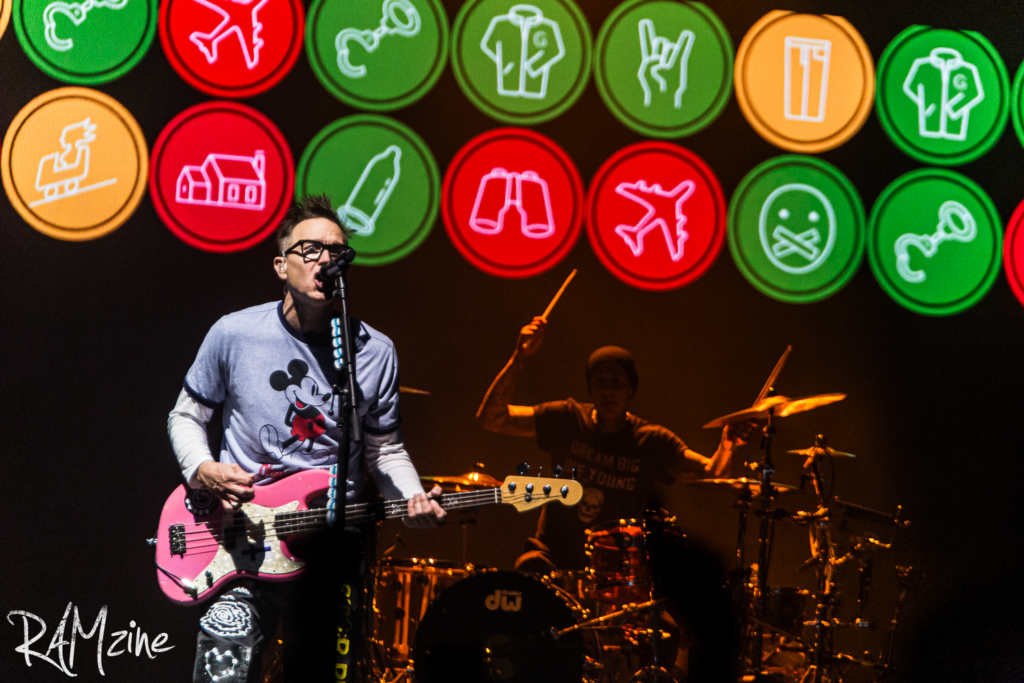 Musically Blink 182 are on top form and probably sound the best they ever have. Travis Barker is arguably one of the best drummers in the world. London are treated to a rare vocal performance, a "Hello London" from Barker's Teller to Tom and Mark's Penn. Half of the performance he spends lifted 15 feet into the air on a rotating and dipping platform. Tom Delonge's vocals have always been a contentious issue but what is never spoken about is his chops as a guitarist. Delonge is never talked about as a great punk rock guitarist but riffs like on 'Dumped' and the sped-up second version of 'Happy Holidays You Bastard' can attest. And then there was Mark Hoppus on bass.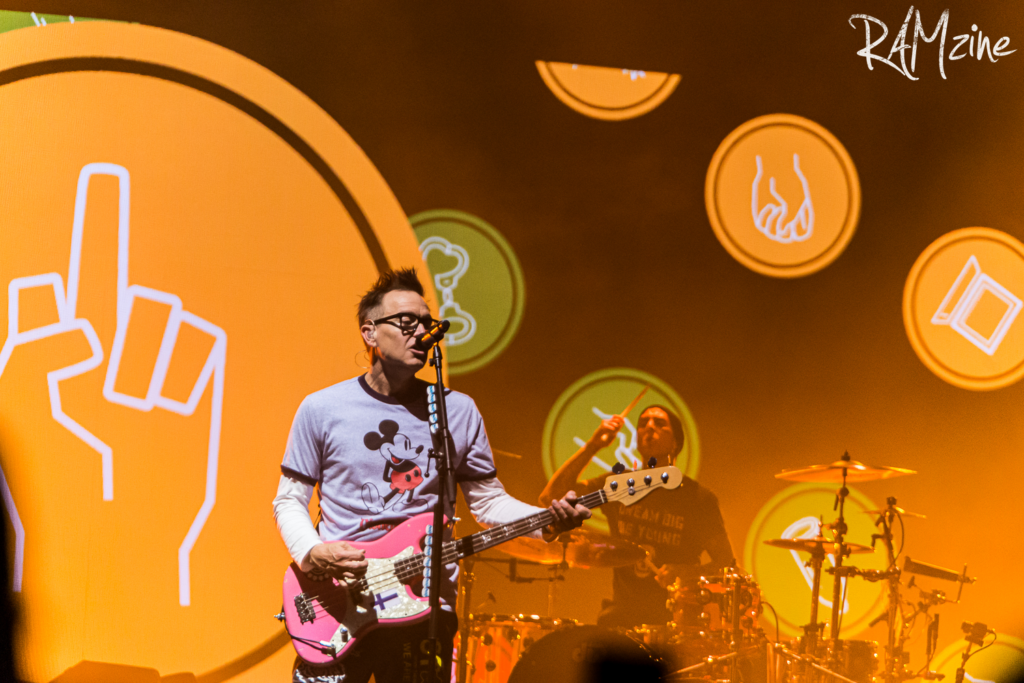 While the majority of the evening is taken from the classic trio of Enema of the State, Take Off Your Pants and Jacket and 2003's Self Titled, the new tracks 'Edging' and 'Dance With Me' already seem to be fan favourites. 'Dance With Me,' the Blink 182 love letter to the Ramones was barely released a week ago but the chants of "Ole Ole Ole" in the chorus have really hit home. As a night overrun with anthem tunes there seems to be a subtle irony that Blink plays 'Aliens Exist,' given Delonge's love of discovering the truth out there and an oversized news article proclaiming "Tom Was Right" adorns the backdrop.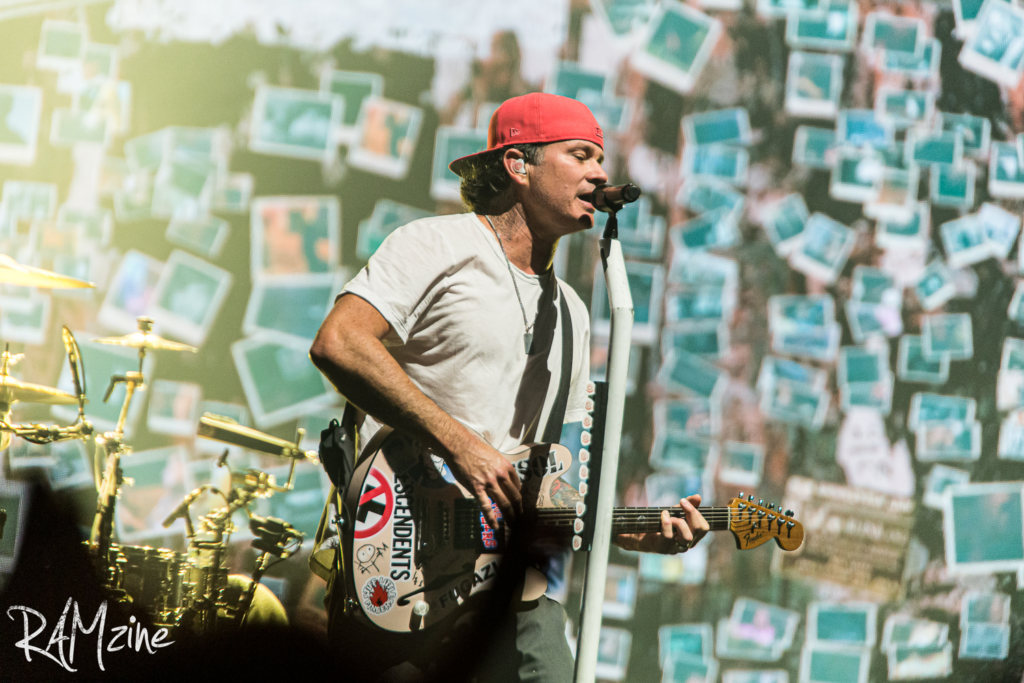 Of course, you cannot talk about Blink 182 without mentioning the banter between Hoppus and Delonge. Forged over decades of friendship, the fact you can comfortably make sex jokes at your friend's mom speaks volumes. But the biggest laugh of the night goes to Mark Hoppus, introducing 'Reckless Abandon' with a cry of "Well the fun stops here" to a chorus of "boos". Without missing a beat the bassist yells out "You're booing a cancer patient" before going into a tongue-in-cheek emo-tinged rant including "It's not a phase" and "Gerrard Way gets me".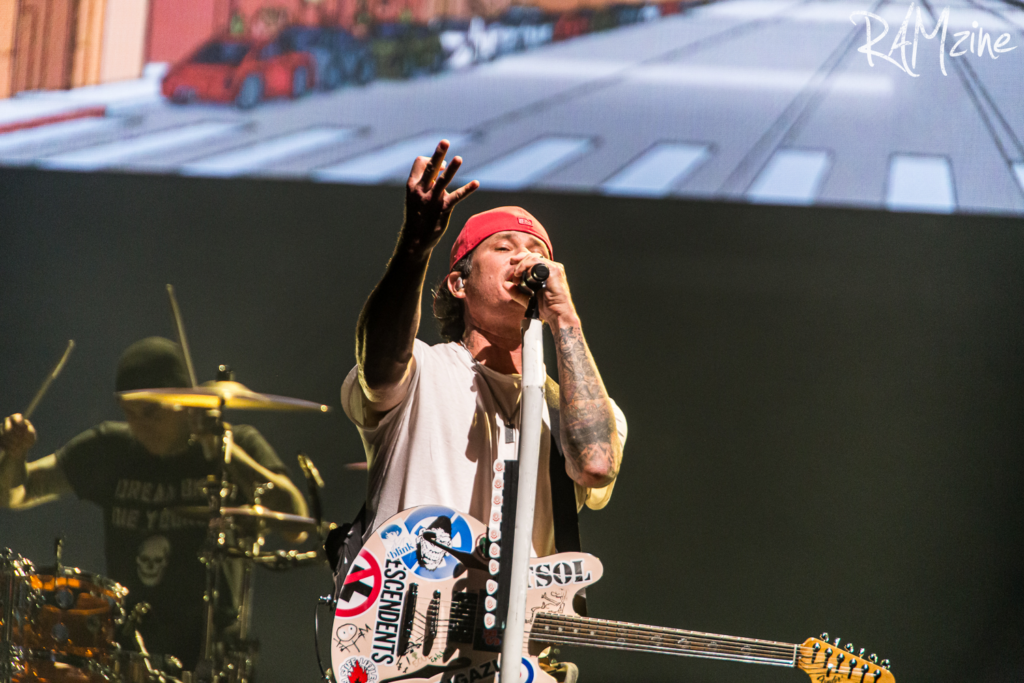 To cap off the night the trio burst consecutively into 'What's My Age Again,' 'First Date,' 'All the Small Things' and the only cut-off 1997's pre-Barker record Dude Ranch, 'Dammit'. The sparks fly and the ticker tape rains down. You would think Blink 182 would finish off on that high as they leave the stage. Instead, they return introducing the heartfelt 'One More Time' as "a song about us." I never thought of Blink 182 as that band that would make you catch feelings – earlier they played through a song that purely consisted of George Carlin's Seven Words You Can't Say On Television. But in the lyrics "it shouldn't take a sickness, or aeroplanes falling out the sky" to realise how much of a journey they have been on. I can't have been the only one with tears in my eyes come their final embrace.
Blink 182 has always been seen as the clown princes of pop-punk due to their lyrics or videos coupled with the on-stage banter. With a career spanning over 30 years, when most bands tell you they are putting out their best music to date it is usually met with slight cynicism. But Blink 182 don't seem to be blowing smoke up anyone's ass. 'One More Time' is maybe Blink 182's magnum opus and live they are sounding better than ever. No longer the clown princes, London has witnessed their coronation to become the Kings.