British death metal scumbags Casket Feeder have cursed us yet again and brought misery to the world by means of this wicked 5-track EP of theirs bearing the charming title that is Scalps.
Following last year's Venomous Tongues EP, Scalps is basically more of the same, but delivered with even more conviction and spite compared to earlier on. The way in which these ugly fuckers blend elements and traits from old-school Swedish death metal with filthy and vile hardcore is not only effective, but also strangely appealing and addictive. The riffs that have been conjured up this time around are both rotten to the core and utterly memorable. Some even lean toward black metal, which works quite well in the overall setting. The main draw of the EP is, it's dark tone and mood, which is to say that its oppressive atmosphere simply sucks you in while those slimy melodies from the deepest pit of hell drain you of life. Yes, this is some foul shit indeed, but it works like a charm.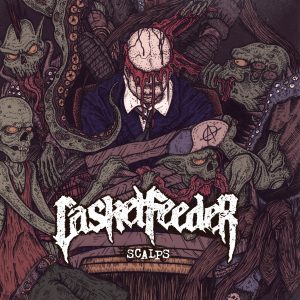 The song arrangements are also more interesting and in general there seems to be a bit more variety and musical diversity to the proceedings here. The standout cut is undoubtedly the claustrophobic and brooding 'Carve Their Names Upon the Hanging Tree', but each tune is strong in its own right and there are no filler tracks on Scalps, which is a feat in and of itself. There is nothing refined about the EP, but it feels as if Casket Feeder have paid more attention to the nuances of the songs and invested more time in establishing a crushing feel from the get-go and then retaining that to the very last and bitter note of intense EP closer 'Replicant'. In other words, Scalps is a cohesive and coherent piece of work that sounds structured and disciplined, but also loose and organic in all the right places. Some parts and sections are massive and almost overpowering while others are creepy and sinister. Also, some passages remind me of the Australian outfit King Parrot while others bring to mind the old Swedish gods that are Grotesque. This is some powerful, menacing, and downright punishing stuff.
Scalps is neither revolutionary nor innovative as such, but yours truly cannot but love how convincing and catchy it all is. Not only is this better than its predecessor, but it also shows that murky death metal and vicious hardcore music can be mixed to great effect. Before we forget, the cover artwork looks awesome too and deserves praise. Support these death mongers and invest in this nasty opus of theirs as soon as it is out.